Luxury Unit At Mandarin Oriental Up For Grabs At $12.818 Million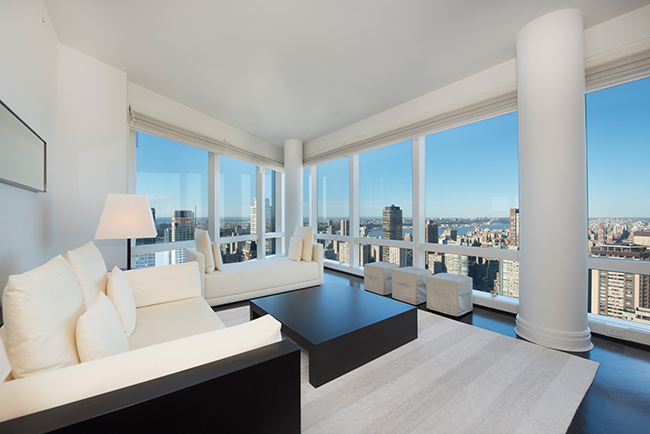 By Jerome Fieldstone
Columbus Circle has run the gamut from popular exhibition hall, The New York Coliseum that hosted such mythic figures as Jim Thorpe, one of the world's greatest athletes to a huge communication center.
It has also become a prime location for luxury living, perched at the edge of Central Park at 59th Street.
Many business entrepeneurs, entertainers, sports figures and others in the higher-income brackets prefer to live in New York where they are at the center of things. Some, such as Yankees pitcher C.C. Sabathia prefer mansions just over the river into New Jersey. It's not uncommon to see the likes of his former teammate, Derek Jeter, entering or exiting luxury buildings where they live at the heart of all the action. The very upscale Mandarin Oriental Hotel has become a haven for the wealthy and prominent looking for living quarters befitting their station in life that also provides immediate and easy access to Midtown theaters, eateries and business centers.
Columbus Circle also offers an easy exit from Manhattan to New Jersey, Newark and LaGuardia Airports, Connecticut and almost wherever the necessities of life, business and leisure may take you.
Needless to say, the cost of living in this prime locale is not for the faint of pocketbook.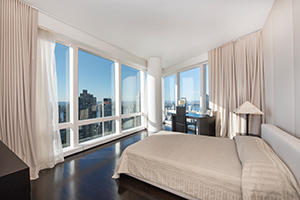 Unit 65A at the Mandarin Oriental is currently owned by Angelo Medina, the well-known international music manager, producer and promoter. Medina has represented such artists as Ricky Martin, has decided it is time for him to move on.
Medina has signed an exclusive listing with Manhattan real estate brokerage Charles Rutenberg, LLC. It is being marketed by Rutenberg agent Maria Ellis. Ms Ellis is an associate broker with a Harvard Business School MBA degree.
The unit is 1,686-square-feet and boast an Armani decorated two-bedroom, 2.5 bathroom ambiance. That comes out to just under $8,000 per square-foot. But you get a big bang for the buck.
Aside from the fact that the location is in one of the most exclusive luxury buildings in Manhattan, there is a killer view of Central Park, the Hudson River and George Washington Bridge. Looking south the new resident will have another beautiful view reaching across the magnificent New York skyline to the Freedom Tower at the World Trade Center. There is an aerial view of Central Park.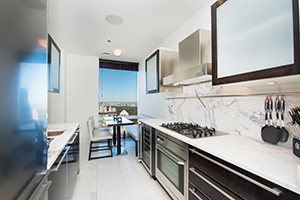 The residence features floor-to-ceiling windows to better enjoy the view. There is a large kitchen and an open-spaced living area brightened by the large windows, permitting the sun in.
Residents of the building, at 80 Columbus Circle, have full access to all of the five-star amenities at the Mandarin Oriental Hotel. There is white-gloved 24-hour concierge service along with a valet and doorman. Residents have use of a private elevator.
For those so inclined, there is a 40,000 square-foot fitness facility with an enclosed swimming pool. Owners may also use the Mandarin Spa with its steam room.
There is a parking garage, courtyard, hotel-style services, housekeeping, playroom, lounge, rooftop deck, common storage area and a business center.
The Mandarin Oriental Hotel is centrally located near the heart of Manhattan and towers over the Shops at Columbus Circle, offering a wide variety of upscale goods to choose from.
Hungry? Residents need only walk a few steps to enjoy such famed top-notch restaurants as Jean-Georges, Masa, Per Se, Marea and Asiate. There are more if you'll only look around.
Charles Rutenberg, LLC, was co-founded in 2007 by Wall Street IPO expert Richie Friedman. The company is a premier provider of residential real estate services. Rutenberg claims an innovative business model that it says provides agents with maximum earnings, work flexibility, continued industry education and entrepreneurial support.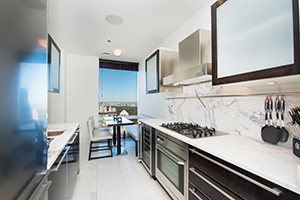 The firm says agents retain 100% of their earned commissions while paying a small fee for active agent status with full access to Rutenberg's resources and tools. There is also a closing transaction fee.
Rutenberg claims a lean operation with flexible work stations, a supportive atmosphere that empowers and coaches agents on how to close deals. The firm is run by Stefani Markowitz, Friedman's granddaughter. She was named president of the firm in 2014. For more information on Rutenberg,
check out: www.rutenbergnyc.com