Umberto's: Clams & Great Italian Food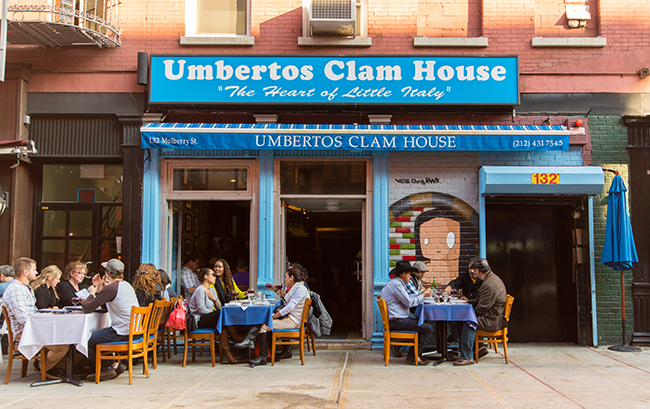 By Ross Warren
Some restaurants are famous for a signature dish, while others cater to a celebrity crowd. Umberto's Clam House is famous for other reasons.
In a business where restaurants come and go, Umberto's has staked out a reputation for outlasting many of its competitors and serving delicious meals. And while the majority of its regular customers are people known primarily to their friends and families, it still draws the glitterati.
Its tables are often occupied by the likes of Jack Nicholson, Michael Douglas, Bette Midler, Elizabeth Hurley and a bunch of very tall people who play for the New York Knicks basketball team.
The hallmark of Umberto's is that movie star or athlete, famous or not-so-famous, everyone sitting down for a meal is treated the same and given the same top drawer service.
"We have a loyal base of customers who have been coming to our various locations for many years," commented Robert Ianniello, the third of his family to run the famed eatery. He's been at the helm since 1972.
Located today at 132 Mulberry Street, between Grand and Hester, the restaurant is in its third incarnation. In one location the family owned the building and then sold it, necessitating a move. Another location proved too small for the growing cadre of regular customers, again dictating a move to the current location.
"We've always been in the same general area. If you move, you don't want to go too far so that your customers can find you without too much difficulty. Our regulars have always been faithful."
The restaurant was opened 47 years ago by Robert's father, Umberto. His brother, Matthew, headed operations for several years until Robert took the helm. Today it is thriving as never before. Arguably the most well-known restaurant in New York's iconic Little Italy section, the restaurant is a prominent stop for tour buses hauling tourists through the city's points of interest and ethnic neighborhoods.
Asked to name the most popular dish at Umberto's, Robert is hard-pressed for an answer.
"We have a number of dishes that diners ask for. Obviously baked clams would be one of them. Our pasta dishes are always in demand as well."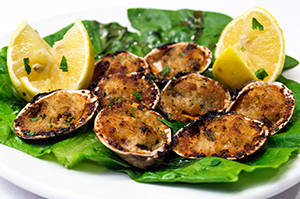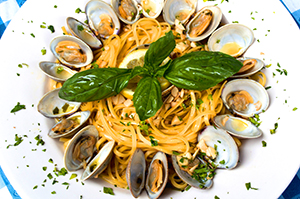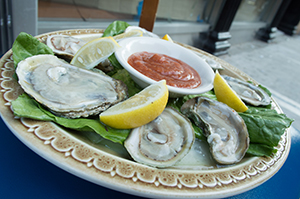 Some reviewers have recommended little neck clams, top necks, and cherrystones on the half shell. Over the years Umberto's has earned a reputation for calamari, scungilli and mussels.
Pasta sauces can be either main dishes or accompaniments. There is red, white, spicy and sweet with biscuits accompanying many of the dishes. The biscuits are also accompanied by olive oil and raw garlic.
Keeping with the sea food and maritime aura, the restaurant is decorated with fishermen's accoutrements. There are decorative boat oars, life preservers, netting, sea-faring prints and mounted fish hung on the walls. Although the bricks are exposed, there is still a somewhat upscale atmosphere to Umberto's.
In New York sports are often king. To accommodate that, the restaurant has wall-mounted televisions for patrons to watch the game of the day, be it the Giants or Jets, Yankees or Mets. Some even ask for the Rangers.
Over the years little Italy has grown as immigrants coming to this country looked for a familiar place to put down roots. While many spread out through the county (Boston, New Jersey and more) scores came to what would be called Little Italy.
Here they were able to socialize with people who spoke the same language, enjoyed the same foods, shared a religion and customs. They dressed similarly and no one looked twice at them.
Across Canal Street a similar enclave began to spring up that became known as Chinatown. Here Asians were, as well, able to associate within familiar surroundings. But over the years Chinatown began to expand, creeping across Canal Street and into the confines of Little Italy.
For the most part the two ethnic groups peacefully coexisted. Most of the Chinese restaurants remained south of Canal Street while the Italian eateries were on the north side.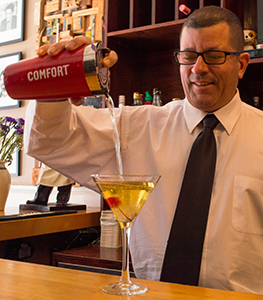 "That's changing again," Robert noted. "For a number of years now the Chinese are moving back across Canal."
Perhaps the most eagerly anticipated event in Little Italy is the annual San Gennaro Festival in September. Literally millions of visitors from throughout the United States and from around the world, converge on Little Italy.
The festival keeps alive the spirit and faith of the early Italian immigrants with religious observances, entertainment and parades. The crowds become so heavy that walking is sometimes difficult. But no one seems to mind. The crowds are fun-loving and joyful.
While seating is always open, Robert highly recommends reservations during such times as San Gennaro, the end of December and during summertime when the neighborhood becomes rather packed with tourists.
For reservations and information, check out:
info@umbertosclamhouse.com
Or call:
(212) 431-7545