Valentine's Day In NYC: Romantic Dining With Your Love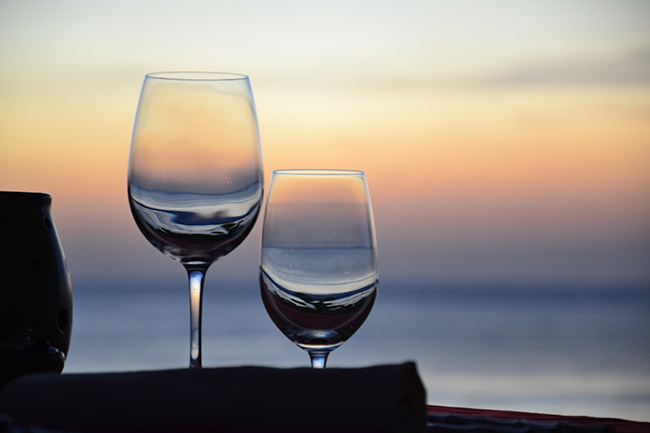 By Bob Nesoff
There are more choices in New York for a romantic evening at a fine restaurant than perhaps anywhere else, including Paris. Some will challenge the wallet, while others offer just the right atmosphere at affordable rates. Herewith are some choices that run the gamut, but all are highly rated for that "hand holding" romantic dinner on Valentine's Day.
Some restaurants are a bit more expensive than others, but that shouldn't be a put-off. There are fine restaurants that will fit every pocketbook. All you have to do is a bit of looking around. With the mixture of ethnic groups in The City, there are delicious choices everywhere, from fine French restaurants to Italian, seafood to hearty meat dishes.
We've done some research for you and herewith present a sampling of choices. Enjoy the day set aside for lovers everywhere.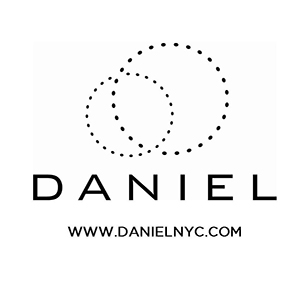 Daniel
60 E. 65th St.
(212) 288-0033
danielnyc.com
While many restaurants would like you to come in for Valentine's Day, Daniel has prepared a special offering for the romantically inclined.
There will be a tasting menu they refer to as "Romantic," and I can't wait to see it. For those who prefer a more standard set of options, there'll be a four-course prix-fixe menu that will set you back $550 a couple. Make sure the person you are with is very special to you.
Daniel Boulud, the chef-owner has a restaurant conglomerate with many different locations throughout the country. That is why the quality at Daniel is superb. One diner commented that it was "As good as it gets." That's high praise for the sophisticated New York palate.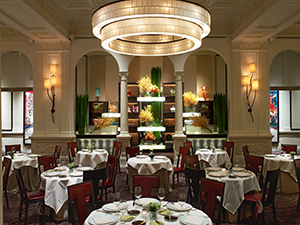 Aside from the food, Daniel is known for impeccable service. The waiters have been known to, at the request of diners, recommend wine from Daniel's extensive collection, and there has been nary a complaint about the pairing.
It is, as you might expect, somewhat expensive, but the rate of return diners is an indication that the food and service are well worth it.
For Valentine's Day expect candles on the table to give that warm glow as you hold hands between tasting the morsels of the food in front of you.
Diners at Daniel have been known to spend hours enjoying the meal and each other, without any feeling of being rushed by the staff. That should also be the norm at the romantic Valentine's Day lunch and dinner. Savor it on this special occasion.
Daniel is a popular restaurant, so try and book reservations as early as possible.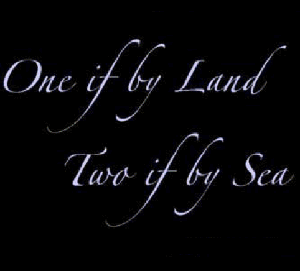 One If By Land, Two If By Sea
17 Barrow Street
212-255-8649
oneifbyland.com
CNN called this restaurant "One of the most romantic in New York... and one of the most haunted." This Valentine's day, lovers can dine on special menus and perhaps feel the ethereal mysteries surrounding them. "Our ghosts are friendly," says the restaurants sommelier, Kirk Adair. According to the sommelier, romantic couples, rather than being put off by the ghostly presence, actually enjoy it.
"Especially on a holiday such as Valentine's Day, the ghosts actually bring warmth to the restaurant," he said. "There is a white lady who comes down the stairs. Guests who have seen her or felt her presence, feel that she is friendly. There are about 25 ghosts in the restaurant and all of them are friendly."
Does the restaurant advertise the ghostly presence for holidays such as Valentine's Day? "We do not. The only spirits we advertise are the ones behind the bar... the distilled spirits."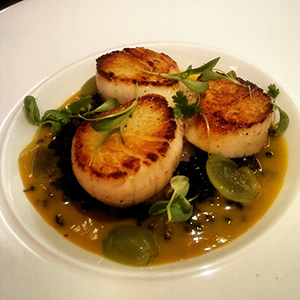 The atmosphere in One If By Land, Two If By Sea, confirms the CNN description. There are long candles on the tables, lending warmth and a soft glow to enhance romance. The overhead chandeliers are electric candles that could pass for the real thing. The room is warm, nicely decorated and the soft murmur of conversation adds to the atmosphere as well. For Valentine's Day the restaurant is luring lovers with a series of menu offerings. There are several prix fixe choices as well as menu specials. The four-course lunch prix fixe ($150), offers toasted farro soup, Nantucket Scallops Tempura and duck confit agnolotti. The second course is green market salad and the third is a selection of various vegetarian options, poached sea bass, rack of lamb, Beef Wellington and fricassee of wild mushrooms. And the fourth course, dessert, offers key lime pie, brownie with caramel ice cream or champagne sabayon.
There is a six-course tasting menu for dinner ($295) that starts with toasted farro soup. The second course is Nantucket Scallops Tempura. That is followed by the third course of crispy duck breast. A fourth course is poached sea bass and the fifth offers several vegetarian options. Those not interested in vegetarianism can opt for Beef Wellington.
Dessert is the sixth course with a choice of key lime pie, brownie with caramel ice cream or champagne sabayon.
You don't need a ghost, friendly or not, to have a wonderful Valentine's dinner in New York. There are more restaurants per block in The City, arguably, than anywhere else in the world. All you have to do is a bit of looking around.
Pick a place that looks nice, get a recommendation from a friend, check one of the rating services such as Zagat or Yelp, call up and confirm that they will have Valentine's specials. Then don't wait and be left out in the cold. Call and reserve your table for a romantic evening.

Recette
328 W. 12th Street
212-414-3000
RecetteNYC.com
Recette welcomes lovers and other couples for Valentine's Day with a special prix fixe menu designed by Chef Jesse Schenker (Who also oversees The Gander-listed below) and Chef De Cuisine Audrey Villegas. The special is a five course dinner ($150 per person) with delectable starters and going through dessert.
First Course: Flake crudo, pomegranate, fennel purée, caviar, crumble Second Course: Shellfish chowder, guanciale, parsnip, cream Third Course: Roasted quail, coco bean cassoulet, chorizo Fourth Course: Veal chop, sweet potato hash, creamed kale, jus Dessert: Raspberry mousse, lychee cake, rose "kisses" raspberry compote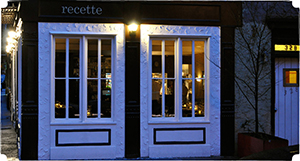 Recette has been highly rated by diners for its "adventurous New American small plates." There are exceptional multi-course tasting menus available aside from the full menu choices.
The restaurant is conducive to a romantic evening, in part due to its "intimate" size. All seem to agree that the food is "delicious" and the service is impeccable. It's been called "a fun place, even romantic."
Cocktails are finely crafted and the atmosphere permits the food, drinks and service to stand out.
The staff is noted for being attentive and provided whatever was asked for quickly.
The linguine with clams, chicken parmigiana and king crab with angel hair pasta were all high on the list of recommendations. Also recommended at Recette is the lamb ragout, beef Carpaccio surrounding burrata. Also try the fresh arugula salad and duck breast.
Desserts also were ranked highly by diners. One reviewer commented "Stellar dining in an intimate setting."

The Gander
15 W. 18th St.
212-229-9800
thegandernyc.com
What's good for the goose is also good for the gander, or so they say. In this case The Gander has whipped up specials for Valentine's Day to entice couples for a romantic dinner.
Diners can either choose the full menu of the special Valentine's prix fixe at $96 per person. It will include lobster, tortellini, bisque, bone marrow fondant and black truffle.
Chef Jesse Schenker is on top of everything that comes out of the kitchen in this Flatiron District restaurant. His unique and imaginative cooking style shows through in his house-made pickles, fresh pastas and wide selection of entrées.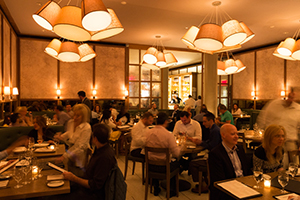 For that romantic dinner there is a wonderful selection of international wines. There is also a great assortment of spirits for cocktails.
Try the calamari salad and burrata as starters. Grapes and nuts are wonderful additions to the starters. Diners had cheddar gnocchi and duck tubetti. Comments heard during the meal called the gnocchi crispy and decadent while the duck was "to die for."
The branzino was very flavorful and was accompanied by a nice selection of grilled vegetables. Carrot cake at dessert is one of the more popular finales at The Gander.
With all the detail and fine food, you might expect the tab at the end of the meal to be astronomical. Wrong? Two people dining, two glasses of wine and four courses totaled about $100 each.