Carnegie Deli Returns: Oh How We Missed That Pastrami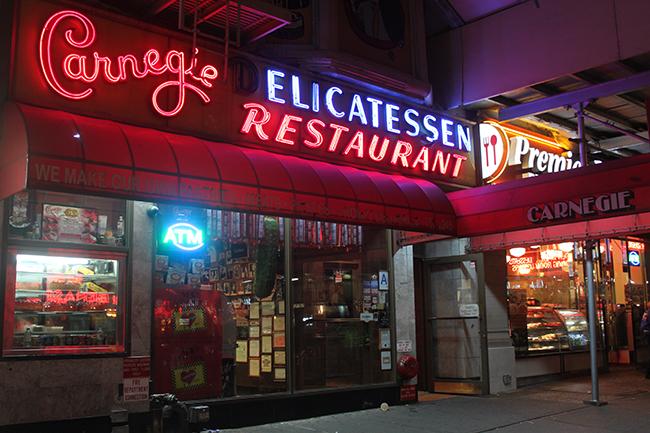 By Bob Nesoff
So this guy who looks like a tourist from Iowa on a date with his young son, decides to take him to a New York restaurant. They walk into the Carnegie Deli, only steps from famed Carnegie concert hall on Seventh Avenue.
They sit down at a table and the father's eyes bug out as he sees sandwiches, piled so high with meat that they could feed most of an army platoon. He turns to the waiter and asks:
"Do you have a children's menu?"
Never mess with an old-fashioned Jewish waiter in a deli.
The waiter, blank stare on his face, looks down his nose at the hapless tourist and says, in a voice filled with disdain: No!" Then turns and walks away.
Locals sitting at surrounding tables stifled a chuckle as the man sought to regain his composure and dignity and try to find something his son could fit his lips around.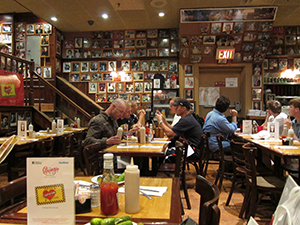 The Carnegie Deli is back in business, arrogant (is it a put-on?) waiters and ginormous sandwiches and all. Closed for close to a year following some legal problems, many feared the deli would never reopen. But open it did and loyal customers are flocking back to chomp into those mouth-watering pastrami sandwiches, fatty corned beef and a darned good knish. And that's not to even mention the chopped liver.
Over recent years the number of iconic New York delis has dwindled. There is no other place in the country where a deli sandwich tastes the same as it does in New York City. You could even make that "Manhattan.
"Maybe it's in the water. Maybe it's the air. But try pastrami or corned beef in Pennsylvania and you'll think it's mystery meat.
The Stage Deli suddenly closed its doors a couple of years ago. The Second Avenue Deli moved from Second Avenue to two other locations and lost much of its panache. Yeah, we know, Katz's is still around, but that's on Houston Street, another world away from midtown.
Ben Ash's deli, just a few steps from Carnegie, is still active but not nearly as well known. And that's about it folks.
The Carnegie's notable munchers range from Woody Allen, who used it as a site in his movie, "Broadway Danny Rose" to former New York Yankee captain Derek Jeter. Both had sandwiches named in their honor. Woody's, costing a penny less that $30, consists of a combo of corned beef and pastrami while Derek's, brought out to honor his retirement, is a tower of turkey, bacon, American cheese, lettuce and tomato on white toast for $24.
Former Jets quarterback, Tim Tebow (now how's that-a sandwich in a Jewish deli named for a born-again Christian) was immortalized with a 3.5 pound monster sandwich of corned beef, pastrami, roast beef, American cheese, lettuce and tomato on white bread and called the "JetBow."
You know that you've truly made it in New York when they name a sandwich after you.
Loyalty with the Carnegie extends from patrons to the staff. Most of the deli's employees, about 50 of them, returned as soon as it reopened. And that was long after their unemployment benefits ran out, but yet they hung around. Management promised they would reopen and the staff waited.
Marian Harper, Carnegie's owner, knows why customers and staff are so loyal.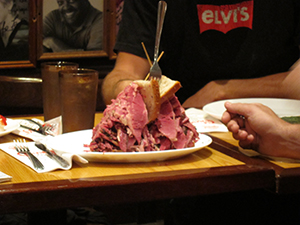 "Anybody can make corned beef because all they have to do is pickle it. With pastrami, we have it in an oven for more than two weeks and we add our unique special spices."
The meats, breads and cakes are made in a facility in New Jersey and brought daily to New York.
But it's more than that. "We have a history," Harper said. Look at all the pictures on the wall."
She points to walls that have almost every inch of space covered with a virtual hall of fame of movie and stage stars, politicians, authors, athletes... you name it.
You can't go to the Carnegie and not make friends. Tables are jammed one against the other and people sit shoulder to shoulder. Natives and visitors, Americans and Europeans, all join in the cacophony of languages and sounds that permeate the restaurant. It's a true paean to the words of the Dalai Lama: "Strangers are only friends you haven't met."
The atmosphere is always hectic, but convivial. The line sometimes reaches down the block as people wait their turn. Reservations? The Carnegie doesn't even know how to spell the word. Come, wait your turn and then eat.
First opened in 1937, the Carnegie Deli was called by USA Today "The most famous restaurant in the United States. Now in its 79th year its family connection is still intact. Marion Harper still holds the reins, but daughter, Sarri, is waiting in the wings for her opportunity to be the Pastrami Queen of New York.
Leo Steiner, who passed away in 1987, co-owned the deli. It became so famous that he was commissioned to create a "Statue of Liverty" made of chopped liver for the United States Bicentennial. The torch was a turkey drumstick.
Four years earlier he provided corned beef and pastrami for visiting heads of state attending the G7 Economic Summit in Williamsburg, VA. Gastronomic conversion?
After 10 months of darkness, the lights came back on, then the lines formed and there was no question but that the Carnegie Deli was back in operation.
And the restaurant's motto was once again in full force:
"If you can finish your meal, we've done something wrong." To the contrary, mon ami, it sure looks as though you've been doing it right. Let us know when you're ready to celebrate that 80th anniversary next year.