Abe & More: Spring Vacation with the 16th President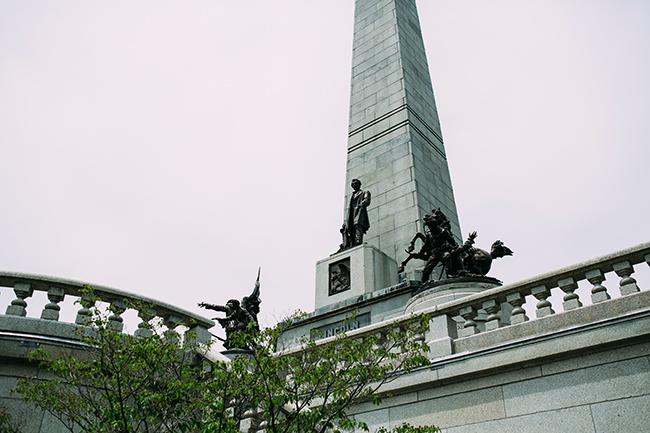 By Jodie Jacobs
While presidential candidates pontificate on what they would do to or for the country, reconnect with the president who did change the country's course. This spring, leave Fort Lauderdale and Corpus Christi beaches to the college students to walk in Abraham Lincoln's footsteps.
From his home with Mary Todd Lincoln and his tomb to his law office and the Old Courthouse where he spoke, Springfield, IL is the heart of Abraham Lincoln country. It is also Illinois' capital with a stunning State Capitol building that visitors can tour and it's home to the Abraham Lincoln Presidential Library and Museum.
Best of all, most of its sights are in walking distance of each other. You step back to the 1850s-60s in a historic neighborhood that includes the Lincoln family home. Then, fast forward fifty years and walk to the nearby Dana-Thomas House reconfigured by Frank Lloyd Wright.
Stand on the steps of the Old State Capitol where the 16th President gave his "House Divided" speech and cross its square to visit the Abraham Lincoln Presidential Museum where ghosts unveil the contents of the Presidential Library in a special effects show and another show reveals Lincoln's thoughts on the country's Civil War.
Drive out to Lincoln's Tomb and further out to the reconstructed New Salem Historic Village where Lincoln once lived and worked.
You get the idea. There are enough Lincoln sites and other interesting places to see in and around Springfield to make a trip to this Midwestern city worth the drive or flight. Plan to spend a few days because the Presidential Museum, alone, is worth half a day and is a good starting point because it is near all the downtown sights. Here are some things to put on the do list.
The Route 66 Connection
Shea's Gas Station on Peoria Road, a prime Mother Road (as Route 66 is known) stop, has closed but the memorabilia-filled Cozy Dog Drive In, 2935 S. Sixth St. (also on the Route 66 trail) is open and still sells its famous hot dogs on a stick.
Abraham Lincoln Presidential Museum
You may just think you know all about the country's 16th President. Springfield immerses visitors by placing signs on almost every downtown block with historic Lincoln site information. But save two hours for the Presidential Museum, 212 N. Sixth St. Exhibits talk about and honor the man and his period but also dispel the myths that surrounded him. The Presidential Library, across a small street is attractive, but is typically used by researchers.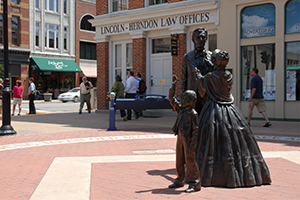 Law Office
Go to the Lincoln-Herndon Law Office at the corner of Sixth and Adams Streets across from the Old State Capitol. Completed in 1841, Lincoln moved in with partner Stephen Logan in 1843. When that partnership ended in 1844 William H. Herndon joined the firm. Don't be surprised by any shoddy, unkempt looks. The building was a formal, Greek Revival style, but Lincoln's style was casual.
Lincoln Home and Tomb
Visit the Lincoln home (1844-1861) and its historic neighborhood. The tomb is a National Historic Site operated by National Park Service Rangers. You need to go to the Lincoln Home Visitor's Center next to the four-block, 1850s-60 neighborhood at 426 S. Seventh Street to visit the home.
Take a break from the downtown to see the stunning Lincoln Tomb at 1500 Monument Ave. in the Oak Ridge cemetery. This is where he, Mary Todd Lincoln and three of their four sons are buried. His burial site was located here after an attempt to steal his body. He is resting under tons of poured concrete.
Illinois State Capitol
Do the Old State Capitol where Lincoln spoke in the Hall of Representatives and tried cases before the Illinois Supreme Court. Then go over to the stately Capitol Building towering over trees and buildings. Walk through its imposing rotunda to tour the building, a merger of baroque and classical styles.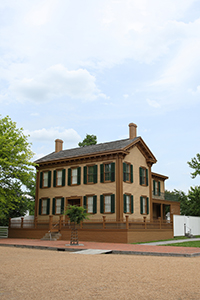 Two Notable Homes
Frank Lloyd Wright aficionados know that Springfield's Dana Thomas House is considered among the best examples of the architect's work. It has all of its original glass and many original furnishings.
Add the Vachel Lindsay Home to the itinerary. Mary Todd Lincoln's sister Ann lived there. Then Vachel Lindsay's parents bought the house. The poet lived there until he died in 1931.
Lincoln's New Salem
Drive out or take a tour that goes out to this historic site. Sitting about 20 miles northwest of Springfield, it is a village that has been recreated to look like it did when Lincoln lived and worked there in the 1830s. You can chat over a fence or inside a working mill with costumed docents who make visitors feel as if they really stepped back more than 180 years. The historic site is at 15588 History Lane, Petersburg, IL.
Lodging
Historic: If you look for historic inns, check The Inn at 835. An early 1900's building that once served as an apartment house. The inn at 835 S. Second St. is on the National Register of Historic Places.
Retro: Mid-last century is in at The State House Inn, 101 E. Adams St. The Inn at 835 and The State House Inn have complimentary breakfasts and parking. You can walk to downtown attractions so you won't have to look for parking or feed a meter.
Up-to-date: Travelers who like a pool, sauna and full-service hotel would appreciate the Crowne Plaza Hotel, a conference-style facility at 3000 S. Dirksen Parkway, at the edge of town near I-55.
However, Springfield has several lodging options, so check with the Convention & Visitors Bureau, 109 North Seventh St., Springfield, IL 800-545-7300. Because the town is the state capital it also has several conferences throughout the year, therefore book ahead.
For more information visit: www.visit-springfieldillinois.com