Marvelous Mesa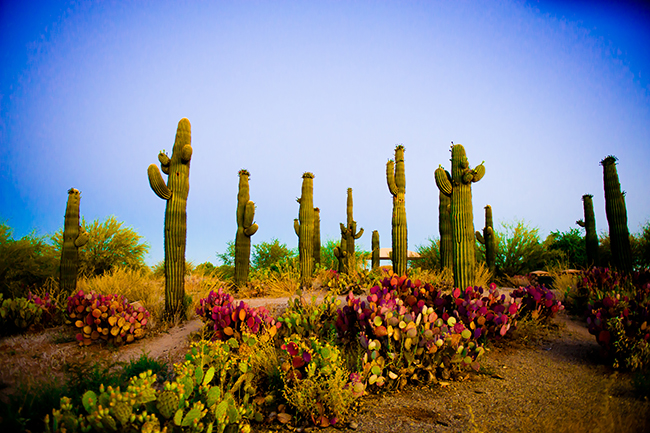 By Mira Temkin
Photos courtesy of VisitMesa.com
From Wild West adventure, Native America history, to arts, culture and the natural beauty of desert and mountains, Mesa, Arizona, is a city that knows no bounds. This geographic wonderland provides unique experiences to tempt your palate as well as give you a few thrills. Here are a just a few ways to have a good time in Mesa.
Batter Up for Spring Training
The Cubs have been calling Mesa "Wrigley West" for Cactus League play since 1952. Now, Sloan Park is open for its third pre-season play with games through March 30. Sloan Park is the largest spring training stadium by capacity in Major League Baseball. Visitors to the stadium will notice several dark green elements reminiscent of Wrigley Field. It's a great place to cheer on the team under the warm Arizona sun. cubs.com... and stay within swinging distance at the Sheraton Mesa Hotel, Wrigleyville West.
Literally across the parking lot from Sloan Park, sits this contemporary, new hotel, boasting 180 rooms, smack dab in the heart of the city's new development, Mesa Riverview shopping and entertainment complex. Walk into the hotel and you're greeted with the open-air lobby and Stats Sports Grill. Pools rule here with a 5,000 square foot pool, plus two heated wading pools and two hot tubs. Fitness buffs can keep up their routines with Starwood's revolutionary health and fitness program, Sheraton Fitness by Core Performance. It's so close to the ballpark, you can almost hear the crack of the bat. We dined at the new Legends Steakhouse, featuring a fine selection of steaks from locally-raised beef. Home to renowned Executive Chef Cameron Bolender, their specially-selected wines, with an array of decadent desserts, round out the menu at one of Mesa's finest dining experiences. SheratonMesa.com
Postino Wine Café
This café has a wonderful neighborhood feel to it where you can try almost 40 hand-selected, approachable wines; simple, delicious food prepared with local ingredients such as bruschetta, Panini's, salads and soups; and a warm, friendly welcome. Perfekt, the Riesling wine from Germany, was the perfect accompaniment to the Sunshine Daydream salad. With a contemporary urban space and outdoor patio, this is one cool place to hang out. PostinoWineCafe.com
TQLA Southwest Kitchen & Agave Bar
Voted one of the best Tequila Bars by USA Today, TQLA features a collection of tequilas on tap, hyper-cooled to 5 degrees Fahrenheit. TQLA combines the freshest locally-sourced ingredients, along with the flavors of the Southwest and Coastal Mexican cooking influences. The sizzle from their signature fajitas was a prelude for the fantastic entrée to come. Other standouts include crawfish and spinach enchiladas, table-side guacamole, pumpkin seed crusted salmon, and for dessert—the Cuatro Leches is simply divine. tqla.com/dana-park
Eat Your Veggies at True Garden Urban Farm
Make your vacation a learning opportunity at this education center which teaches you how to grow healthy and nutritious food without soil. At this 5,000-square foot vertical urban farm, owned by compound pharmacist Troy Albright, visitors can enjoy a weekly farmer's market as well as seminars about organic growing practices, nutrition and overall health and wellness.
Albright can grow up to an acre of fresh vegetables using 1/10 of the land and a fraction of the Water. TrueGarden.com
Ancient Grains at Hayden Flour Mills
Taste Arizona history at this family-owned flour mill that has been featured in the new documentary, The Grain Divide. Focused on native seeds and grown in Heirloom wheat with minimal processing, Sossaman Farms offers a full-sensory culinary experience that starts with a tour of the Hayden flour milling operation. Visitors can participate in baking classes and educational seminars. Be sure to bring home their artisan breads, pasta and wheat berries. HaydenFlourMills.com
Agritopia – A community of Creativity
Lauded by the New York Times as the leading "agri-hood" in the U.S., Agritopia is a master-planned community in Gilbert, which preserves urban agriculture and integrates it into daily life. Agritopia was established in 2000 by developer Joe Johnston, who has now unveiled plans for a new project to revitalize a 100 year-old barn, creating an innovative artisan collective. Slated to open in October, Barnone will feature 14 resident craftsmen, including a micro winery and micro distillery, a medicinal garden and culinary machinist designing kitchen tools, including coffee roasters, espresso machines and more. agritopia.com
The original Johnston family home built in 1966 is now Joe's Farm Grill, a 60's diner featured on Diners, Drive-Ins and Dives. Many of the ingredients come right from their gardens next door. Joe's takes popular foods to the next level, like the Farm Burger, Portobello Farm Salad and Baked Potato Fries. My Pumpkin Shake (in season) was delicious.
Life on the Superstition Dairy Farm
Roll up your sleeves and get a taste of life on the farm. Run by fourth generation brother and sister team, Casey and Alison Stechnij, you'll see what goes on at Moo-University, followed by a tractor-pulled hayride, plus feed the goats and other farm animals. Try one of 12 flavors at the Milk Bar, including Butterscotch and Peaches & Cream. Their Udder Delights homemade ice cream comes in fabulous flavors: Red Velvet Cheesecake, Choc Hazelnut, and my favorite, Blueberry Moofin. superstitionfarm.com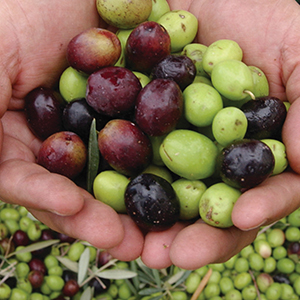 Press for Olives
Queen Creek Olive Mill is Arizona's only family-owned and operated olive mill and farm. Here olives are grown and pressed for high quality extra virgin olive oil in amazing flavors like Blood Orange Olive Oil or Bacon Olive Oil. Taste the oils, olives and tapenades and then dine at del Piero – the mill's Tuscan-inspired eatery. When the weather is ideal, dine in the olive grove. QueenCreekOliveMill.com
Schnepf Farms – Perfect for the Whole Family
As an active farm, Schnepf Farms is the largest grower of organic peaches in the state as well as one of the largest agri-tourist farms in the country. Pick your own fresh produce, hop on a hayride or enjoy their Country Store & Bakery. Be sure to try their warm, cinnamon rolls. SchnepfFarms.com
If you're coming to visit, check out the Mesa Art Center, Rawhide Western Town in Chandler and Pink Adventure Tour jeep rides. For more information, go to visitmesa.com or download the app, Mesa City Limitless.
About Mira Temkin
Mira Temkin has a passion for writing and sharing her adventures across the globe. She covers everything from destinations to tours to cruises in the U.S., Canada, Mexico, Central America, Caribbean and Europe with a keen eye and open mind. Her work has appeared in The Chicago Tribune, USA Today, Lakeland Boating, thevacationgals.com and usinesstraveldestinations.com.