Peter, to the Max!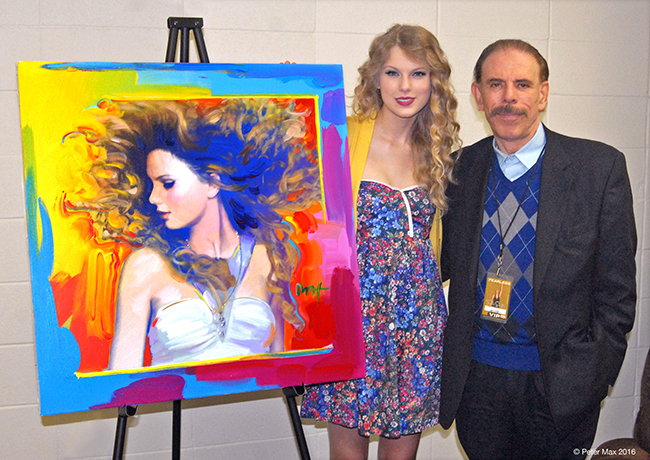 By Ivette Manners
All photos courtesy of Peter Max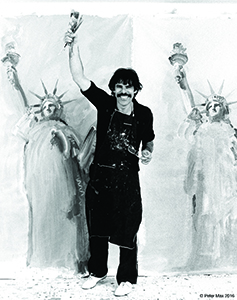 Pop artist Peter Max's work has become so much a part of American culture; you've probably seen a poster, ad campaign or portrait and not even realized it was one of his pieces. As much a New York iconic figure as the Statue of Liberty, which he has painted dozens of times in different variations over the last decades, Max is one of the most famous artists of all time. His psychedelic art helped define the 1960s and he introduced modern and pop art to many generations around the world.
Max is a cultural icon himself and as regarded as the people and places he's painted. His unique style, which is made up of bold colors and trippy shapes, has depicted almost every phase of American history from the 1960's Age of Aquarius to 911 and has touched many lives.
World recognized, internationally renowned, and globally trained in art, Max lived in various countries before the age of 15 and has traveled all over the world ever since, but he calls New York home. As a child growing up in China, he became fascinated with American culture even before he moved to America. He immersed himself in American comic books, music and Hollywood films.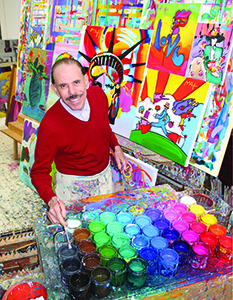 After 50 years of creating his imaginative artwork, Max is still in high demand to illustrate what is current and hot. In the last year, he created paintings in honor of the Frank Sinatra 100th centennial celebration, poster art for the 30th anniversary of the Rock and Roll Hall of Fame induction ceremony, and portrait art of the four talented coaches of NBC's The Voice, featured in its promotional campaign for the latest season— and the list goes on and on. We recently sat down with the esteemed artist for a chat about his life and his art, and were even more impressed by his colorful personality.
You grew up in some of the most inspiring cities in the world. What was that like?
And when did you make New York your home?
I was born in Berlin and when I was a year old my family moved to Shanghai where we lived for nine years. We then moved to Tibet, then Israel when it was a fairly new country and then we lived in Paris. We finally came to New York when I was 15. Each place where I lived was terrific. I had a great childhood.
When did your interest in art start?
As a child, I was always drawing, painting and doodling. Growing up in Shanghai, I watched Buddhist monks paint Chinese characters on large sheets of rice paper and I had a wonderful Chinese nanny who drew and painted. In Israel, I studied with an Austrian expressionist who taught me about the works of Henri Matisse, Max Beckmann and Alexei Jawlensky. In Paris, my parents enrolled me in art classes at the Louvre. I was very culturally educated and I lived in culturally-rich cities full of museums and galleries. I learned a lot about art from each place.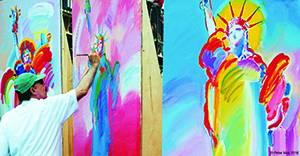 How did your interest in art continue to grow in New York?
I studied art for six years, painting and drawing every day. I started my formal art studies right out of high school. A friend of mine and I took classes at the Art Students League of New York. The painter Frank J. Reilly was my teacher and I really admired his work. He and Norman Rockwell were in the same class at the Art Students League about 20 years before I studied there.
Do you consider yourself an illustrator, painter, graphic artist, or pop artist?
All of them. I love all art and have developed my own style.
Who are some of the painters that have inspired your work while you were developing your style?
Reilly and Rockwell were two of my biggest inspirations. And there were so many great artists at the time that I was coming out on the scene.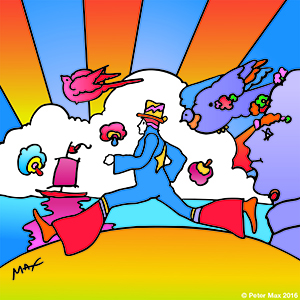 What do you think of art today compared to when you were first starting out?
When I got out of art school, there were many different styles out there that no one had ever seen before. Today, there are also many fantastic styles. There is so much more media today. There are thousands of television shows and magazines that use and expose art to the masses.
Did the decade in which you started out in art influence your work?
It definitely did. There was a major cultural explosion in art in the 60s. When I became "famous", there was so much culture in New York, even more than today. I was in the middle of a very exciting time culturally and artistically. It was like the whole world exploded with art in the mid 60s and the advertising age became huge.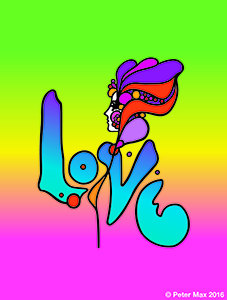 What impact has New York had on your career?
New York is a tremendous media city. It's truly fantastic—full of magazines, advertising agencies and art. It's a very diverse city with great museums including the Museum of Modern Art, Guggenheim and Whitney. I've had a very modern lifestyle here. New York City is something I use in my work a lot. For example, I've painted the Statue of Liberty many different ways over the years.
You've been commissioned to work on many exciting pieces, from posters for the U.S. Olympic Teams and Super Bowls to designs on the side of cruise ships and airplanes. Which has been your favorite?
Every day is a new day, and every day brings a new project. Each piece is a favorite piece. There have been thousands of great projects and thousands of great ideas.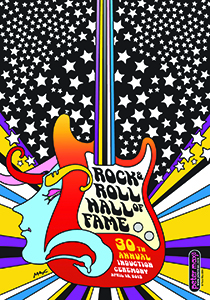 Music seems to be a big influence in your work. Is it a personal interest?
Music is a great inspiration for me and how I got my start in my career. My first big commission out of art school was an album cover for blues piano player Meade Lux Lewis. Since then, I've designed tour posters and album art for musicians like the Grateful Dead, Yes, Alice Coltrane and Aretha Franklin; stage art for music festivals such as Woodstock '99; posters for the Grammys; and portraits of musicians Steven Tyler, Taylor Swift, Bono and many others. Music is so available today with streaming music, videos on our phones and favorite songs heard at the touch of a finger. I have a lot of close friends in the music industry, from owners of record labels to musicians.
You've been commissioned to paint portraits of very important and famous figures, from U.S. Presidents and other dignitaries to actors and athletes. What was it like to paint them?
Each and every person has been interesting—television personalities, movie stars, rock stars, musicians, politicians. They're all very iconic people. They come to me every day to have their portrait done, even now.
You've created so many amazing designs. How do you come up with the concepts for the pieces you're commissioned to do?
I have great ideas all the time. They come spontaneously—the subjects, colors and designs.
Did your parents encourage or influence you to be an artist?
Absolutely. My parents encouraged me to pursue my interest and talent in art. My father liked to draw and my mother was a great artist. She was a fashion designer and had incredible style.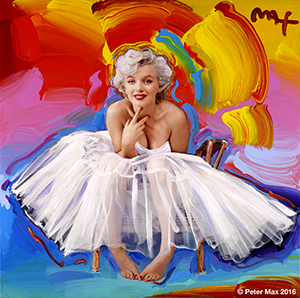 Vibrant cosmic colors and shapes have played a big part in your work. Where did your interest in the stars come from?
I discovered astronomy as I grew up. I became very fascinated with what was in the sky. Even to this day, I look up and am awed by how big the universe is. It's been one of my signatures.
You seem to have a love of all cultures. How many languages do you speak?
About five.
Tell me about your art studio. It's an amazing space.
I love spending time in my studio. It's very bright and I have a great palette of almost 100 colors. I have 55 wonderful people working with me. Every day I come to work I'm excited. I have the best job.
Captions:
Photo #1: Peter Max and Taylor Swift on her 'Fearless Tour' with one of the portraits he painted of her. Taylor became a fan of Max and his work as a young girl vacationing with her family at the Jersey Shore, where she saw his vibrant works at Ocean Galleries in Stone Harbor. Max became a fan of Taylor's immediately upon meeting her and experiencing her music and beautiful, creative spirit. © Peter Max 2016
Photo #2: Peter Max paints Lady Liberty canvases at The White House Rose Garden in 1981 for President and Mrs. Reagan and assembled guests and dignitaries. © Peter Max 2016
Photo #3: Peter Max painting in his New York City studio. Photo by Stephanie Arcabascio © Peter Max 2016
Photo #4: Peter Max painting Lady Liberties at OpSail 2000 with President Clinton on the Hudson River in NYC. © Peter Max 2016
Photo #5: 'Cosmic Runner'
Photo #6: 'Love'
Photo #7: Max's poster & program art for The Rock & Roll Hall of Fame Induction Ceremony
Photo #8: 'Portrait of Marilyn Monroe'
All art © Peter Max 2016