Robert Restaurant: Where Art Meets Cuisine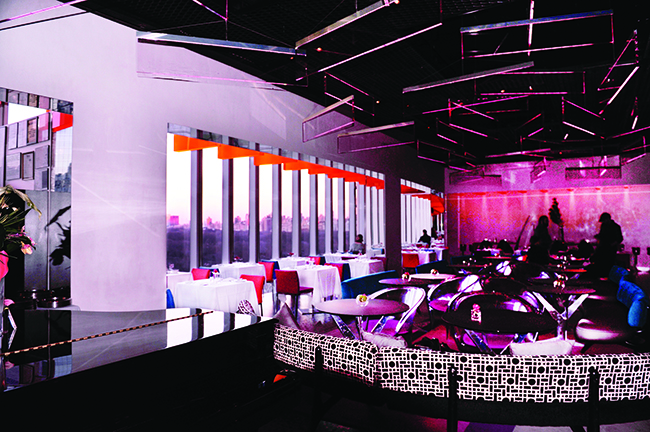 By Jon Haggins
Photos By Maybelle Webster
Dining and culture rarely go together... except at Robert Restaurant. Robert Restaurant is located on the 8th floor of the Museum of Art and Design at Columbus Circle with an impressive view of Central Park, Broadway and Central Park West. The building was originally constructed as The Huntington Hartford Museum and later occupied by The NY Cultural Affairs Department. Now it shines as the New Museum of Art and Design. Robert was conceived to include a collection of contemporary art and design. It was commissioned specifically and curated by the partners, Michael Weinstein and Dr. Brian Saltzman.
Ana Harris, the restaurant manager told, me: "Robert is designed to complement Columbus Circle. Not only is Columbus Circle a destination, it's also a one stop shoppers paradise where one can get a little culture and a fantastic dining experience. Michael Weinstein is no stranger to New York, and he loves to eat. Dr. Brian Saltzman is a vast art collector who appreciates art."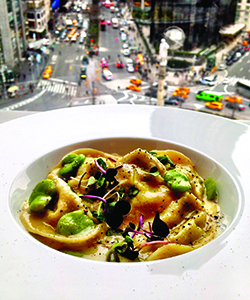 Robert was named in honor of Robert Isabell, the late florist and party designer and long time friend of the owners. Isabell was involved in the creative concept of the restaurant from its inception. The space evokes an elegant, sophistication and a celebratory atmosphere for which Isabell was renowned.
Guests can sit on sofas in the central lounge area or by the large windows to enjoy the spectacular view of Columbus Circle and Central Park.
The lighting is designed by San Francisco based architect Johanna Grawunder. Grawunder's two installations are Cherry Blossoms, a mobile like chandelier installation of LED lit Lucite panels and Tangerines; a series of suspended orange Lucite boxes along the windowed perimeter.
Sculptural steel cocktail tables, host stand and a 15-foot communal table bisected by a 6-foot high 'sound wave' were created for the space by London based architect Philip Michael Wolfson. Vladimir Kagan, a modernist master, designed the sorbet colored orange, pink, cerise, aqua and turquoise upholstered chairs.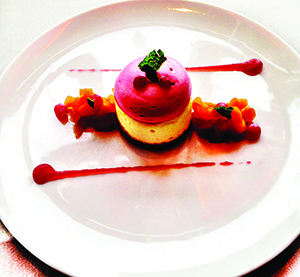 The prix fixe three-course lunch includes an appetizer, main course and dessert for $35.00.
We began our meal with a roasted beet salad with yellow and dark beets with pickled red onion, breakfast radishes and orange vinaigrette ($16). It was a refreshing start to our lunch. Tuna Carpaccio is always a delightful dish, especially with the colorful presentation at Robert that includes, Kalamata olives, red peppers, chipotle aioli and red onion finely chopped ($18). Not only is it presented artistically colorful, it's a blend of flavor that is very appealing.
For our Pasta course we chose Agnolotti ravioli topped with fava bean, ricotta lemon and thyme beurre blanc ($25). The Scottish Salmon with a thin seared crust was ever so seamlessly prepared with flare. It was anchored on zucchini and butternut squash finely cut like spaghetti ($30). What could be better than that? I felt as if I was on top of the world as the desserts arrived. Dessert began with three colorful flavors, including cranberry mango, apple cider and raspberry sorbet ($4 per scoop). The chocolate cake was filled with marvelous chocolate topped with a passion fruit custard raspberry gelee ($12). What could be better than that to top the dining experience?
Robert is open for lunch, brunch, dinner and late night cocktails with jazz music. Chef Luisa Fernandes prepares the specialties and Chef Benito Gregorio delights everyone with creative pastries.
Columbus Circle in New York City can seem like the center of the world and Robert can make you feel as though you're on top of it all. From the excellent dining, the wonderful art and the relaxed ambience, you are in for a very special treat at Robert.
Robert
Museum of Arts and Design, Ninth Floor
2 Columbus Circle
New York City 10019
212-299-7730
www.robertnyc.com