Chicago's Art and Relaxation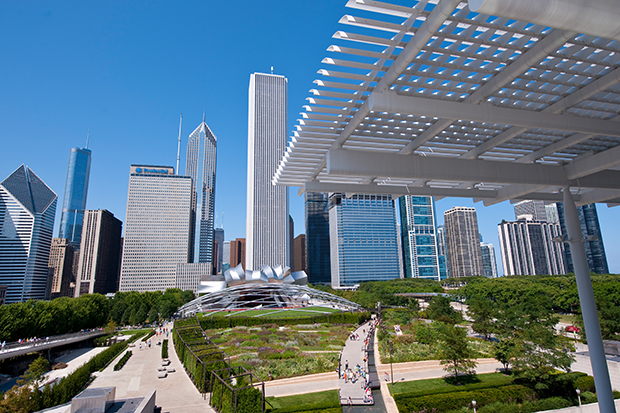 By Jodie Jacobs
If the planets were in the proper alignment you would have a week to enjoy Chicago's neighborhoods, museums, festivals and food (yes it has become a foodie town). However, when it is conferences and business meetings that bring you to the city, you need to know what to shoehorn in during your free time.
De-Stress at the Peninsula Chicago Spa Treat yourself to a couple of hours at The Peninsula Chicago's Asian and Ayurvedic inspired Spa because you deserve it. After a deep-tissue or bamboo massage at this luxurious spa, you can go back to meetings refreshed or even feel able to take on whatever the airlines have in store for you to fly back home.
Arguable among the top spas in the Chicago area, the staff is knowledgeable and you can customize your treatments. Just as good, is that spa guests get to use the half Olympic sized pool, workout equipment, steam room and sauna. The spa is on Floors 19 and 20 so you have wonderful views from the pool and relaxing rooms high above North Michigan Avenue's Magnificent (Shopping) Mile. Food and drinks are allowed poolside, so you can take your time-out at lunch. Entry to the hotel is on East Superior Street, tucked, appropriately behind Tiffany and Company.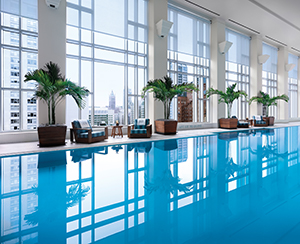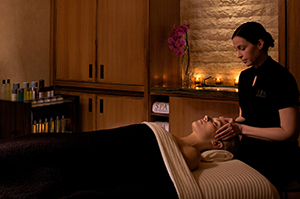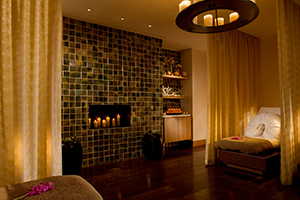 chicago.peninsula.com/en/spa-wellness
See Renzo Piano's "Flying Carpet." New Yorkers have recently been treated to Renzo Piano's dramatic exhibition spaces at the new Whitney Museum, in Manhattan's Meatpacking District. To see how this award-winning architect dealt with light and design in Chicago, go over to the Art Institute of Chicago's Modern Wing. The roof, a clever, light-defusing sunshade of computer-operated blades, is known as the "flying carpet."
The Modern Wing's 264,000 square feet made the Art Institute the second-largest art museum in the United States (next to the Metropolitan Museum of Art in New York). Pick up a guide for suggestions on what to see within your time frame but here are three tips.
Tip 1: The place to eat in the Modern Wing, if you can get a reservation, is Terzo Piano, an upscale Mediterranean restaurant on the Wing's third floor terrace. From there you see the skyline and Millennium Park. Relax over latte, soup or a cupcake and have a dramatic indoor view of the Modern Wing, stop at Caffé Moderno on Level Two.
Tip 2: Art aficionados know the Art Institute has an exceptional collection of French Impressionism, Post Impressionism and Modern paintings. Less known is that downstairs in the main building are 68 Thorne Miniature Rooms. They are perfect period and cultural representations of European and American rooms down to the last candlestick.
Tip 3: To top off your museum visit if in Chicago by Jan. 3, 2016, go to the Regenstein Hall to see "Gates of the Lord: The Tradition of Krishna Paintings." It is the first major U.S. exhibit of works from the Hindu Pushtimarg culture.
Snap a photo at "The Bean" Millennium Park's sculptures are photo moments. If walking the park's Michigan Avenue sidewalk between Randolph and Monroe Streets, downtown Chicago, you'll pull out the smart phone to snap a tall, white head by Spanish sculptor Jaume Plensa and also capture his huge facing blocks that compose the Crown Fountain.
That head and three brown ones are Plensa's contribution to the 10th anniversary of his Crown Fountain, a permanent sculpture that spouts water from 1000 changing portraits of Chicagoans. The heads are up through December 2015.
You need to go into the park to see the other three heads but you will want to do that anyway because you have to take a photo in front of or under "The Bean." A huge (66 feet long by 33 feet high), highly polished steel elliptical sculpture by British artist Anish Kapoor, the work is really called "Cloud Gate." It does reflect the sky but it also reflects the skyline and everyone who walks by.
The billowing steel-ribbon seen above the trees is the top of the Frank Gehry-designed Jay Pritzker Pavilion, the park's popular music and festival stage and lawn. Go closer to see how its artistic, crisscrossed trellis extends over the lawn to support its remarkable sound system.
For a really good photo of the park, Lake Michigan on the east and the skyline, walk the Nichols Bridgeway designed by Piano when he did the Art Institute's Modern Wing. It connects the Modern Wing 60 feet above Monroe Street with the Pritzker lawn.
It doesn't matter if you're in Chicago during the winter. The park still has sculptures, great views and its Michigan Avenue side has the McCormick Tribune Ice Rink (skates can be rented) from mid-November through early March.
cityofchicago.org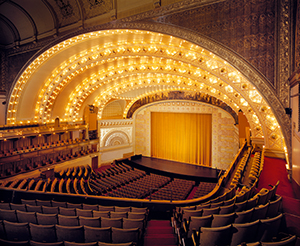 Catch a Steppenwolf production before it hits Broadway Try to snag a ticket to Steppenwolf Theatre's "East of Eden" if in town before the show ends Nov. 15. If in town later, go to a show at Steppenwolf anyway. An internationally known ensemble theater, Steppenwolf sent New York such productions as "Grapes of Wrath" in 1989 and "August: Osage County" in 2007.
"East of Eden" is likely to follow. "Adopted" by two-time Tony winner Frank Galati who also directed "Grapes," the show also brings back "Grapes" actors Francis Guinan, Tim Hopper and Alan Wilder.
Although co-founders Gary Sinise, Terry Kinney and Jeff Perry had gotten together in 1974, it was in 1975 that Steppenwolf incorporated as a non-profit, professional resident company and added John Malkovich, Laurie Metcalf, Alan Wilder, Moira Harris, Nancy Evans and H.E. Baccus to the ensemble. Of course, these names are now legendary in the acting community as are other ensemble members.
So, if exceptional theater is high on the bucket list, go to Steppenwolf no matter what is on stage. It is a sure way to see fine acting with a message about a culture, a historic time or family interaction. Steppenwolf is on North Halsted Street in the Lincoln Park neighborhood.
steppenwolf.org/Ensemble/
A is for Architecture Tourists quite often take an architecture boat tour on the Chicago River. By the way, even though the Chicago Architecture Foundation tour is most often touted, Chicago Tours and Wendella are also good and have knowledgeable guides. The boat tours are a fine way to hear about Chicago architecture but many significant buildings can't be seen from the river. To really see most of downtown Chicago's exceptional architecture you should walk.
If you have to choose just one building, schedule a tour of the Auditorium Theatre in the downtown's South Loop. "Loop" refers to buildings within the "L" tracks that circle some of the downtown and the periphery. The Auditorium's entrance is on Congress Parkway in a building that wraps around the corner onto Michigan Avenue and houses Roosevelt University.
Designed by Dankmar Adler and Louis Sullivan, it was the city's tallest building when completed in 1889. Notice the arches that are Sullivan hallmarks. Listed on the National Register of Historic Places and designated a National Historic Landmark, the building convinced President Benjamin Harrison and congress to have Chicago host the world's Columbian Exposition in 1893. The country's first multi-use building, it was designed to house offices, hotel and an auditorium that would be an opera house. Its acoustics are perfect.
The Auditorium is gorgeous and full of surprises. It's lit and decorated by 3,500 bare bulbs. Its tiered boxes can be closed and the building has an unusual floating raft foundation.
architecture.org
wendellaboats.com
cityofchicago.org
auditoriumtheatre.org
Enjoy Chicago!