Daryl Roth, A Major Theatrical Force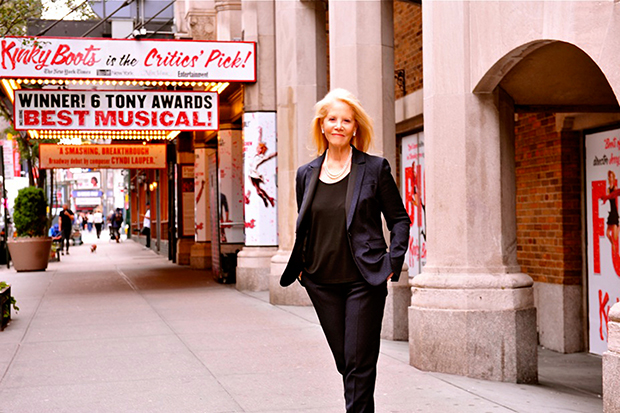 By Bob Nesoff
After a lifetime in journalism you get to meet many people in high places. There are politicians, business moguls, A-list entertainers and many more. After a while it becomes easy to see who the "real people" are and who have pretensions and breathe only rarified air.
Then there are those who let their accomplishments speak for them and do not need to let you know "who they are."
Daryl Roth is such a person. Her list of theatrical accomplishments and awards could fill a directory by themselves. To transport her awards would necessitate a rather large U-Haul. But take the time to speak with Daryl and it immediately becomes apparent that she is your next door neighbor.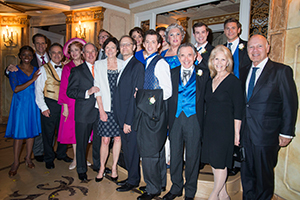 She is relaxed, totally lacking in airs and as enthusiastic about theater as anyone with a pair of tickets to the opening night of what promises to be the hottest show in town.
That being said, Daryl can have any ticket she wants. She owns several of the top theaters on Broadway and is a major factor in the production of Off-Broadway shows; and she shows the same enthusiasm for both. Her hottest number on Broadway recently celebrated its first anniversary and in a field with a shorter lifespan than a new restaurant, it is still going strong.
Kinky Boots, one of the more joyous shows to hit Broadway in years, is still a much sought after ticket. In fact, Daryl just returned from London where the show opened in the famed West End.
"I've loved theater since I was a small child," she says. "My parents introduced both me and my sister, Dale, to theater starting in New Jersey."
Daryl and Dale were frequent theater-goers at the Paper Mill Playhouse in Millburn, New Jersey, about as far off-Broadway as you can get. But Paper Mill has always had a reputation for producing shows that eventually made the trek across the Hudson and onto Broadway. The quality of their productions, although on a somewhat smaller scale, was always set to extremely high standards.
"I love Broadway," she says with a smile. "But Off-Broadway is exceptional. The theaters are smaller and intimate. They bring you up close to both the performances and the performers. It is a most wonderful experience."
She's passed that love of theater along to her son, Jordan, who is head of Jujamcyn (pronounce that Ju-Jam-Cyn) Theaters in New York.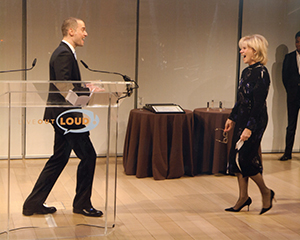 Jordan was tapped to present the Lilly Award to Daryl and commented: "One of the greatest perks of my gig is getting to present an award to my mother. Among her 90 productions over almost 30 years, my mother has produced a record seven Pulitzer Prize winning plays."
"And she has been fiercely devoted to all of them; from finding the piece, to nurturing the writer, to assembling the perfect team, to courting the investors, to bringing in the audience (sometimes one-by-one, by the hand.) She comes from the 'whatever-it-takes school of producing." Daryl had two shows on Broadway this season: "Kinky Boots," still going strong and "It Shoulda Been You," which unfortunately had a truncated run.
She's been known to head for dressing room doors and knock on them, giving the actors a motherly hug for encouragement, a shoulder to lean on and an ear to listen to.
"She comes from the…mothering school of producing. In fact, I think she invented that one," smiles Jordan.
Daryl has been named by Crain's as one of the 100 Most Influential Women in Business…twice. She's taken home eight Tony Awards for shows that she has produced. Most theater professionals hope and pray for one in a lifetime.
She is currently producer of an amazing one-man play Off-Broadway at the West Side Theater, "The Amazing Brightness of Leonard Pelkey," a show that runs the gamut from sadness to laugh-out-loud humor to passing along a message of tolerance.
"I began my business in the late 80s and produced many Off-Broadway plays," she reminisced. "My first investors were family and friends. Their support was very valuable to me as I worked my way up and it made me fiscally responsible. They had placed their trust in me and I was very aware of that."
"Today that is still very important to me. I always invest my own money along with that of investors."
She made a major leap in 1996 and purchased the former Union Square Savings Bank and created the Daryl Roth Theater, a multi-purpose space home to a 299-seat main stage. The DR2, an intimate 99-seat theater offers new plays and programs for young audiences.
Inside, the D-Lounge is a cozy setting that's appropriate for cabaret and comedy performances.
Her first offering as Daryl Roth, producer, was "Closer Than Ever," a song-cycle written by Richard Maltby and David Shire.
"That show recently celebrated its silver anniversary and is still being seen around the United States as well as internationally," she beams. "It was a great experience and one that I'll always remember fondly as it began this new chapter in my life."
She comments: "I think the same things are true about my role now as they were when I first began. I value my relationship with the artists. That is of first and foremost importance.
"I consider both Kinky Boots and The Normal Heart (by Larry Kramer) to be highlights of my career. Larry's play had an enormous impact on the community. It was about the AIDS crisis and was met by the public with a magnificent response."
"During a performance on June 24, 2011, the Marriage Equality Act was passed in Albany and at the curtain call we announced it to the audience. There was cheering and crying and was one of the most memorable nights I've had in the theater."
And her current runaway hit, Kinky Boots?
"I saw a screening of a small, independent English film by that name. I knew in my heart that the story had the DNA to become a major musical. It delves into subjects that are important to me and what I wanted to champion."
SPOILER ALERT: Kinky Boots deals with a troupe of drag queens who save a sinking shoe manufacturer and along the way shows the bigoted and macho employees that gays are as much human beings as anyone else.
"The heart of the story is about how it takes a courageous person to make a journey of self-acceptance and the acceptance of other people."
With rights to the story in hand, Daryl reached out to Harvey Fierstein, a multi-talented entertainer who came out long ago.
"I knew Harvey had the sensibilities to adapt this for the stage. I brought Jerry Mitchell in to direct and choreograph. The show needed uplifting staging and some glitter and glam and he was the one to do it. I then reached out to a fellow producer, Hal Luftig, and brought him in as a producer (Editor's Note: NYLM Broadway columnist Jim Kierstead, is one of the producers of the show) and then invited Cyndi Lauper to join our 'dream team.' What can I say, the rest is history."
Amazingly Kinky Boots recouped its investment in thirty weeks, almost unheard of in the business. Currently there is a national tour and the show went international last month with the opening in London's West End.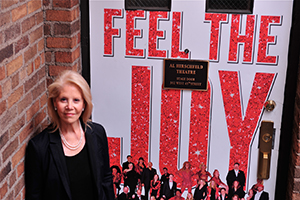 "We plan to be long-term residents of the Al Hirschfeld Theater, our Broadway home," she predicts.
It's almost an impossibility to attempt to list all of her Broadway and Off-Broadway credits. Daryl has produced more than 90 award-winning shows. Some of the top, easily recognizable names include: Annie with Bea Arthur, A Catered Affair, Desire Under The Elms, Inherit The Wind, Driving Miss Daisy, A Raisin In The Sun, and You Can't Take It With You.
Her list includes 33 Off-Broadway productions that include such familiar titles as: Love, Loss and What I Wore by Nora Ephron, My Name is Asher Lev and Defying Gravity.
Not satisfied with putting shows on the boards, Daryl Roth ventured into filmmaking. Among her efforts are: A Very Serious Person with Polly Bergen, Don't Ask, Don't Tell and Albert Noble with Glenn Close.
Daryl not only receives awards, she presents them. The Daryl Roth Creative Spirit Award annually goes to a theater artist or organization and provides them with financial support as they develop new works.
She is an Honorary Trustee for the Lincoln Center Theater and was on the Board of Directors of the Albert Einstein College of Medicine as well as the New York State Council on the Arts.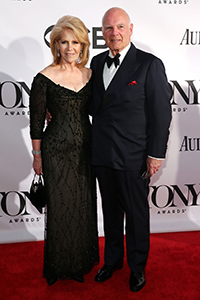 In addition to the Crain's recognition, she has been named the Einstein Humanitarian Award winner by the Women's Division of the Albert Einstein College of Medicine, the 2014 Living Landmarks award, Broadway Association Visionary Leader Award, Stella Adler 2012 Harold Clurman Spirit Award and more and more.
Daryl has been married for 46 years to her husband, Steven, head of the Vornado realty firm. They have two children, Jordan and a daughter, Amanda. There are also three grandchildren for whom she always makes time in her busy schedule.
"I have an extended family," Daryl notes. "With each production that I am involved in the actors and staff becomes family. I try hard to make it a warm and inclusive environment."
Daryl, an attractive blond who could easily pass for one of the beautiful actresses in her plays, has a lilt in her voice that tells you immediately that she is enjoying life. And more than that, she enjoys sharing it with other people.
Both her immediate family and the extended members on and Off-Broadway would be hard pressed to find a more warm and endearing person to work with.