Editor's Desk
"New York Lifestyles is da bomb. Such diversity of content - a mag that lives up to its nameplate."
~ Rick Sylvain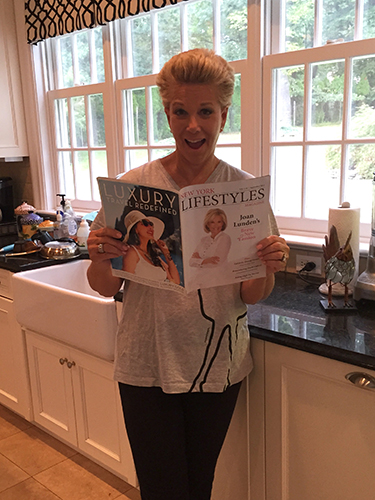 When you receive a compliment from a person such as Rick Sylvain, it ranks as the highest form of praise. Rick is the recently retired head of Public Relations for Walt Disney World in Florida, a post in which he served with distinction for more than 20 years.
In that position Rick dealt with the top publications and journalists from, literally, around the world. If anyone knows the business, it is Rick. He has always been highly respected because of his professionalism and kudos from him are the highest form of praise.
Thank you, Rick. We will strive in every issue to live up to that level and do even better as we go along.
Our cover story this month is Daryl Roth, one of the most prominent figures on the theatrical scene. In addition to eight Tony Awards, Daryl would need a U-Haul to move all the other awards she has been presented with for theater. And with it all, she has remained as nice and decent a person as you would ever want to meet.
This issue focuses on health and well-being with articles on upscale spas and getting in shape for winter sports. We have an article on the Stein Eriksen Lodge Spa in Park City, Utah, arguably one of the most beautiful and desirable destinations in the country.
Making his debut in this issue is Peter Schmaus, MD, an orthopedist specializing in sports medicine and rehab. For those of you contemplating a great ski season this year, check out Dr. Schmaus' recommendations for getting in shape before you hit the slopes. Dr. Schmaus is a member of the Eastern Ski Writers Association.
One of the most vexing problems families face is teaching their young ones about finance and how to handle money. Special contributor, Paul Golden, director of the National Endowment for Financial Education (NEFE), talks about the need to educate children on how to handle money.
Broadway is getting set for an absolutely fantastic season with a number of highly anticipated shows about to debut on the Great White Way. Our Broadway columnist, Jim Kierstead, has the coming lineup and a preview of the best of what is to come.
Daniel Bollinger, our resident real estate guru, has been looking around the Boroughs and found something amazing... Brooklyn is getting really hot. Of course there's Queens and The Bronx, but they are sometimes afterthoughts. And who really thinks about Staten Island? That leaves Manhattan as the top dog followed closely by Brooklyn for both business and upscale residential opportunities.
Travel isn't forgotten either here with interesting articles on Alaska, a state so big it could almost consume Europe, and driving the coast of California. Irwin Nesoff (now there's a familiar name) gives us his take on the Frozen State while Keri Zane, a top travel writer from the Left Coast, shares her take on driving California.
We have articles on great chefs at the famed James Beard House and wonderful restaurants such as Agnanti; golfing in the Caribbean on St. Kitts and stories about Old New York. Come on along and enjoy.
Bob Nesoff
Executive Editor