Caribbean Golf On the Upswing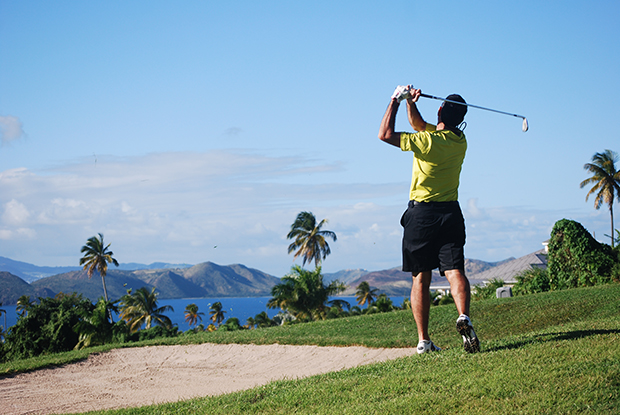 By Sam Hogan
Although the beginning of golf is usually associated with Scotland, the fact of the matter is that it goes back further than that... far further.
The first recorded game similar to golf was played in Rome during Caesar's reign. It wasn't exactly what you see today. There were no Big Berthas, no technologically superior putters. What there was back in the days of Good Old Julius was a ball stuffed with feathers and knocked around with tree branches.
There was also a similar game played by the Chinese during the Song Dynasty back in 1279.
Golf didn't arrive in Scotland until around 1457 and become so popular that King James II outlawed it because it was interfering with military training. It began to take off from there and moved to England where the first British Open was held in 1860. And the rest, as they say, is history.
Today there is hardly a destination that does not boast any number of excellent courses, especially at resort areas. The Caribbean, because of its year-round sunshine and warm weather has become a prime destination for expansion of the sport.
The St. Kitts Tourism Authority has partnered with the Golf Association of Ontario (GAO) to promote St. Kitts & Nevis as a golf destination.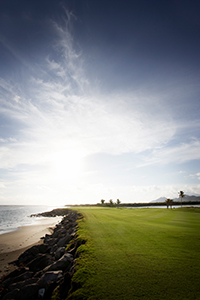 "The GAO partnership represents a dynamic opportunity for St Kitts & Nevis to showcase the beauty and challenges of our golf courses," said the Hon. Mr. Lindsay F.P. Grant, Minister of Tourism, International Trade, Industry and Commerce. "For the GAO to select St. Kitts & Nevis as an overseas venue for a sanctioned event underscores the emergence of our islands as a premier golf destination that's only going to get better when we welcome our new courses at Kittitian Hill and Christophe Harbour. On behalf of our stakeholders and the people of St. Kitts & Nevis, we look forward to welcoming the many GAO members and staff that will come to our shores in the years ahead."
As a result of the partnership with GAO, St. Kitts will be hosting the St. Kitts 2-ball Shootout in conjunction with the Golf Association of Canada. Taking place from December 5-12, 2015, the event will feature 2-person teams competing in a 54-hole gross and net better ball competition at the Royal St. Kitts Golf Club. Participating golfers from the GAO will travel to St. Kitts on a 7-night package that includes accommodations at the St. Kitts Marriott Resort, meals, receptions, tournament play, awards and more.
"Our members are very well traveled and can get themselves to Myrtle Beach, Miami, Jamaica and many other well-known and popular golf destinations," said Chris Osborne, President of the GAO. "What we want to give them is something new, something different, something special... and St. Kitts is all of that."
Golf is one of the most lucrative niche markets that can contribute to a destination's economy.
In addition to the Royal St. Kitts Golf Club on Nevis, the Robert Trent Jones II course at Four Seasons Resort Nevis Golf Club, the twin-island federation will soon be home to the hillside Irie Fields championship course designed by Ian Woosnam at Kittitian Hill, which currently has nine holes open with the remaining nine holes to open by the end of this year, and a Tom Fazio championship course at Christophe Harbour on St. Kitts' southeast peninsula scheduled to open in 2017. Together, they create a collection of championship courses unmatched in a destination of St. Kitts and Nevis' size.
Further to the 2Ball Invitational, other signature golf events continue to be developed that showcase St. Kitts & Nevis as a golf destination. In May 2016, the island will host a second new event, the LINKS Magazine St. Kitts Couples Invitational. Entering its 6th year, the Admiral's Cup Pro-Am is scheduled to take place February 7-11, 2016 and continues to grow in popularity among golf club teams.
In 2014, LINKS Magazine included St. Kitts & Nevis in its newly created ranking of the Top 25 Islands in the world for golf travel and it is one of just seven Caribbean islands on the list.
St. Kitts is currently ranked, with sister island Nevis, at #3 on a list of the Best Islands in the World, #3 on a list of the Best Caribbean Vacations, and #7 on a list of the Best Beach Honeymoon Destinations in the World, #8 on a list of Best Caribbean Honeymoons, and #8 on a list of the Best Affordable Caribbean Destinations by US News & World Report.
For more information about St. Kitts, please contact the St. Kitts Tourism Authority toll free from the US at 1-800-582-6208 or email info@stkittstourism.kn, visit www.stkittstourism.kn