Masseria Dei Vini Offers Dishes From Puglia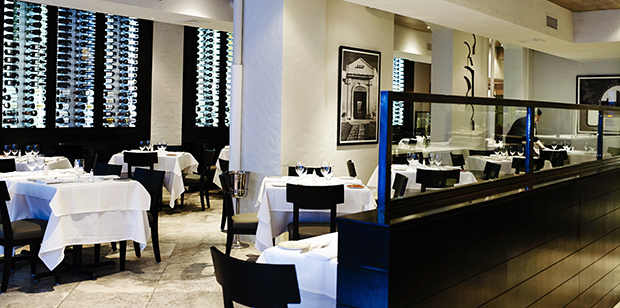 By Jon Haggins
Traditional Italian food proliferates throughout New York. However, pairing it with excellent wines from the vineyards of Italy is far from common.
Masseria Dei Vini (Masseria of Wines) Restaurant looks as though it is fresh from Puglia in the boot of Southern Italy. The open-air windows and the white tablecloths add light and brightness to the restaurant, adding an air of cheerfulness.
In the Puglia region of Italy, the masseria is the heart, the center of a large working farm. Produce is preserved here and everything from tools to animals are preserved.
Peppe Iuele and Enzo Ruggiero have collaborated with interior design expert Libby Langdon to bring a modern and updated version of a Masseria to New York. Executive Chef Pino Coladonato, a native of Rutigliano (Bari), has created a menu that blends traditional with the modern without overpowering one or the other.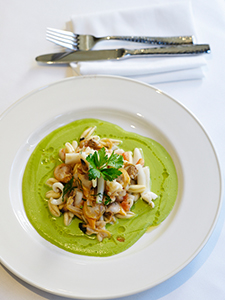 The inspiration for La Masseria began with these ancient farmhouses where classic dishes used only the freshest ingredients from soil and sea. The simple style of cooking from Puglia has inspired the authentic menu at La Masseria, uses only fresh fish, shellfish, crustaceans and produce.
"Growing up in Italy, I understood that food was an important way of bringing people together," said Peppe Iuele, one of the owners. "I want our guests to feel comfortable, as if they were enjoying a delicious meal at the home of a good friend. I truly think we've succeeded in creating that atmosphere here at La Masseria."
Pino Coladonato, the executive chef and a co-owner, met Peppe at another restaurant. He too grew up on a farm in Puglia and learned to create dishes with only a few simple ingredients. Today they are some of his favorites in creating new dishes.
The restaurant and bathrooms are decorated with photos of old farm-houses in Puglia. Many of the farmhouses there have been converted into restaurants or small hotels.
Francesco Settanni the General Manager said, "Being from southern Italy, I learned hospitality from my mom as a kid. When people visit you make sure everything is perfect and clean, including the quality of the food served. At the end of the day people won't remember stories, but they will remember you for how you made them feel, how they feel at the end of the meal. The reason people go out is for the experience. The fondest memories are made when gathered around the table."
Enzo Ruggiero is the Wine Director and the executive manager. He has known co-owner Peppe since they were children growing up in Capri. Enzo's passion extends beyond food to wine. In his childhood his grandfather would take him to local vineyards where they would stomp grapes to make the family wine. He is passionate about pairing the perfect wine with the right dish. Enzo has put his vast knowledge of wines to the test to create a rare and creative list, mainly from Italy but without ignoring the rest of the world.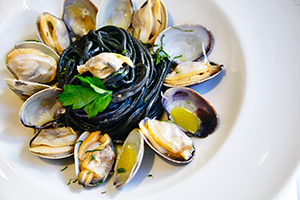 Masseria Dei Vini offers special reserve and rare wines. The restaurant has 250 different red, white and sparkling wines and of course, prosecco from Italy. One wall in the dining room is decorated with bottles of wine and the full bar is lined with a variety of liquor.
The menu features beautiful dishes from Puglia, a lot of which incorporate fish, shellfish, and a plethora of fresh homemade pastas. The menu also offers gourmet pizza, Neapolitan style from a Ferrara wood-burning pizza oven. The wooden oven bakes the best pizzas from Naples. Stephen Ferrara designed the wood oven.
We ordered a Margherita pizza with mozzarella Fior de latte tomato sauce and topped with basil ($15.00). The pizza had an abundance of mozzarella and tomato sauce. It was especially light and the best pizza that I have ever tasted.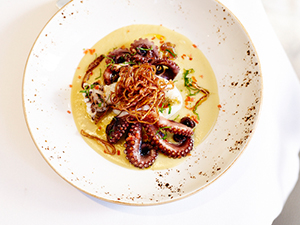 The menu also included appetizers: Le Paste: Paccheri Al Sugo de Tracchiole ($19.50), is large Rigatoni Pasta with short ribs ragout. The pasta was al dente and perfect with the short ribs.
Antipasti: Terra Mare ($19.50), which is grilled baby Octopus and Cuttlefish on a bed of fava beans puree and Tropea's onions. It's a perfect combination and they complement each other, yet are so simple.
Il Crudo (raw fish & shellfish), Carpaccio di Tonno ($19.50) is thinly seared raw tuna with fresh green herbs. It was fresh and oh so appealing to the eye.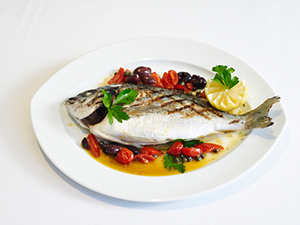 Main Course included: Orata del Mediterraneo ($26.50) which is oven roasted whole Mediterranean Sea Bream, served in a cherry tomato sauce with olives and capers. The bream was fresh and mouth wateringly delicious. Nothing could be better than fresh fish that is filleted at the table. A side dish of Broccoli Aglio E Olio ($9.50) is broccoli that's sautéed in garlic and olive oil.
To top off our dining experience at Masseria Dei Vini, for dessert we ordered Torta Di Ricotta Alla Vaniglia ($10.00), a vanilla flavored ricotta cheesecake with a cut strawberry and a scoop of whipped cream on the side. This was the perfect dining experience where everything was so lovingly prepared and served.
Masseria Dei Vini
887 9th Avenue
New York, NY 10019
(212) 315-2888
www.masseriadeivini.com