A Gem in the Derby City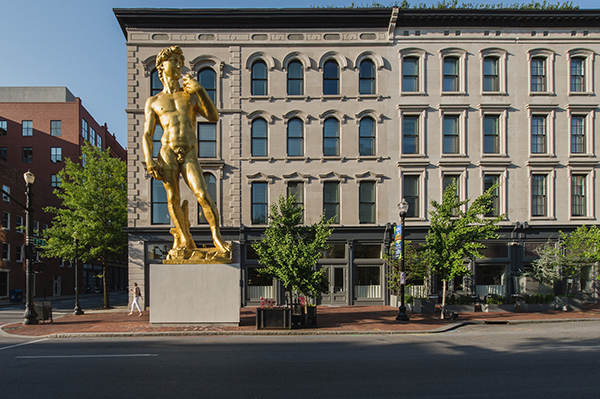 Story and photography by Stephanie & Jeff Sylva
It is happening throughout the country - cities striving to reverse the consequences of suburban sprawl, and long-neglected downtown areas revitalizing themselves and creating vibrant, exciting cityscapes.
Such a revitalization is prospering in downtown Louisville, Kentucky, anchored by the imaginative vision of contemporary art collectors and dedicated preservationists Laura Lee Brown and Steve Wilson. Troubled by the development encroaching upon Kentucky's farmlands, and passionate about making contemporary art a part of more people's daily lives, Brown and Wilson opened 21c Museum Hotel Louisville in 2006, and have received nothing but rave reviews for their 90-room boutique hotel and award-winning restaurant.
A haven for contemporary art
But 21c is more than just an upscale, boutique hotel and restaurant delivering genuine Southern hospitality, thoughtful design, and culinary creativity. It is a contemporary art museum dedicated to bringing 21st century works (hence the name) of living artists to people in a unique way. Guests and visitors to 21c encounter works of art that will challenge, amuse, and stimulate conversation. They can experience art throughout 21c at any time of the day, as the Museum is open 24/7 for guests as well as visitors.
The art and the Museum's palpable energy engage observers in the elevators, hallways, public restrooms, rooftop, floors, and in the restaurant and bar. Installations flow onto the city sidewalk, engaging guests and passersby alike. Art at 21c is not simply decoration – it is the heart and soul of the experience.
Brown and Wilson partnered with world-renowned architect Deborah Berke to re-imagine and rehabilitate a series of 19th century tobacco and Bourbon warehouses, which are currently listed on the National Register of Historic Places, along downtown's West Main Street (now referred to as Museum Row). In addition to the hotel's contemporary-styled guest rooms, 21c Museum Hotel features rotating exhibits, live performances (we saw a wonderful modern dance performance during our visit), and a flock of migrating red penguins. Sculptured from recycled plastic, the fleet of birds serves as a playful reminder of the importance of sustainability and environmental conservation.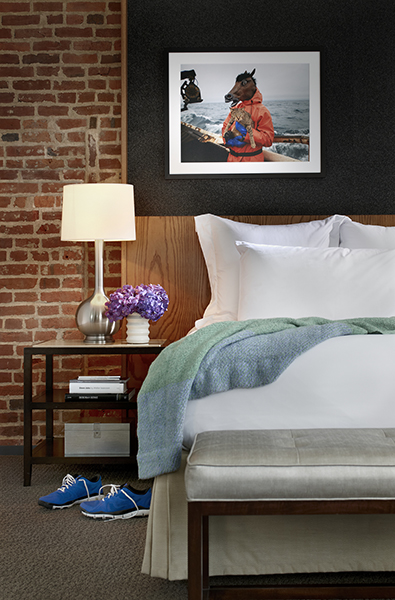 Both staff and guests have fun placing these playful penguins in interesting, at times provocative, places eliciting laughter or shrieks of surprise. Don't be surprised if, when you open your door in the morning, you are greeted by one of these four-foot flightless birds standing in your doorway. Or, possibly after a few drinks in the bar, you find one staring at you when the elevator door opens.
Creative cuisine and imaginative cocktails
21c's award-winning restaurant, Proof on Main, is a favorite of locals and visitors, evidenced by some of its many accolades such as Esquire magazine's selection for "Best New Restaurants" and Bon Appetit magazine's choice as one of the "10 Best Hotels for Food Lovers." Proof on Main's menu reflects many of the culinary traditions of the American South while infusing a unique blend of 21st century innovation and local flavors. Proof on Main's commitment to farm-to-table cuisine is exemplified by the fact that the restaurant owns and operates its own farm, Woodland Farm, and also partners with a number of artisanal producers.
The restaurant's bar, which sported a lively crowd each night we were there, furthers this commitment to regional suppliers by stocking over 75 of Kentucky's finest Bourbons and featuring some very creative seasonal, ingredient-driven cocktails.
As one of the stops on the Urban Bourbon Trail, Proof has hand-selected a unique collection of Bourbons that highlight the small-batch, artisan craftsmanship that reflects the history and culture of the region. Ask for a "Passport" and embark on your journey through the urban side of Bourbon. USA Today named the bar at Proof in the Top Three of the Best Hotel Bar category in "10 Best Readers' Choice" travel award contest.
In the heart of Museum Row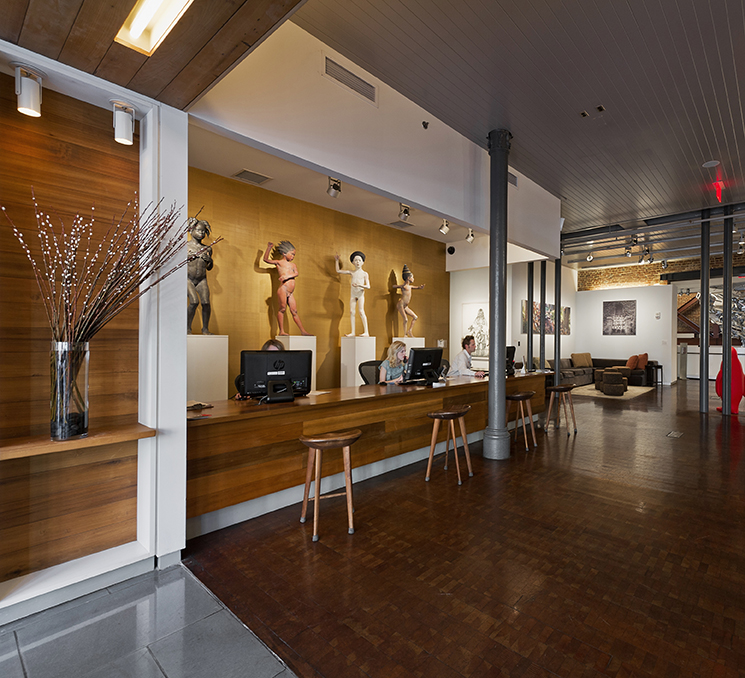 21c's location on Museum Row puts guests just steps from a number of attractions that will interest sports enthusiasts, art lovers, and budding scientists alike. Sports fans will love the Louisville Slugger Museum & Factory and the Muhammad Ali Center. Art lovers can visit the Kentucky Museum of Art and Craft, Louisville Glassworks, and The Kentucky Center for Performing Arts. The Frazier International History Museum and Louisville Science Center are two other popular attractions on Museum Row.
21c Museum Hotel is committed to the principle that their establishment is more than simply a place to spend the night. Rather, the folks at 21c want their guests to have an authentic experience. Guests and visitors are invited to explore and discover; to see how art enriches, challenges, and entertains. The 21c experience is no longer limited to the Bluegrass State – the brand now brings its experience, and its iconic penguins (each city with its own signature color birds), to Cincinnati, OH; Bentonville, AK; and Durham, NC, with plans to open as many as 15 properties over the next five to 10 years. That's a veritable rainbow of penguins.