Turkey's Lycian Coast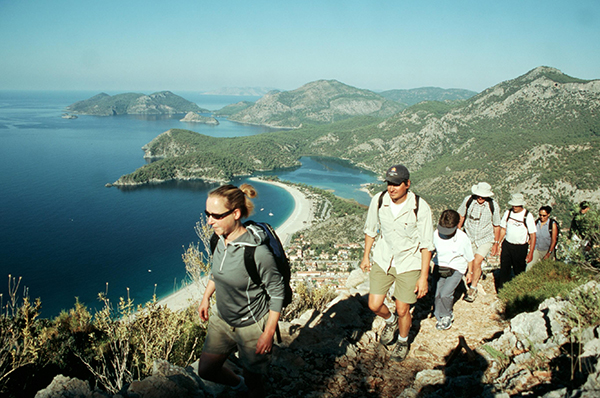 By Ed Curtis
Turkey is a country that has something for almost everyone. It is heavily Muslim, but current politics aside, it has a deep respect for both Christians and Jews.
Constantinople, Istanbul today, is one of only five cities in the world that spans two continents.. Turkey's largest city, it is split by the Bosphorus Strait leaving the city in both Europe and Asia. Some 65% of its residents living in Europe and 35% in Asia.
Turkey's spectacular Lycian coast is home to a rich concentration of ancient sites and fascinating history, making it the perfect backdrop for an upcoming series of expeditions hosted by Peter Sommer Travels aboard traditional wooden yachts called gulets.
As a land renowned for rugged landscapes, beautiful coastal scenery and picturesque villages, Lycia is also one of Turkey's most fascinating regions to explore with the mind, given its ancient history and fiercely independent culture.
In 1994, archaeologist and BBC TV historical documentary-maker Peter Sommer walked 2,000 miles across Turkey, retracing the route of Alexander the Great. Ever since then, Peter has been organizing exceptional expert-led archaeological tours for small groups, as well as private charters.
Peter Sommer Travels unlocks some of the secrets of ancient Lycia this year aboard three dedicated expeditions, cruising from location to location aboard beautiful Turkish gulets. Each tour is hosted by a leading archaeologist and caters to no more than 14 people, combining magnificent scenery, fascinating ancient sites and superb food and wine.
Cruising the Lycian Shore – Peter Sommer will lead this tour personally. A 15-day cruise along the length of Lycia's turquoise coast, including highlights like the marble-clad city of Perge, the stunning town of Myra with its superb rock-cut tombs and ancient theatre, and Xanthos, a vast fortified citadel city that dominated the region for centuries. August 29 to September 12. Priced from about $5,650 per person double.
Cruising Western Lycia – An eight-day cruise among the sites of Lycia's western shores, with highlights including Gemiler where a small Byzantine town clings to the slopes of a rocky island, and Patara where archaeologists are uncovering a monumental site with links to St Nicholas, St Paul and Julius Caesar's murderer Brutus. September 5 to 12. Priced from $3,327 per person.
Walking and Cruising the Lycian Shore – A 15-day journey combining a cruise with daily walks along the Lycian Way, a superb walking trail that links ancient roads, mule tracks and shepherd's pathways. Highlights include the regional capital at Pinara with its royal tombs, the monumental Roman port city of Patara and the Ottoman castle of Kale. September 26 to October 10. Priced from $5,650 per person double.
Each expedition will focus on the extraordinary heritage of the Lycians, one of antiquity's most mysterious group of peoples. Their enduring sense of identity prevailed for centuries even as they adopted and adapted to cultural influences from the Persians, Greeks and Romans.
The Lycians are perhaps best known for their elaborate rock-cut tombs and sarcophagi which are unlike anything else in the world. Many are still found in breathtaking and rugged setting that have been seemingly untouched for centuries.
Specializing in small-group expeditions, Peter Sommer Travels offers more than 20 different expert-led land tours and gulet cruises among the ancient sites of Turkey, Greece and Italy. Many are conducted as sailing journeys aboard traditional Turkish wooden gulets.
Tour prices include transport, accommodation, most meals, crew and guide services as well as all entrance fees and tips on excursions. Airfare is not included.
For full details and bookings, contact Peter Sommer Travels at 1-855-443-3027, email info@petersommer.com or visit www.petersommer.com