Bainbridge Island, A Haven For NY Ex-Pats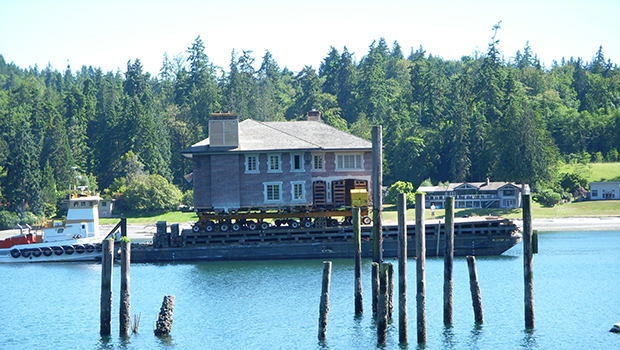 By Curt Winston
After a long life and career fighting the New York traffic, high apartment rentals (or condos) and the cost of food that is exponentially higher than just over the George Washington Bridge, where can a Big Apple retiree go?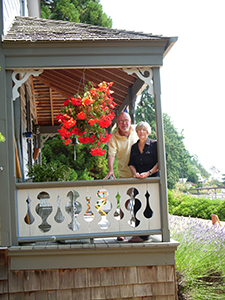 Northwest... way northwest... off the coast of Seattle is a small enclave of former New Yorkers who have opted for the slower pace of island living. Although Bainbridge Island is just about the same size as Manhattan, a traffic jam is three cars coming to a stop sign at the same time.
The island is some five miles off the coast and a pleasant ferry ride from the Seattle terminal, an easy trot from the famed Pike Place Market. Bainbridge is also less populated than Manhattan with some 23,000 residents compared to 8.5 million.
Bainbridge sits in Puget Sound and is a serene and bucolic place protected by conservationists and organic-only eaters. Well, there are a handful of people who like rare steak as well.
Mel Limon, an 88-year-old New York ex-pat and a theoretical Marxist, fled the East Coast academic life for the peace and quiet of Bainbridge. He found a population almost in line with his own brand of politics. The island is a place where neither Donald Trump nor Chris Christie would feel at home.
Mel and his wife, Carol, live in the island's co-op mobile home park right in the heart of Winslow, its only cluster of buildings that can be called a "town."
"I've been on the island for about 15 years," Liman muses. "I lived in other more remote areas but I'm an academic type and I needed more human contact. I get that here for as much or as little as I want."
On the East Coast Liman was an economics professor... When asked how he felt about the sobriquet "Theoretical Marxist," he replied: "That's what I am." He finds enough intellectual stimulation in interaction with other New York refugees and folks from other parts of the country.
Lew Mandell, a 72-year-old "liberal capitalist" spends much time helping other retirees live a reasonable life on what income and capital they have accumulated. His field in New York was "personal economics" and that has translated to his activities on bucolic Bainbridge Island
Mandell, a writer also, along with his wife, Nancy, lives in a waterfront home on the upscale section of Point White on Bainbridge's southern end. While Mel and his wife may live in a mobile home park on the island, they aren't hurting either. Mel owns a villa in the South of France. Both men are Ph.D. professors.
Mandel has been on Bainbridge Island for nine years after leaving New York. He grew up on Staten Island and was a professor at one of the SUNY entities.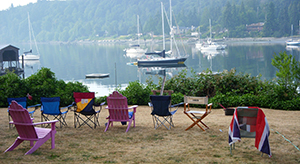 "The notion of living on an island and starting your day on a ferry was familiar to me," Mandell said.
Both fit comfortably into the islands liberal political style. Taxes are very low compared to New York and pensions and investments go considerably further. Washington State has no income tax and derives most of its income from a nine percent sales tax and a 1.1% of assessed property value tax. Most assessments are well below the property's actual value.
Crime on the island is low to non-existent and the climate is temperate. The area is protected by two big mountain ranges, the Olympics to the west and the Cascades in the east with 14,000-foot Mt. Ranier. Summers are usually dry while fall and winter bring rains. Snow? Sometimes!
The men belong to a breakfast club that is very informal and meets weekly. Discussions are on the intellectual side and far ranging enough to stimulate the participants. There's even a Republican or two in the group.