Trendy & Highly Rated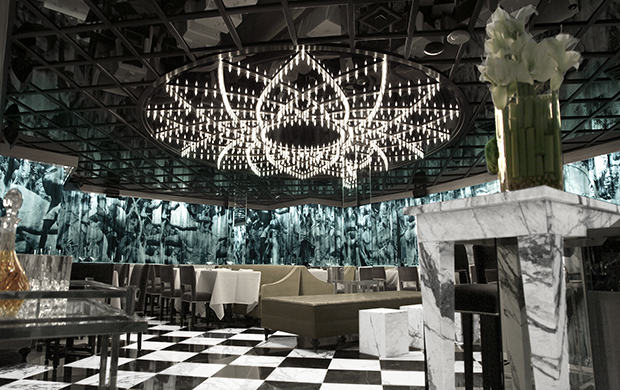 By Sandy Nesoff
New York is a city of restaurants. Eateries range from little sandwich shops to some of the finest dining establishments to be found anywhere in the world. Too many restaurants equate glitz with quality and the mortality rate for new restaurants is amazingly high…unless you have something different to offer.
Hunt & Fish Club is one of those extraordinary establishments that truly deliver what it promises. The entrance on West 44th Street is somewhat nondescript, but that is totally blown away the moment you walk through the entrance.
The bar, at the front of the restaurant, is populated by an upscale crowd of young executives, entertainers and athletes. Patrons hardly give a second glance as the likes of singer Will.I.Am, rapper Taboo and Mets ace pitcher Matt Harvey settle in for a drink or dinner. There are upholstered seats along the wall providing a comfortable point of relaxation as the guests chill out to the sounds of live piano music.
Just beyond the bar is arguably one of the more elegant restaurants in New York City... or anywhere for that matter. The room is beautifully fitted with marble (there are 50,000 pounds of marble throughout the restaurant), all sparkling under a magnificent crystal chandelier.
Guests at the Hunt & Fish Club are dressed from suit and tie to casual... and every one fits in comfortably and relaxed. The varied conversations sometimes create a loud hum in the room, but in the relaxed atmosphere it is hardly noticed.
The wait staff is prompt and courteous, always at hand but never hovering. They seem to have an innate ability to judge when a diner needs something and they are immediately at hand. But yet there is never the feeling that they are staring.
The menu is pricey, but no one seems to mind. The quality of the food at Hunt & Fish Club delivers.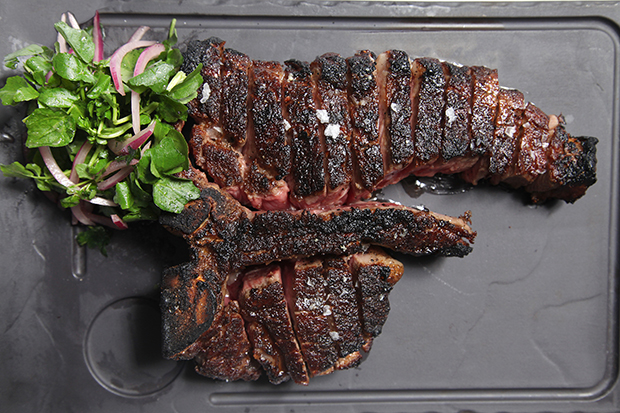 Executive Chef Jeff Kreisel, formerly executive sous chef at the Porter House, has designed a menu that exemplifies the name of the restaurant. Chef Richard Leach, the pastry chef, is a James Beard Award winner who was previously at the Park Avenue restaurant. The duo make an amazing pair.
While you might expect to find such exotic fare at the Hunt & Fish Club as bison or venison; shark or octopus, you'd be mistaken. The menu offers a wide variety of seafood and steaks.
Starters include Atlantic or Pacific oysters at $4 each, lobster cocktail at $33, Alaskan King Crab Legs $28 and Jumbo lump crab cocktail at $22. You can also create your own customized Grand Seafood Tower at market price. Salads range from local field greens at $12 to a classic iceberg wedge with tomato, blue cheese, bacon and chives for $16 with four more salad choices in between.
Appetizers are interesting with a Bone Marrow with pickled onions and brioche toast for $18 and thick cut bacon for $14 to Owner's Recipe Seafood Salad at $32. There are also five pasta dishes ranging in price from $16 for smoked ricotta to $25 for Agoletti lobster ravioli with house-made red sauce.
The main courses offer eight seafood and chicken choices to seven meat possibilities. The HFC Signature Seafood is lobster stuffed with crab and scallops at market price. The same holds true for a 2.5-3 pound Maine lobster that is either steamed or broiled and covered in garlic herb butter.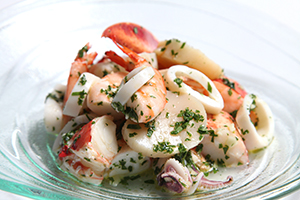 The restaurant boasts of its "Famous Burnt Lemon Chicken" with crispy lemon potatoes at $36. Don't let the word "burnt" fool you. The skin is blackened and the meat is tender and juicy.
The steak menu offers a specialty cut Kosher 14 ounce rib eye for observant Jewish diners at $58. Roasted lamb chops top the menu with mint, yogurt and baby carrots for $68. There is also a Porterhouse for two, bone-in rib eye, sirloin, two filet mignon choices and a chef's selection that changes daily and is offered at market price.
Steaks are done to the diner's request and even those blackened and well-done, ooze juices and can almost be fork-cut. They are tasty and tender.
At the outset a puffed roll is brought to the table with butter pats. The rolls are light and flaky and truly do not need butter. They make a wonderful starter.
The restaurant has beautiful original artwork hung throughout provided by Studio Iyor. Studio Iyor worked with Roy Nachum in designing the Hunt & Fish Club. The restaurant has numerous painting and tile murals throughout.
The Blue Room downstairs is spectacular and is used primarily for private events. Diners pass by a huge glass encased wine rack that is the envy of anyone with a private wine collection. The Blue Room features Roman reliefs and a mirrored ceiling.
There is also a Green Room with a soaring skylight, self-watering, living green wall and sculpture inspired by the biblical golden calf.
The intent of the owners is to "Bring back the character and depth of Old School New York in a contemporary setting." They have succeeded by any stretch of the imagination. The Hunt & Fish Club seats 180 patrons in an old-meets new aesthetic throughout the 9,000 square-foot restaurant.
Reservations are strongly suggested and may either be made by phone (212) 575-4949 or on-line at info@hfcnyc.com.
Rated: Five Stars
Hunt & Fish Club
125 West 44th Street
Lunch:
Monday-Friday 11:30 a.m. to 3 p.m
Dinner:
Sunday through Monday 5:30 p.m. to 10:30 p.m.
Tuesday through Saturday 5:30 p.m. to 11:30 p.m.
Lounge and bar daily until 1 a.m.