yMusic "Come Around" World Premiere in NYC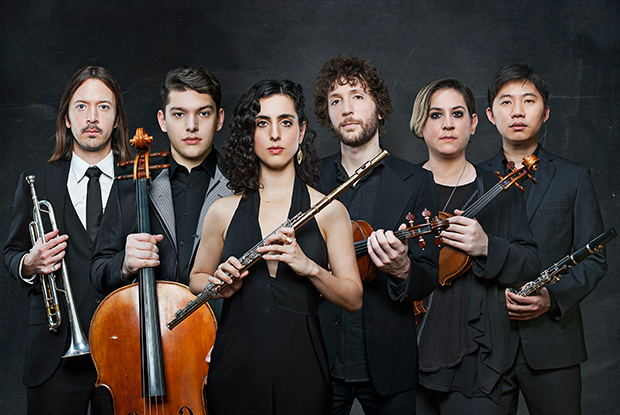 Courtesy New York Live Arts
Starting in September and spanning the complete fall season, New York Live Arts will launch its debut music series dedicated to an annual exploration of the breadth and scope of today's most vital contemporary musical artists, beginning with yMusic. A genre defying, indie-classical ensemble comprised of six New York City instrumentalists flourishing in the overlap between the pop and classical worlds, the group has become known for its "broad-minded, ambitious, eagerly collaborative" (Pitchfork) work "at the forefront of a rapidly changing performance culture" (The New York Times).
Entitled Come Around, the world premiere season presents four full concerts of six new music commissions by composers Marcos Balter, an artist "making big waves lately for his adventurous, unpredictable work" (The New York Times); Paul Corley, "a masterful sculptor of sound" (Textura); the "fresh and vibrant" (The Classical Review) Mark Dancigers; Missy Mazzoli, hailed as "Brooklyn's post-millennial Mozart" (Time Out New York); Qasim Navqi, drummer for American acoustic ensemble Dawn of Midi; and Robert Sirota, known by The New York Times as "One to reckon with." The series culminates in a final concert featuring a world premiere music commission by Balter, created in collaboration with and for legendary choreographers Bill T. Jones and Dianne McIntyre, who will perform their world premiere solo dances alongside Balter on alternative evenings. The season begins September 11 and runs until December 12, 2015.
"Music is at the heart of nearly every performance commission New York Live Arts has ever undertaken," said Director of Programs Thomas O. Kriegsmann. "We are thrilled to begin an era of deeper, more integrated explorations of the current landscape of contemporary music with yMusic, affording our creative community and audiences an unparalleled look at the emergence of one of today's most unique and vital ensembles."
yMusic's virtuosic execution and unique configuration (string trio, flute, clarinet and trumpet) has attracted the attention of high profile collaborators-from Dirty Projectors to My Brightest Diamond, Jose Gonzalez, Bon Iver and Beck-and evolved to become one of the great forces shaping contemporary music today. The performances in the 2015-16 season marks the first of this kind for New York Live Arts, bringing music to the studios, lobby and theater, and activating the wider Live Arts community. Directly after its nationwide tours with acclaimed musician Ben Folds-in celebration of the upcoming lauded collaborative chamber album So There, yMusic will kick-off its Live Arts season on September 11 at 8pm.
"We are honored and thrilled to have been chosen as the inaugural group for Live Arts' debut music series and for the chance to top off an explosive year of growth for our ensemble by performing a season-spanning series of commissions and concerts with experimental composers we deeply admire," said yMusic member CJ Camerieri. "We look forward to introducing their genre-bending, contemporary compositions to Live Arts' music-loving public, and are very excited to collaborate with Bill T. Jones and Dianne McIntyre."