Paul Teutul, Sr. Riding High On Success
By C. Rider
He's gruff, he's tough and you really don't want to mess with him. The tattoos covering his arms and body are so numerous it looks as though his tattoos have tattoos. When his ample white moustache curls, get out of the way.
Paul Teutul Sr., the force behind Orange County Choppers (OCC) in Newburgh, NY, gives off the aura of someone you won't want to meet in a dark alley on a stormy night. But once you sit down with him for a few minutes you find a personality totally at odds with his huge TV persona.
Teutul (or Senior, as all in his facility call him) can hold his own in virtually any conversation. He is soft-spoken and intelligent. Face it, if he wasn't, he could never have built OCC into the booming business that it is today.
What started out as an expensive custom motorcycle business has morphed into what appears to be a multi-million dollar operation that has spawned the popular "American Chopper" TV series that débuted on the Discovery Channel and ran for several years. Without a doubt, that put both Teutul and OCC on the map. Now he is preparing for a new series that will begin early in 2016.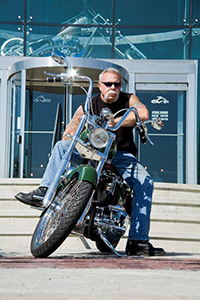 "The new show will be called Orange County Choppers-American Made," he says with a proud twinkle in his eyes. "We'll be creating exciting new motorcycles and other vehicles right here in our shop."
"It will be fun and interesting. The show will be about more than creating motorcycles. We'll be taking various vehicles and tricking them out. We took a 1936 bumper car and turned it into a hot rod using a motor from a snowmobile. That was really cool. We're not going to get away from bikes completely but we'll be doing some unique and different projects."
"This show will be on the A&E Channel and is scheduled to start on Feb. 20, 2016. The show will run for an hour and many of the same faces that appeared on American Chopper will be on the new show as well, doing what they do best."
"A new addition will be my nephew, Nick Mariconi, my sister's son. Nick started working with me after high school graduation, as an iron worker. He decided he wanted to help other people-it must run in the family-and transitioned to working with people with a chemical dependency. Six years later he returned to work with Uncle Paul at OCC. He shares his uncle's love of fast machines, animals, fishing and tattoos."
"The other guys involved have all been with me and people watching the show will recognize them."
"I first got into motorcycles when I started my steel fabricating business back in 1971. My partner was a big motorcycle guy and, you know, when you have a steel fabricating business you can do a lot of stuff. You can take steel and cut it, shape it and do just about whatever you want with it. My partner did a lot of that and it got me interested. I watched all those really old-school methods of building a chopper and that's what got me into it."
With all the bikes he's built over the years there must be one that stands out in his mind as a favorite. When asked what his favorite motorcycle is, he smiles and replies:
"The next one."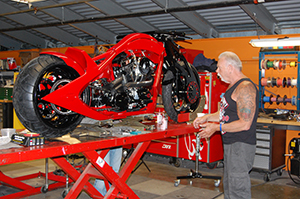 A New York native, Senior was born in Yonkers in 1949 and migrated to Rockland County.
"The cost of living there was pretty high so we decided to move up here because it was much less expensive. We bought a house and my oldest son, Paulie, was born here. We've been here for 41 years."
Teutul transitioned into television when his friend and fellow car/motorcycle enthusiast, Jesse James, moved him in that direction. He received a call from a television producer who asked him if he'd like to do a documentary and, as they say, the rest is history.
"I had just put up a web site and they happened to see it. They said this guy looks like a motorcycle guy so let's give him a call. They did and we began to develop the program."
In television it's difficult to look ahead and see what's going to click. American Chopper was hot from the get-go starting in March, 2003. In 2007 the show moved to Discovery's sister channel, TLC and started with an 18-hour marathon.
The OCC building is just south of the Newburgh exit on the Thomas E. Dewey Thruway (that's the New York Thruway to you) and on the west side of the roadway. If you look quickly you can spot the building.
The interior has become a virtual tourist destination, not only for motorcycle enthusiasts, but for the general public. On any day, you will find visitors wandering through the showroom marveling at the exquisite motorcycles fabricated by Teutul and his team of experts.
OCC souvenirs-from tee shirts to coffee cups- literally fly off the shelves. There is also the opportunity to take a tour of the facility, go into the shop and actually see the employees creating the custom choppers. Visitors marvel as sparks spray from the metal being ground into a fascinating new motorcycle.
At the far end of the building is the OCC Café where you can grab a bag of chips or sit down and have a comfortable meal. There's also a four-lane bowling alley next to the café. Why a bowling alley? Why not?
Paul Teutul has made his mark not only on his own show, but has appeared as a guest on numerous other shows. He faced off with "The Donald," Donald Trump, on Celebrity Apprentice. Now here's someone the presidential candidate could go toe-to-toe with and have to give ground.
He guested with fellow motorcycle enthusiast, Jay Leno, on the Tonight Show. Leno, a major collector of automobiles and motorcycles was blown away by Teutul. He's also made appearances on Good Morning America, Jimmy Kimmel, David Letterman and more.
If any more proof that his tough guy image isn't what Paul Teutul Sr. is, no more evidence is needed than a quick tally of the charities he's helped, many with custom made motorcycles.
He has made unique motorcycles for the Hudson Valley SPCA, Make-a-Wish Foundation, St. Jude's Children's Hospital and the Boys & Girls Club of America.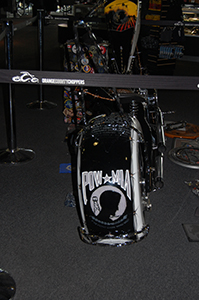 But dear to his heart is honoring and helping America's military and veterans. He has built several motorcycles for them and has an amazing bike dedicated to the victims of the 9-11 attack on the World Trade Center.
He's built bikes for many celebrities and had guest appearances with Mohammed Ali, Steven Tyler, Bill Murray, Shaquille O'Neal, Billy Joel and Michael Strahan to name just a few.
Paul's son, Mikey, joined the crew in 2003 when he was only 14. He started at the bottom answering telephones and worked his way up to assistant general manager. He's also appeared on the Letterman show and with Jay Leno. His hobbies away from motorcycles include skeet shooting, music of all types and cooking.
The OCC crew getting ready for the new show includes Ron Salsbury, Jason Pohl, Christian Welter, Rick Petko, Evan Favaro, Jim Quinn, Mike Tampone, Ralph Estrada and Phil Nask, all veterans of the previous television operations.
If the past is any peek into the future, Orange County Choppers, Paul Teutul Sr. and his crew will be coming into many homes via television on a regular basis.