Duplex Penthouse A Steal At $70 Million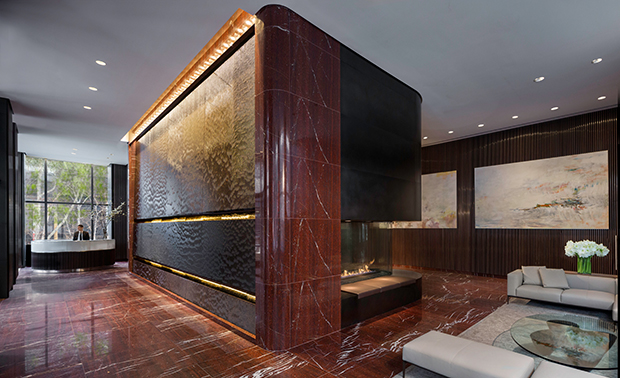 By Richard Singleton
New York City has some of the best, and most expensive, high-end living accommodations in the country. Nowhere is this more the case than on Manhattan's East Side and, in particular, in the neighborhood of the United Nations.
The world's diplomats find the neighborhood convenient to the International Body for both offices and residences. The exquisite view of the East River and the outlying boroughs add to the panache of the area and the luxury accommodations become a major draw. In addition to First World diplomats, that area has traditionally been home to many CEOs, entertainers and the uber-rich. It hasn't tarnished with time and, in fact, continues to be a highly desired location.
The duplex penthouse at 50 United Nations Plaza is located on the 42nd and 43rd floors of the building, and has four bedrooms plus staff quarters and measures about 9,700 square feet. The building is the first residential property in North America designed by Foster+Partners with the model apartments designed by the renowned firm of Gabellini Sheppard.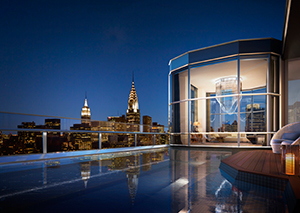 On the first level, floor-to-ceiling bay windows in the living room yield direct views of the East River. A 525-square-foot terrace faces north, with views of the Queensboro Bridge and features an infinity edge pool which gives one the feeling of being suspended high up in the sky surrounded by New York's most iconic skyscrapers.
Weighing more than ten thousand pounds, a stainless steel staircase floats within a glass enclosed double height space linking the upper and lower floors of the penthouse. The apartment also has a private internal elevator and another staircase.
A full-floor simplex penthouse one floor below, can be combined with the duplex penthouse to create a spectacular triplex penthouse measuring 15,597 square feet. The purchase price would be $100 million for the triplex.
50 United Nations Plaza is a full service building, staffed with 24-hour doormen, concierge, a live-in manager and staff of building porters. A private motor court and garden leads to a discreet lobby, and a resident's only garage with 88 parking spaces – one for each residence that can be purchased for $150,000 per space. Residents will also have the option to purchase private wine cellars and additional storage space.