April Broadway Review with Pat Collins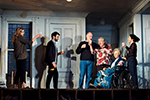 The Humans
Helen Hayes Theatre
The setting is a sparsely furnished, dimly lit, drab duplex in Manhattan's Chinatown neighborhood. The Blake family has gathered there for a Thanksgiving dinner hosted by the youngest daughter Brigid (played by Sarah Steele) and her live in boyfriend Richard (Arian Moayed). Mom (Jayne Houdyshell), dad (Reed Birney) and wheelchair-bound grandmother "Momo"(Lauren Klein ) arrive from Scranton; and older sister Aimee (Cassie Beck), a Philadelphia lawyer, is there too. The familial setting with turkey and all the fixings is not a Norman Rockwell painting come to life. The hardworking middle-aged parents fear they may lose their jobs; Aimee announces she soon will be laid off; and Bridget, saddled with student debt, barely makes ends meet working as a bartender. In his extraordinary drama/comedy, playwright Stephen Karam addresses the fear and anxiety of middleclass Americans facing an uncertain economic future.
Under the direction of Tony winner Joe Mantello, The Humans is both poignant and laugh-out-loud funny. The members of this marvelous ensemble cast earn the standing ovation they receive at the end of every performance. Throughout the play, loud thumping sounds not unlike those in the Paranormal Activity movies appear to be coming from the second floor. The Blake family is unconcerned about the origin of this mysterious disturbance. They have bigger problems. The Humans is not only the best new play of the year. It is also an essential experience for every theatergoer.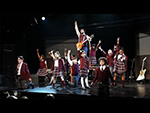 Behind the Scene at School of Rock
Winter Garden Theatre
An A+ cast in a first-rate family friendly Broadway musical suitable for children over the age of 8, Andrew Lloyd Webber composed the School of Rock score and Downton Abbey creator Julian Fellowes wrote the book for this stage adaptation of the 2003 Jack Black movie. Recently, I went backstage to interview the show's star Alex Brightman and some of the young cast members. The high-energy camaraderie theater goers see on stage does not end when the curtain comes down. Alex has a big brother relationship with his grammar school costars. He has attended 17 birthday parties so far. My behind-the-scenes interviews with Alex and 3 young talents can be seen on CUNY-TV's Arts and The City program airing April 4, 10 and 22 at 10am and 8:30pm. Channel 75 for New York viewers.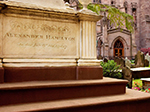 Where to see Hamilton
The Richard Rodgers Theater
Can't get tickets to Hamilton? There is another way to connect with the first secretary of the treasury. There are no lines at the Trinity Church Cemetery in Lower Manhattan where he is buried. According to the New York Times, the Alexander Hamilton Awareness Society conducts a memorial at the grave site every July on the anniversary of his death.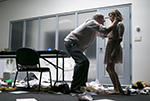 Blackbird
Belasco Theatre
Una, a pale fragile 20-something young woman (played by Michelle Williams), enters the break room of a pharmaceutical company to confront Ray, the 50-year-old man (Jeff Daniels) who seduced her when she was 12 and he was the 40-year-old suburban neighbor. It's Una's first meeting with Ray in the intervening years and a shockingly unexpected one for him. He served jail time—perhaps not enough—for statutory rape, changed his name, remarried, secured a good job and moved on. Uma, bearing the emotional scars that come with being violated at a young age, expresses her rage in a torrent of dialogue that given its decibel level should draw the attention of Ray's coworkers, but only one unseen voice asks: "Is everything all right ?". Indeed, it is not for Ray who fears Una's appearance could jeopardize his tidy middleclass life. During the course of playwright David Harrower's 80-minute play, Una admits she was in love with the man who sexually violated her. Does that declaration absolve him of the crime of conducting an unlawful relationship with an emotionally vulnerable minor? The playwright does not provide an answer. Not to nit-pick, but would the company Ray works for hire a convicted pedophile? Despite my lack of enthusiasm for Mr. Harrower's play, which was directed by Tony winner Joe Mantello, I recommend seeing Blackbird. Mr. Daniels delivers a solid performance, but it is Ms. Williams who shines.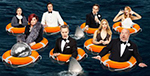 Disaster!
Nederlander Theatre
What Broadway creative team would choose the word "disaster" as the title for its musical comedy? The answer is a clever and talented one with an affection for top 40 hits from the 1970's, such as "Still the One", "Hooked On A "Feeling", "Muskrat Love" and "I Will Survive". The latter song especially suits the scene in which an unsafe floating casino turns upside down in the Hudson River leaving the survivors to sing, dance, drink, hook up and gamble until help arrives. On board the fittingly named Barracuda, a dapper Roger Bart presides as the sleazy and disreputable casino owner who regards life jackets as an unnecessary expense. Kevin Chamberlain plays one half of a devoted married couple. Jennifer Simard, whose character transforms from a singing nun to a gambling nun is a heaven sent sensation.
The show-stopping number belongs to Tony winner Faith Prince, who sends for help by tap dancing the Morse code. Choreographer JoAnn Hunter deserves a Tony nomination for this, her 20th Broadway production. Singing along with the cast is generally not encouraged—don't try it at Hamilton or Fiddler on the Roof, but who can resist joining the cast for "I Am Woman", "Knock On Wood" or "Never Say Goodbye", which in this situation means never having to say goodbye to your happy days in the 70's. Seth Rudetsky and Jack Plotnick co-wrote Disaster. Mr. Plonick is also the show's director. Disaster's scheduled last performance is July 3.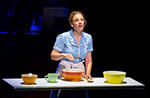 Waitress
Brooks Atkinson Theatre
The multi-talented Jesse Mueller who won a Tony award for playing Carole King in Beautiful  returns to Broadway as the star of the much anticipated Waitress. The show, which is based on the 2007 movie enters the record books as the first Broadway musical with an all-female creative team: Tony winner Diane Paulus is the director, Jessie Nelson wrote the book, 5-time Grammy nominated singer-songwriter Sara Bareilles composed the score and Lorin Latarro is on board as the choreographer. As the titular character, Ms. Mueller plays a small town pie maker in a sour marriage and dreams of beginning a new life and a new career with the support of her fellow waitresses. Waitress is in previews prior to an April 25 opening night.