Going Organic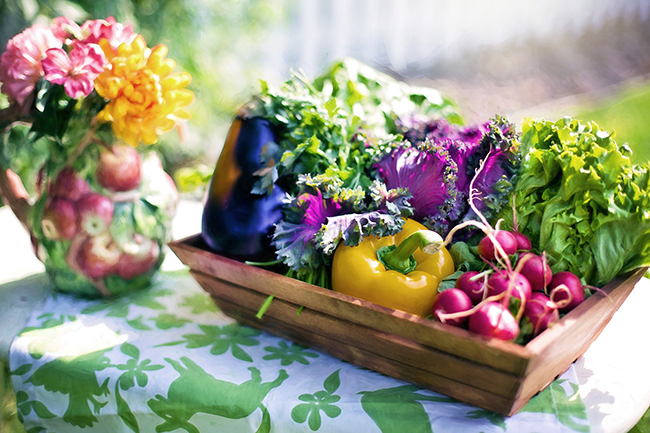 By Daniel J. Bollinger
Exactly in time for spring harvest, I attended the Just Food Conference, which is sponsored by Just Food, a nonprofit organization that empowers and supports community leaders to advocate for and increase access to healthy, locally-grown food, especially in New York City neighborhoods. Just Food provides training and resources to community members, so they can launch projects like farmers' markets and Community Supported Agriculture (CSA) groups; educate their neighbors in fundamental cooking and urban farming skills; and advocate to make their corner of New York City a healthier place to live and eat. To learn more about what Just Food offers, visit their website at justfood.org.
At the conference, I met many groups and organizations that support organic and healthy eating programs. I'm a big believer in healthy eating. How great would it be if New York City wasn't only known as the capital of the world and one of the most cultural and iconic cities, but also one of the most organic places on the planet? Visit some of the organizations and websites below and be part of the organic food revolution.
Farm School NYC
Would you like to grow your own garden? Did you know that New York City has many urban gardens cultivating organic crops? Would you like to learn more? Then check out Farm School NYC's website at farmschoolnyc.org.
Flushing Community Supported Agriculture
Would you like organic vegetables from an organic farm just 70 miles from New York City delivered straight to your door weekly? You can have this while supporting New York's small farmers. Check out flushingcsa.com.
Hell's Kitchen Farm Project
Did you know that you can help with the New York City organic movement by having an organic rooftop garden? Let Hell's Kitchen Farm Project give you a free consultation. Go to their website at hkfp.org.
Cook Play Live
Have you wanted to eat healthily and nutritiously or are you interested in learning how to cook?  Then contact Cook Play Live at cookplaylive@gmail.com.
City Harvest
Would you like to help eradicate hunger across New York City and help with City Harvest's Healthy Neighborhood programs? Visit cityharvest.org.
In addition to these organizations, I also met with a few organic farmers located in upstate New York who offered healthy food options to us city slickers. You can visit some of these farms, such as Katchkie Farm in Kinderhook (katchkiefarm.com) and Rise & Root Farm in Orange County (riseandrootfarm.com), and even take classes while there.
If going organic interests you, I recommend you also stop by the Green Festival Expo (April 15 – 17) at the Javits Center. You can learn more about this festival greenfestivals.org.