South Africa, a World in One Country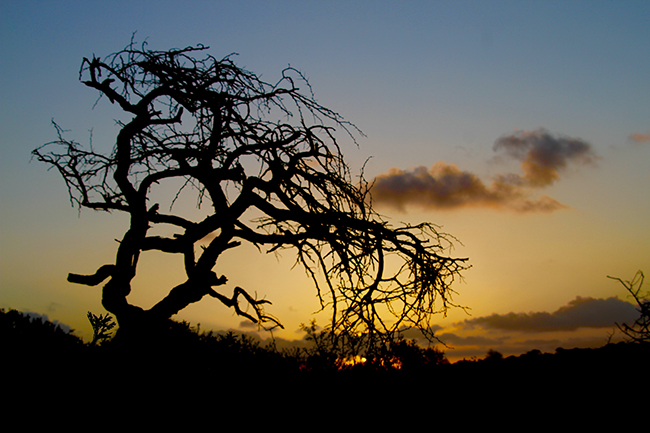 Story and photos by Marvin Scott
A venture into the wilds of Africa is more than a journey. It's an unforgettable experience. Teddy Roosevelt recognized it and the tales of his adventure inspired Ernest Hemingway to write about it. My beckoning call to the bush came from my wife seeking the fulfillment of a life-long dream.
Resistant at first - after all, I figured I'd seen all the animals at the Bronx and Central Park Zoos - why travel 8,000 miles to see them in Africa? Was I in store for an awakening! Going on safari in South Africa, seeing these same animals in their natural habitat was indeed a life-altering experience. It was a stark reminder that we are not the only species on earth.
There's an entirely different universe out there of lions, leopards, rhino, elephants, and giraffes. It's their turf and we are the voyeurs. The first game drive is unforgettable as we breathe the fresh scent of the morning dew, burning off as the fireball sun rises behind an Acacia Tree, and we listen to the symphony of the bush... the chirp of the Red Crested Korhaan, the snort of the impala, the bark of the baboon and the croak of the frog.
There's something magical about the African bush, and a contradiction of sorts. It's a place where you can embrace the environment with all its beauty, as well as its harsh and unforgiving nature.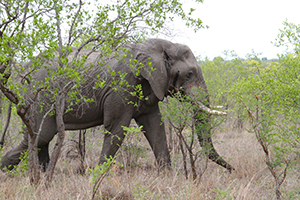 Safaris have become a major industry throughout Africa. There are hundreds of lodges that offer luxurious accommodations. There is Wi-Fi, but hardly a television in sight to compete with the best reality show of all - game watching. Personal butlers attend to your every need; chefs prepare culinary delights beside open fires beneath a sparkling star-lit sky.
Any travel agency in New York can book a safari vacation, but we arranged ours through travel experts in Cape Town. Timeless Africa Safaris, (www.tasafaris.com) which books as many as a thousand visits a year, customizes each trip according to what you want to see, and spend. We chose to visit a few days in scenic Cape Town before embarking on our safaris. We stayed at an elegant boutique hotel located on the waterfront. The Queen Victoria offered large, comfortable rooms with contemporary design. Marco Van Embden, CEO of Timeless Africa assigned a personal guide to take us through the cosmopolitan city and drive along the scenic coast to the Cape of Good Hope, where we saw sea birds perched atop sea-swept rocks... and baboons racing down from the hillside to pursue the scent of food in a parked camper van.
There aren't many places in the world where you can get up close and personal with penguins. Boulders Beach, about an hours drive from Cape Town, looks like a convention of comical little men in tuxedos, waddling along the white sandy beach.
No visit to Cape Town is complete without a cable-car ride to the top of Table Mountain, to see the majestic views from its 3,500-foot peak. In the distance, beneath a cloudless blue sky we could see Robben Island, which stands as a reminder of the darkest cloud hanging over South Africa's unforgiving past—Apartheid. This is where Nelson Mandela was imprisoned for 18 years along with hundreds of other political activists.
"South Africa is a unique country," notes Marco Van Embden. "You can come here and have an amazing urban holiday and within a two hour flight in the same country, you can see the Big 5: lion, buffalo, elephant, rhino and leopard, in multiple ways."
We had no idea of the adventure that awaited us as we boarded a South African Airways flight across the country to the first of three safari lodges that would be our gateway into the very soul of Africa. "& Beyond" is one of the top operators of lodges in the country. The luxurious Ngala Safari lodge, a resort consisting of 21 individual cottages, borders Kruger National Park... 37,000 acres of the richest wildlife land on the African continent. Our accommodations were air conditioned with all the modern-day comforts of home, plus our personal butler.
The sound of the stirring bush and the chirp of our alarm clock awakened us at 5 a.m. for our first game drive. After a cup of coffee and a muffin, our ranger guide, Dan Fenton escorted us to the safari vehicle, a reconfigured open Land Cruiser that seated six passengers. The front left fender was specially fitted with a seat for Sam, a veteran tracker who was going to lead us into the mysterious wonders of the African bush.
It's not long before Sam spots a paw print of a lion and he points, as Dan races ahead, kicking up dirt along the drought scorched road. The warble of a cape turtledove gets our attention as we spot a herd of impala huddled together. They, as we later learn, are ever so cautious because they are the favorite prey of the leopard.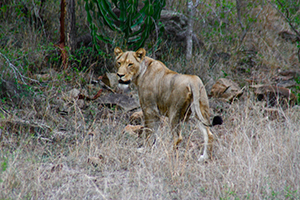 Our pulse quickens as a lion comes into our line of sight. There he is, as large as life, all 500 pounds of him sitting beside the dirt road, and then slowly walking past our vehicle, undisturbed by our presence just feet away. Judging by his size and dark mane, Dan determines this is a male lion about 8-years-old and very thirsty, heading in the direction of a watering hole. A hyena emerges from the thick brush. The lion takes a leap forward, and the hyena was out of there. We marvel at the way this king of beasts moves, his gait so deliberate and slow. "He's marking his territory," Dan notes, explaining, "He's spraying his scent, to leave a message that this is his turf."
It is so serene, this untamed wilderness. There's a steady rhythm here. The music of the birds contrasts the crunching sound of our vehicle cutting through the underbrush. There are surprises at every turn. "Look, a giraffe," my wife exclaims excitedly. It's long neck and head protrude from atop a Murula tree. Beside her stands a calf and nearby a journey of giraffe. It was amazing watching how this animal slowly bends its long legs to soak in a drink of water.
We drive by a dazzle of zebra with their vibrant black and white stripes, grazing in nature's arena, as we head to the dried up Timbavati river bed where Dan and Sam set up a small table with tablecloth to serve coffee, tea and refreshments. This was a daily ritual during each game drive. During the evening drives, we stopped somewhere in the vast wilderness to enjoy cocktails while watching breathtaking African sunsets. As the sun slips away, the sky comes alive in a dazzling array of hues.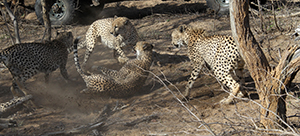 We're awe-struck as we watch a fully-grown leopard dragging the carcass of an impala up a Jackalberry tree, to protect it from being stolen by other predators. A female leopard and two young cubs had just taken turns feasting on the animal that was killed a short time earlier. That's how it is in the wild... survival of the fittest. It's all fascinating but difficult to watch, though we did just that for the better part of an hour.
Our safari vehicle drives over trees downed and splintered by the herd of elephants a couple hundred yards in front of us. We're told they are completely dependant upon water and they form a long line, following one another, looking for the nearest watering hole.
On another game drive, we encounter a herd of water buffalo, soaking in a vast watering hole and cooling mud. Mingling in the crowd, we see a couple of rhinoceros. They're an endangered species, illegally sought after by poachers who get upwards of $100,000 for their precious horns.
A chill fills the air as darkness sweeps across the wild, and with engine and headlights off, we indulge ourselves in the romanticism of the night sky full of twinkling stars in the crystal clear heavens. What an awesome moment sitting there in the middle of the African bush, 8,000 miles from home, stargazing.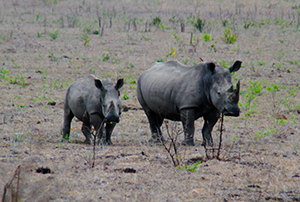 Beneath that same sky, a five-star dinner awaits us back at the Ngala lodge. Rack of lamb is being prepared over a crackling fire. Our tables are illuminated by flickering lanterns. We sip fine wines as we share tales of the day's adventure with newlyweds on their honeymoon. We're told South African safaris are a favored destination for many honeymooners.
Our ears are popping as our single engine Federal Airlines charter flight climbs to its cruising altitude over Kruger National Park. We're overwhelmed by the breathtaking beauty and expanse of the incredible landscape. There's not a building in sight, just miles and miles of trees, dry riverbeds, and hundreds of species of majestic animals that call it home.
We land on a small airstrip in the Sabi Sands private game reserve, adjacent to Kruger National Park. Located here, the Singita Boulders Lodge was the ultimate in luxury. Our lodge was more like an exclusive villa with floor to ceiling glass walls, elegantly furnished with an exquisite bath, indoor and outdoor shower and our own private plunge pool. One morning we skipped the game drive to sleep in, to be awakened by a troupe of monkeys on our wooden deck, clawing at our wall of glass.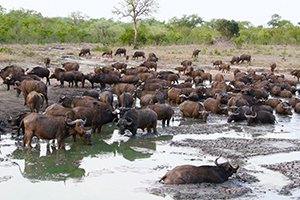 The Sabi Sands game reserve is known for its density of animals, particularly leopard, and lion that are nocturnal creatures. It wasn't quite dusk when we came upon a pride of lions at rest. The female yawns, revealing her dagger-like teeth. We're fascinated as we watch four cubs cuddle up alongside the lioness and begin to suckle. A few yards away, the male lion awakens and checks on his family. Darkness has set in and it's time for them to hunt. Water buffalo and giraffe are the favored prey of lions.
Perhaps the most dramatic sighting came on our next to last game drive at "& Beyond's" Phinda Forest Lodge, situated deep in one of the world's remaining rare sand forests. This was the most rustic of the trio of lodges we visited. As elsewhere, luxury prevails with personal attention to every guest's needs. We had to momentarily delay our landing on the small airstrip here because the runway was occupied by a couple of giraffe.
During a morning game drive our tracker leads us to a coalition of cheetah. They are magnificent animals, similar to the leopard but the spots on the cheetah differ from the rosette shape of spots on the leopard. As we were admiring how docile these cheetahs appeared to be, several from another coalition attacked, triggering an exciting catfight... and we had a ringside seat. Others jumped into the fight before they all backed off, breathing heavily. Our ranger explained that this was a battle over territory. The big cats pouted from exhaustion, but minutes later they were at each other again. The battle continued on and off for about an hour before they went their separate ways. And we were left breathless, having witnessed something so seemingly incredible, yet so common in the African bush.
In all, we logged some 35 hours of game drives in six days at three different lodges. The memories and the kaleidoscope of images are everlasting.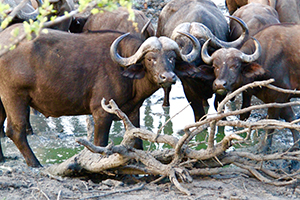 This was an idyllic vacation that allowed me to see things I had never thought I would. It was an awesome, once-in-a-lifetime experience. Timeless Africa Safaris took care of every detail, including a representative to expedite us through the airport for the return flight home. We had ample time to think about our extraordinary vacation during our 15-½ hours in the air. While many airlines fly to Johannesburg, we chose South African Airways because it provided non-stop service from JFK. The flight attendants were most attentive to keep us comfortable throughout the duration of the flight. We were served hot meals in the economy cabin, with cocktails and fine wines. Sandwiches and snacks were available for those of us with a midnight appetite. And there was an abundance of movies to watch on the entertainment screen.
As I scanned the 800 photos I had taken, an old African proverb came to mind. "The eyes never forget what the heart has seen." Our eyes were filled with unforgettable images, our hearts filled with love for the animals and the once dark continent that had just illuminated our lives.