White Oaks Manor: A Luxury Kentucky English Style Estate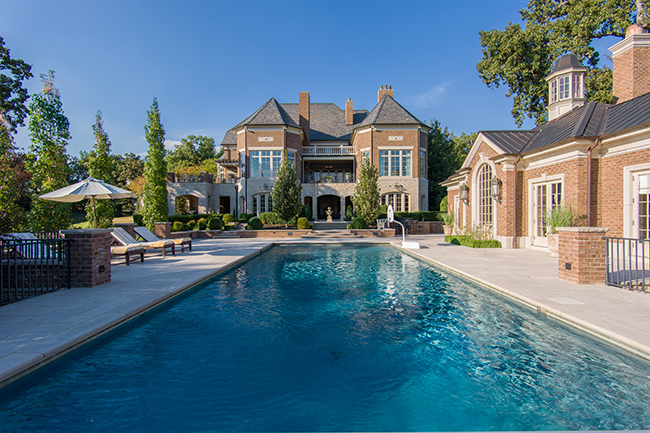 By Bruklund Jack
White Oaks Manor is Kentucky's most affluent single-family house barring a handful of multi-million dollar horse farms. Built in an English estate style, the 18,911 square feet English manor boasts a total of 53 rooms, with six bedrooms. The manor, which took three years to build, is located on 34.5 acres in the water lands area of western Kentucky in Marshall County.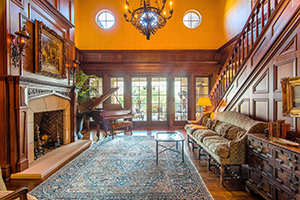 Some may say you are in the middle of nowhere when actually you are in the middle of everything if you are a sportsman. White Oaks Manor is 5-7 minutes from Kentucky Lake, with Lake Barkley not much farther. The entire area is a sportsman's paradise. Kentucky Lake and Lake Barkley connect to make the largest body of manmade water east of the Mississippi River. These lakes are a popular destination for water sports, full-service marinas, and pro-fishing tournaments. The land between the lakes is a national recreation area on 170,000 acres and 300 miles of shoreline. The vast amount of wildlife, outdoor recreation, lakes, and marinas give the area the name The Heartland's Outdoor Playground. You are five minutes from everything the area offers including the marina where fishing, hunting, and boating abounds.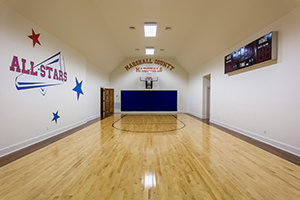 Inside of the estate is equally as gorgeous as the surrounding area. White Oaks Manor was completed in 2002. James Dunn of Vintage millworks of Nashville, TN is responsible for the abundance of walnut woodwork in the home, including wide plank flooring, oversized balustrades, carved mantel, true recessed paneled walls, burled panels, English gothic arches, 8-10 piece crown molding, and 8-panel solid interior doors. Mr. Dunn strictly designed all the walnut detail to the true Old English design and details. Along with Mr. Dunn, the dream team who collaborated on this project were builder David Smith of Paducah, KY; interior designer Mark Simmons, of Nashville, TN; and landscape architect Ben Page, also from Nashville. You can see with all of the rich detail, attention to craftsmanship, and quality of materials used that no expense was spared in the construction of this luxury estate. The staircase in the foyer is a testament to the quality of custom design and construction that went into this home. The home also contains many other custom features, such as antique French terra-cotta tiled floors, as well as massive amounts of marble and limestone flooring, showers, counters and other surfaces, fresco style textured walls, custom and antique chandeliers and sconces, and some radiant heated floors. The master shower has a steam shower with multiple body jets and a rain showerhead in addition to two other showerheads. The entry hall chandelier has an electric lift.
The exteriors have been given the same luxury treatment. The exterior is wood molded exterior brick with limestone trims including a few reclaimed stone antique carvings inserted into the exterior of the home. The home has a slate roof, while the garage and pool house have standing seam copper roofing, granite curbing throughout the inside of the courtyard, gas fixtures, copper gutters, leaded and stained glass windows and hand-forged iron railings. The porte-cochere has electric custom wooden gates. With all of these amenities and custom details it is no wonder why White Oaks Estate is the most expensive single-family home listing in the state of Kentucky.
The technology in this home is impressive. A Lutron system to control light settings and programmable lighting scenes can be adjusted house wide from multiple rooms or turned on while away from the home, this includes landscape lighting. It also has a new sound system, which plays throughout the home. A large generator will automatically control the home in the event of a power failure. The house also has electric draperies, electric pool cover, an elevator, and invisible fence—not only outside, but also inside under the tile and wood flooring, which can contain a pet within a designated area.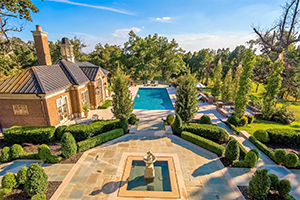 The craftsmanship is top notch, the level of detail of both the interiors and exteriors is amazing, and the technology is 21st century. What else can be said about this beautiful estate? Why, the amenities, of course or all the added fun extras: a basketball gym with true gym flooring and an authentic scoreboard; an extremely large sewing/craft room; a tri-level theatre with a 112" X 64" screen; pool table; fitness room; two porches with outdoor fireplaces; a fire pit; a treehouse playroom with a loft and slide-down fire pole; oversized heated pool with electric pool cover; and a pool house containing a small kitchen, an entertaining room with fireplace, changing room, and bathroom with a shower.
The White Oaks Manor is truly a luxury residence set in a very charming and easily accessible area of Kentucky. With all of the details, craftsmanship, and amenities on this 33 acre estate it is not hard to realize why this is Kentucky's most expensive listing.
Marilyn Hoffman is currently the listing agent of this property. Marilyn Hoffman is an international real estate broker and founder of Hoffman International Properties, Inc. She has brokered some of the most expensive real estate transactions in many states throughout the country. That is why she is currently listing Kentucky's most expensive house. You can obtain more information about this listing at www.WhiteOaksManor.com and MarilynHoffmanRealtor.com.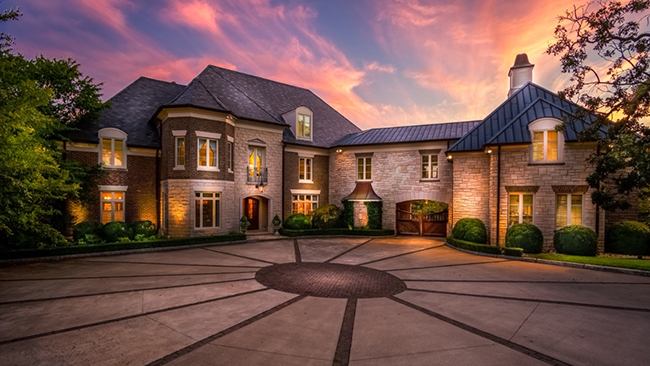 Contacts:
Marilyn Hoffman - 214-698-1736 | MarilynHoffman@sbcglobal.net
Patricia Hoffmaster - 512-970-8601