June Broadway Reviews with Pat Collins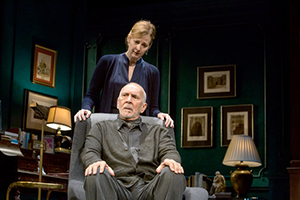 THE FATHER
A LEGEND RETURNS TO BROADWAY
Frank Langella's alternately charming and irascible character in "The Father" is diagnosed with dementia, stubbornly refuses help from his daughter and ignores the advice of his physician. The three time Tony winner who is one of the greatest actors on the planet speaks this heartbreaking line near the end of Florian Zeller's 90 minute play. 'Who exactly am I ". The Manhattan Theater Club production which brought Mr Langella another Tony nomination is scheduled to close June 12, 2016.
---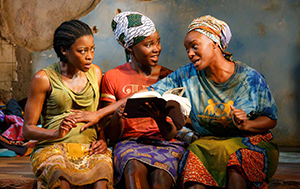 ECLIPSE
Eclipses' limited run comes to an end June 19, 2016. Danai Gurira's Tony nominated play received 5 additional nominations including one for: Lupita Nyong'o in the leading actress category. She plays the youngest of four women held prisoner and sexually violated by a murderous war lord during Liberia's civil war. Eclipse is the first Broadway production  with an all-female African American cast and creative team behind the scenes.
---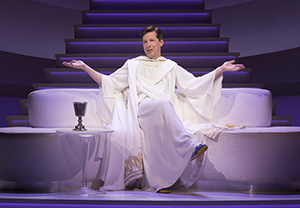 AN ACT OF GOD
HEAVEN SENT
The 90 minute comedy returns to Broadway, this time with Sean Hayes as God - . The Almighty has stern words for those who aspire to E Z pass their way through the pearly gates, One of his many rebukes is aimed at Kanye West: "The next time you win a Grammy and thank me for your God given talent they're going to get God-taken". Regarding the Garden of Eden, he confides that "Adam and Eve were an afterthought. The original garden of Eve residents were Adam and Steve gay, straight, bisexual, transgender - all are equally smitable in my eye". Mr. Hayes who made his Broadway debut in 2010 was Tony nominated for Hal David and Burt Bachrach's musical "Promises Promises".
---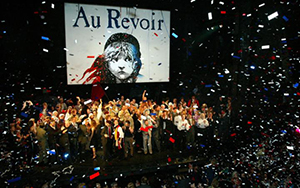 LES MIZ
BIDS AU REVOIR
The third Broadway production of Les Miz ends its run Sept 4 and not «One Day More».
When Alain Boubil and Michael Schonberg's 1985 musical debuted in London it received mostly negative reviews. In the intervening years it proved to be a durable hit with audiences there and on this side of the Atlantic. Its original Broadway run began in 1987 and was followed by revivals in 2006, and 2014. The story is well known to high school students who read Victor Hugo's 19th century novel about Jean Valjean, the French peasant who stole a loaf of bread to feed his child, spent  19 years in jail for the petty crime and was tormented by police inspector Javert one the most memorable villains on the page and the stage.
---
CIRQUE DU SOLEIL; PARAMOUR
ALL NEW AND DIFFERENT
The Canadian troupe's first musical created for Broadway pays tribute to the Golden Age of Hollywood with 10 original songs and a cast of 38 singing and dancing on the stage of the Lyric Theater and flying high above its stage as well.
---
BROADWAY'S BUSIEST DIRECTORS
Two over achieving Directors, Casey Nicholaw and Joe Mantello each have four shows running simultaneously on Broadway. That record breaking number was last achieved in 2001 when Susan Stroman had bragging rights to four productions. Mr. Nicholaw's musicals are: The Book of Mormon, Aladdin, Dirty Rotten Scoundrels and Tuck Everlasting. Mr. Mantello's include Wicked, The Humans, An Act Of God and Blackbird which ends its limited run next month.
---