FIVE STAR IF BY SEA – ALASKA WITH SILVERSEA CRUISES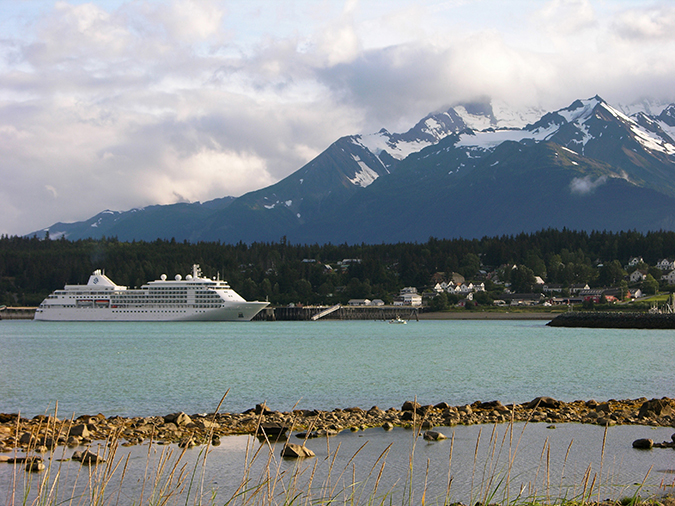 By Norah Bradford
All aboard the ultimate experience, the art of traveling by sea as defined by Silversea Cruises. Experience the wild beauty, grandeur and wildlife of the State of Alaska on Silversea's 382-guest Silver Shadow which combines a lifestyle of genuine class with refined hospitality. The company's Italian heritage and European style is reflected in the attention to detail and affinity for the finer things in life. With Silversea, travel is a passion, and every oceanic journey is a voyage of discovery. Voted "World's Best" by the readers of Condé Nast Traveler nine times and Travel + Leisure seven times, among scores of additional awards, Silversea is probably the most sought-after luxury cruise line in the world.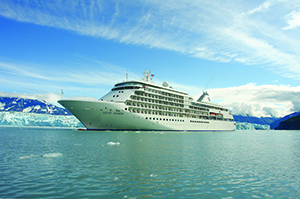 Travelers from all over the globe have been indulging in voyages to one of Silversea's most exclusive cruise destinations—Alaska. Silversea's award-winning all-suite, Silver Shadow has set  course for one of the world's last great unspoilt frontiers, to explore a paradise of glaciers, rugged mountains and ancient forests. Ranging from seven to fifteen days, these intriguing journeys offer breathtaking vistas from a base of floating luxury complemented by optional in-depth explorations ashore, extending the adventure in grand style. Several sailings feature convenient round-trip departures from Vancouver, with voyages also available from Seward (Anchorage).
The Silver Shadow is a stunning vessel, and is one of the only ultra-luxury cruise ships exploring Alaska. While there are a number of mainstream mega-ships touring Alaska this summer, only Silversea offers an exclusive alternative for the sophisticated traveler seeking an award-winning, all-inclusive and intimate experience. Boasting a crew-to-guest ratio of 1 to 1.29 and a space ratio of 7,400 cubic-square-feet of space per guest, the Silver Shadow offers an unsurpassed level of personalized service and spaciousness. Guests will enjoy ocean-view accommodations, warm Italian hospitality, all-inclusive shipboard amenities and delectable fine dining. In fact, Silversea is the only cruise line with a Relaix & Châteaux onboard restaurant. Additionally, complimentary Butler Service is provided to all guests regardless of the ship or suite.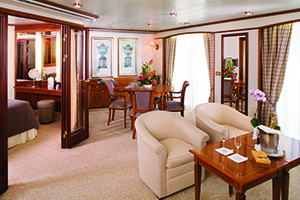 To capture the complete portrait of Alaska, Silversea offers an exciting collection of pre- and post-cruise land adventures that can easily fit with most guests' schedules. These programs are uniquely designed to showcase Alaska's rich cultural heritage, breathtaking natural beauty and abundance of wildlife. Explore Alaska and all of its one-of-a-kind sights—cascading falls, bear watching in the deep forest and glaciers such as the icebergs of Sawyer Glacier.
Unravel the allure of Alaska and explore all the stops you can. Take in Juneau, Alaska's capital, famous for its breathtaking beauty and cosmopolitan flair. Visit Ketchikan, the "Salmon Capital of the World" and the Tlingit Indian Village of Sitka. Silversea also makes its way through Wrangell, a hidden gem at the center of the Tongass National Forest, the third oldest community in Alaska. Experience this magical paradise of ice fields, and join Silversea for the escapade of your life.
Also, watch out for Silversea's new flagship, the Silver Muse. Its Maiden Voyage commences April 20th,2017. For more information please visit www.silversea.com