MADE IN NY: Manhattan Moonshine
By Virginia Ingalls
With cocktail culture booming in New York, there is certainly no shortage of Speakeasies and high-end mixology bars in the City. What some of the best ones have in common is a revolutionary new Silver Whiskey called Manhattan Moonshine, which is rapidly emerging as a number one choice for the discerning drinkers of New York. Inspired by the cocktail renaissance that occurred during American Prohibition and the glamorous yet subversive nightlife that accompanied it, Manhattan Moonshine is the world's first luxury Silver Whiskey and has been developed to be the perfect Whiskey for cocktails.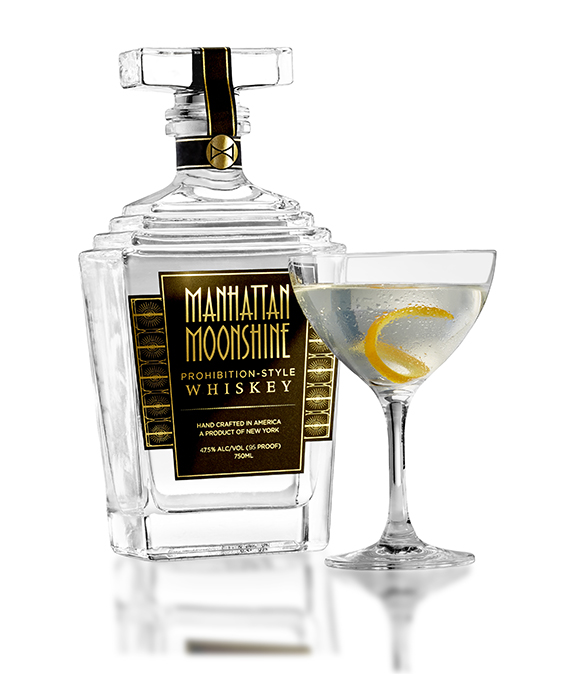 A popular misconception that moonshine (silver Whiskey) is cheaply made, harsh tasting, and made in the backwoods has led people to believe that it cannot be a premium or high quality spirit. It is this misconception that gave birth to modern day "moonshines" packaged in mason jars or faux-jug-style bottles. In actuality, much of the moonshine that was produced during Prohibition, the high water mark of moonshine production, was produced by sophisticated distilleries that operated in secret, and what they produced flowed into high-class Speakeasies across the country. Now that moonshine is being produced legally, moonshine has come to refer to any barely-aged or un-aged Whiskey. Essentially, moonshine is to Whiskey what White or Silver Rum is to Rum and Silver or Blanco Tequila is to Tequila, i.e. a simpler and more versatile expression of the spirit without the heavier barrel flavors.
That being said, not all moonshines are created equal. Whereas other moonshines are made by following traditional Aged-Whiskey or Bourbon recipes and excluding the final step of barrel aging, the recipe for Manhattan Moonshine was developed from the outset to create a barely-aged Whiskey, meaning that it has been designed to have a smooth yet complex flavor without the need for significant aging. More specifically, it features a unique four-grain recipe that contains no corn. When corn is used to make Bourbon, it has time to soften in the barrel during the aging process, which masks and removes the corn mash's natural grassy harshness, leaving the delicious flavors of Bourbon that people enjoy. On the other hand, when corn-based Whiskey is not significantly aged, as in most moonshines on the market, grassy harshness dominates its flavor.
Instead, Manhattan Moonshine's unique grain bill features a combination of Oats, Rye, Spelt (an ancestral form of wheat) and Malted Barley, all grown in New York State. This unusual grain bill, which was developed over the course of almost two years by Founder and CEO Will Kehler and Master Distiller Ian Smiley, creates the soft, complex, and versatile flavor that has earned Manhattan Moonshine the highest rating of any moonshine or un-aged Whiskey ever, from industry journal Whisky Advocate.
Its versatility is on display at cocktail havens such as Highlands, Weather Up, and Bar Cyrk, where Manhattan Moonshine is served with ingredients like black pepper, espresso, maple syrup, or Fernet Branca, much to the delight of Whiskey lovers and cocktail enthusiasts alike. It is not just experimental cocktail bars that love Manhattan Moonshine however, storied institutions such as the Harvard Club, Aretsky's Patroon, and the Montauk Yacht Club also serve this Silver Whiskey. These establishments are finding that something as simple as a Manhattan Moonshine and tonic is a welcome twist on a classic order and a great way for them to give their guests something familiar but memorable – and made in New York.
At the end of the day, with new people becoming interested in starting to drink Whiskey and with mixologists constantly pushing the envelope with new cocktail flavors and combinations, the demand for a Whiskey as approachable and versatile as Manhattan Moonshine will continue to grow, and the category of Silver Whiskey (moonshine) will continue to flourish.
For more information, visit: www.Manhattan-Moonshine.com