On the Big Screen
By Pat Collins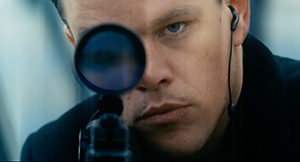 JASON BOURNE
Rated PG-13
"I volunteered because of a lie"... - Jason Bourne After a 9 year absence Matt Damon is back as the amnesiac superspy confronting new enemies and upheaval abroad. Julia Stiles returns as fellow spy and Bourne confidante Nicky Parsons. Oscar winner Alicia Vikander (ex machina) joins a first rate cast that includes Tommy Lee Jones as the CIA director, Viggo Mortensen (Lord of the Rings) and Vincent Cassell. A high speed bike chase and an austerity riot in Athens (shot in the Canary Islands) are two of the many adrenalin- rush action scenes choreographed by director Paul Greengrass.
---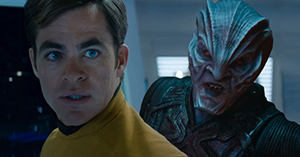 STAR TREK BEYOND
"This is where the frontier pushes back" - Krall During a five year mission to explore the final frontier, the Enterprise crew comes under attack, abandons ship, lands on an unknown planet and is confronted by a new formidable enemy. Director Justin Lin who helmed four episodes of the Fast and the Furious franchsie wisely cast the charismatic Idris Elba as the villainous Krall. It took a team of ace makeup artists to transform him into a reptilian alien. The 13th film in the Star Trek series stars Chris Pine (Capt. Kirk), Zachary Quinto (Spock), Zoe Saldana (Lieutenant Nyota Uhura) and Simon Pegg (Lieutenant Commander Montgomery Scott) who co-wrote the screenplay. The sequel is set two and a half years after the events that transpired in 2013's "Star Trek Into Darkness" which grossed a whopping half billion dollars at the global box office.
---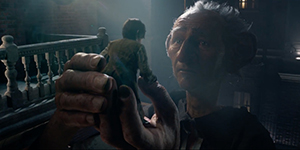 BFG
Rated PG
Steven Spielberg and Disney, the two most admired creators of family entertainment, bring an adaptation of Roald Dahl's beloved children's novel The BFG (Big Friendly Giant) to the big screen. Mark Rylance, who won a best supporting Oscar for Mr. Spielberg's Bridge Of Spies, has the titular role of the 24' giant who kidnaps Sophie, a lonely, curious and smart orphan played by 10 year old Ruby Barnhill. His mission is to protect Sophie from an army of flesh eating giants who prey on small children. Fortunately for Sophie, her BFG is a vegetarian. Advice for Parents: I suggest reading the book to children 8 and under to prepare them for the film's few scary scenes.
---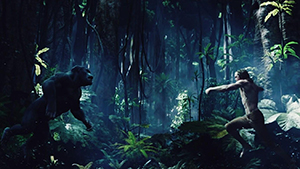 THE LEGEND OF TARZAN
RATED PG-13
Director David Yates does not dwell on the orphaned boy raised by apes story and instead fast forwards to London's aristocratic jungle populated by the rich and powerful. The boy who was Tarzan is Lord Greystoke - also known as John Clayton III. His lordship (Alexander Skarsgard) and his wife Jane (Margot Robbie) enjoy a Downton Abbey –like lifestyle. However he is easily persuaded to return to the African continent as a trade emissary unaware that he is a part of a conspiracy devised by a corrupt Belgian official (Christoph Waltz). The action kicks in when Greystroke sheds his aristocratic bearing to outwit and outmaneuver the venally greed colonialist Mr. Skarsgard, who is known to viewers as the vampire Eric Northman from HBO's "True Blood", who has spent many hours in the gym to get in shape for a physically demanding role. Tarzan benefits from a superior supporting cast that includes Samuel L. Jackson, Jim Broadbent and Djimon Hounsou.
---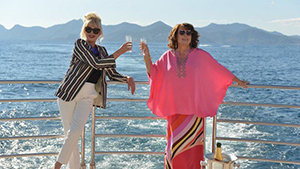 ABSOLUTELY FABULOUS
Rated R
They are older but blessedly not wiser or sober. After a too long absence from the screen, Edina Monsoon (Jennifer Saunders) and Patsy Stone (Joanna Lumley) reunite in a highly anticipated movie based on the BBC's popular 90's comedy series. The show- better known as Ab Fab- ran stateside on Comedy Central. Edina, the president of her own fashion public relations firm, and Patsy, who works for a glossy London fashion magazine, never say no to posh events where celebs are present and free cocktails are served. Disaster strikes at a launch party where Kate Moss goes overboard and drowns in the Thames. The media blames Patsy for the tragedy and with Edina she flees to the French Riviera- the ideal destination for two self-indulgent, champagne swigging singles. Starry cameos are provided by Rebel Wilson, Jon Hamm, Kim Kardashian and Stella McCarthy.
---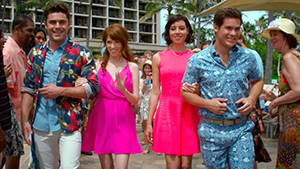 MIKE AND DAVE NEED WEDDING DATES
Rated R
No summer slate of movies is complete without a "wedding gone horribly wrong" comedy. This year's entry is Mike and Dave Need Wedding Dates" with Adam DeVine and Zac Efron as party hearty brothers whose parents insist they find suitable dates for their sister's lavish wedding in Hawaii. The two launch their quest on Wendy Williams talk show and eventually choose Alice ( Anna Kendrick) and Tatiana ( Aubrey Plaza) who are not the respectable "all-American" young ladies they initially pretend to be. Will Mr. DeVine and Mr. Efron match Owen Wilson and Vince Vaughn's chemistry in "The Wedding Crashers"? Definitely not.
---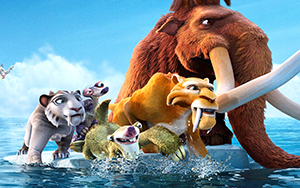 ICE AGE
Perfectly timed to open in air conditioned theaters during the scorcher days in July, the fifth in a 3D computer animated "chill-ogy", features returning voice cast members Ray Romano (Manny the wooly mammoth), Queen Latifah (Ellie - Manny's mate), John Leguizamo (Sid the Sloth) and Denis Leary (Diego the saber tooth tiger).
Chaos ensues when Scrat (Chris Wedge), ever in pursuit of acorns, inadvertently triggers a series of cosmic events which result in an asteroid aimed at planet Earth. No need to panic because renowned real life astrophysicist Neil deGrasse Tyson voices the weisel / astronomer who saves the day. Dr. Tyson also serves as director of the Hayden Planetarium - an ideal place for New Yorkers and out of towners to visit before or after seeing the movie.
---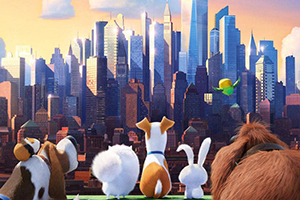 THE SECRET LIFE OF PETS
Rated PG
One line in the coming attractions trailer sums up the plot "what they do when we're not home". Max a terrier voiced by Louis C. K., registers disapproval when his owner Kate (Ellie Kemper) brings home a mongrel named Duke (Eric Stonestreet). They vie for Kate's attention and compete for extra helpings of Alpo. The rivalry ceases when the two are confronted by Snowball (Kevin Hart) a white rabbit with a cause. Snowball and his fellow abandoned followers seek equal footing with domesticated pets.
Last year Snoopy was the top dog at the box office with a global gross of $250 million. Will Max and crew exceed that number? Unfortunately, probably not.
---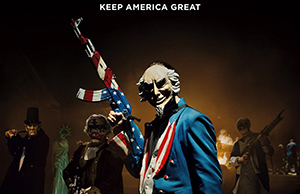 The Purge: Election Year
Rated R
Of those who intend to profit during an election year none are more obviously opportunistic than the producers of The Purge: Election Year. The trailer contains a slogan "Keep America Great" and the most vulnerable character, A US Senator and presidential candidate, vows to abolish the ritual if elected. Senator Roan (Elizabeth Mitchell) is the sole survivor of a Purge attack that killed her family. With bodyguard (Frank Grillo), Roan dodges the homicidal crazies and government forces who oppose the ban. For those unacquainted with the bloody franchise here is a brief explanation. During the 24 hour ritual known as The Purge, citizens may legally commit any crime including murder. The wacky theory is that serious crimes will decrease in a society which allows everyone to ignore the sixth commandment once a year. The second installment - The Purge Anarchy - cost an estimated $10 million and grossed $111 million worldwide. Why is the bloody series popular? Maybe we don't want to know the answer...
---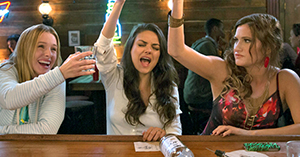 BAD MOMS
Rated R
Moms just wanna' have fun especially when they need a break from handling family life, careers and the pressure to look like those celebrity mothers on magazine covers. Three stressed out suburban mothers played by Mila Kunis, Kathryn Hahn and Kristen Bell form an instant bond and agree to let loose. In one scene the tipsy trio guzzle vodka in the liquor aisle of the local supermarket. The comedy from the writers of The Hangover is due in theaters July 29.
---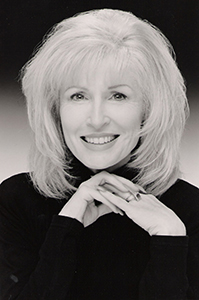 About Pat Collins
Pat Collins is a three-time Emmy award-winning film, theater and entertainment critic/reporter. Her outstanding media credits include WCBS-TV, Good Morning America and WWOR-TV. She is a contributor to CUNY-TV's Arts and The City program and the host of several Broadway specials including Kinky Boots On Broadway, Fiddler On The Roof: Back On Broadway, and The Road To The Tonys.