Port Royal: Relaxing at the Shore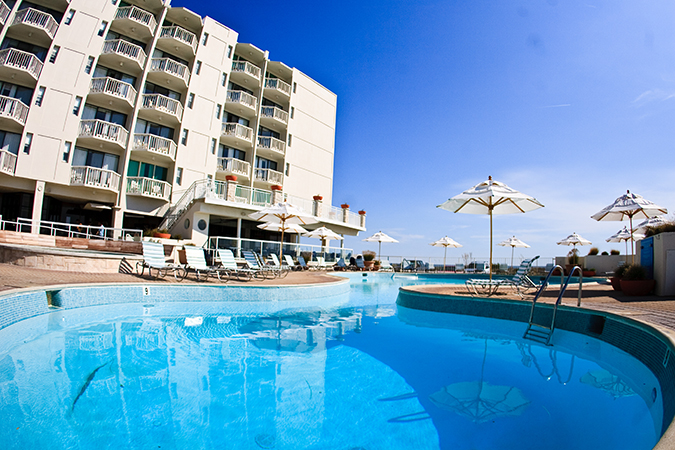 By Lyle Seltzer
For summer vacations, a lot of people want to stay close to home and avoid the hassle and high costs associated with trekking by airplane to reach a far away destination. They may be looking for something simple and fun for the whole family that is a short drive from New York City. They probably want to vacation at a relaxing and comfortable hotel that is on a nice sandy beach and offers a full range of activities for the whole family. The Jersey Shore, specifically The Wildwoods may be just what fits the bill. It's a 2 ½ hour drive from New York City with hotels on the beach that offer on-site activities while being centrally located in close proximity to the boardwalk and water/amusement parks as well as historical locations. There are plenty of dining options as the area has a bevy of restaurants. The Port Royal Hotel consistently received high ratings by guests for its location, quality and cleanliness of its rooms, staff friendliness and level of service as well as its wide range of hotel activities. It was comforting to see that many guests described themselves as repeat visitors to the hotel when they published their highly favorable reviews.
A description of the Port Royal Hotel and the local activities and attractions is described below.
---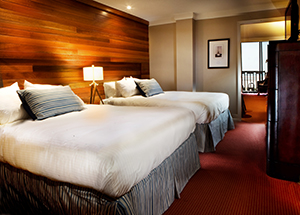 Accomodations
The Port Royal Hotel in Wildwood Crest, New Jersey is a family-owned beachfront hotel with 100 guestrooms and suites catering primarily to families looking to spend an enjoyable vacation together. The rooms range in size from the standard room to the deluxe ocean suite which includes 2 bedrooms, a living area/family room and 2 balconies and can comfortably sleep up to 6 people. The rooms feature flat screen TV's, refrigerators and complimentary wi-fi.
---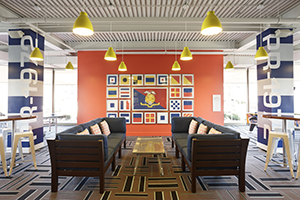 Hotel Activities
If you are looking for indoor activities at the hotel, be sure to stop by the game room and play the arcade games, ping pong, air hockey or choose from a selection of board games. The hotel also offers scheduled children's activities ranging from ping pong to arts and crafts. If you are looking for something more relaxing, stop by the media library and catch a movie on the flat screen tv while lounging on the couch or sit back and read a good book or magazine.
---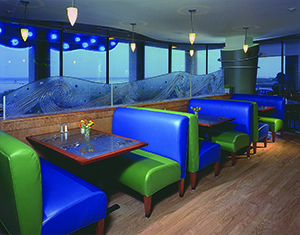 Hotel Dining
The Royal Grill is the sole restaurant option at the hotel. Most tables have stunning views of the ocean and the beach. Breakfast and Lunch are served daily and Dinner is offered Tuesday – Sunday. The breakfast features eggs, omelets, French toast, pancakes, cereal and bagels. Lunch options consist of burgers, hot dogs, sandwiches and salads while dinners feature nightly seafood specials.
---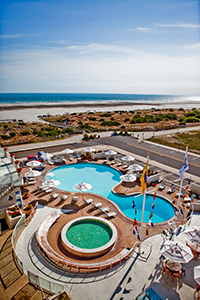 Pool and Beach
The Port Royal Hotel is just steps from the Wildwood beach which is special because it is a free beach and it lives up to its reputation of being able to enjoy the sun without feeling crowded by other beach-goers. If you prefer the pool or are looking for a change of pace from the beach, the hotel offers two heated pools, one for adults and families with teens and older children and a small circular one for little kids. Sit back in your lounge chair and enjoy special treats from the snack bar.
---
Local Activities and Attractions
The Wildwood boardwalk features 3 piers. Mariners Pier has the atmosphere of a seaside amusement park with classic rides like bumper cars, carousel and the giant wheel. Put your skills to the test in one of the largest arcades in Wildwood. If you are in the mood for something delicious try Jumbo's Boardwalk Grill and Eatery for seafood sandwiches or Cuban spiced fries. On Surfside Pier, 35 years later and 3 years in the making KONG returned to the pier. This family ride will have you screaming in excitement as you pilot planes circling the giant gorilla. Joes Fish Co. is known for its seafood and many craft beers and it just put on a quarter million dollar expansion. The third pier is Adventure Pier for the coaster enthusiast worldwide, the Great White is a classic out and back wooden coaster that plunges at 105 feet at speeds up to 55 mph .During the daytime, don't forget to go to Raging Waters Water Park and Ocean Oasis Water Park and Beach Club. Don't miss the opportunity to visit Cape May where you can take a horse and carriage ride before stopping in the shops along Washington Avenue for a souvenir or get a bite to eat at one of the many eateries. Salt Water Taffy and Jersey Shore Fudge are must have treats. A day in Cape May isn't complete without a visit to the Cape May Zoo and the historic Cape May Lighthouse.