15 Minutes with Miguel Antoinne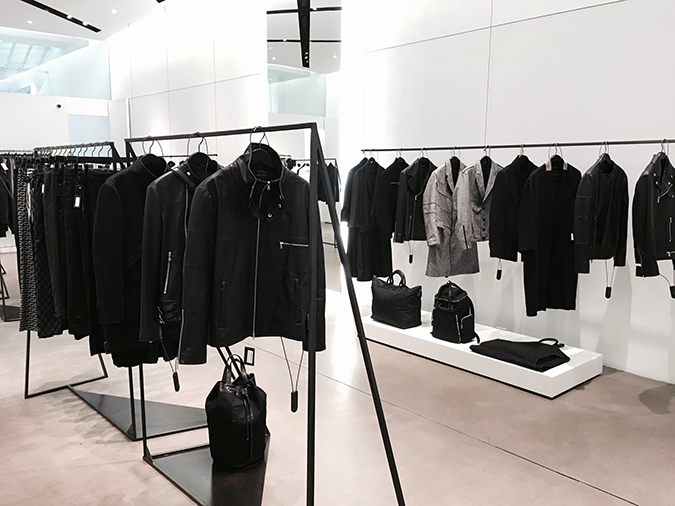 By Baruch Shemtov
Miguel Antoinne's eponymous line of menswear is all made in New York City, a rarity in an industry where manufacturing continues to be sent overseas. With a growing business at his flagship Wooster Street boutique and on his website www.miguelantoinne.com, the designer is striving to build a fashion empire inspired by the Big Apple itself.
1. Why did you decide to manufacture your entire fashion line in New York?
New York is home to some of the world's best fashion designers and garment manufacturers in the world. I love being able to manage the quality of the designs at all phases of development. I love the humming sound of the sewing machines in my ears. Somehow it grounds me. I love being on team USA.
2. How has New York influenced your choice of fashion aesthetic?
New York is dynamically juxtaposed. It's black and white, raw and refined, old and new.
3. Where in New York City do you go for inspiration?
I go to the streets. The best style influence comes from the streets of New York City.
4. What is your vision of what characterizes the perfectly dressed man?
I'm keen on tailoring, color palette and lines.
5. In your own opinion, why does style matter?
Style is a way in which we get to create our individual selves. It empowers identity.
6. What is the best style advice you have for every man to look his best every day?
Keep it simple. Choose a uniform. Discover what works for you and leave everything else alone.
7. What do you never leave home without?
My iPhone, and Mophie external battery charger for my iPhone. It is astonishing to think that as long as one has a smartphone and energy that you have access to anything in the world that you may need and/or want.
---
MIGUEL'S FAVORITES
What is your favorite New York spot for...
A haircut?
Levels Barbershop in Harlem. I love a neighborhood barber shop. It's unfussy, the grooming service is great and the energy is good there.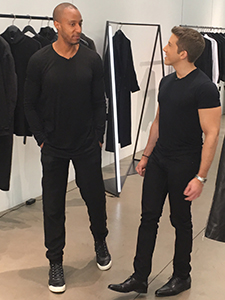 Coffee?
I'm off coffee. Now its tea. My favorite spot is Mariebelle on Broome street. It's near my studio and store in SoHo. I love the decor of the café that sits in the rear of a decadent chocolate shop.
The perfect gift?
The ninth floor at Barneys on Madison Avenue. The selection of gifting items is unmatched in the city and I always treat myself to the lobster club sandwich from Fred's that shares the floor.
Dinner?
The Butcher's Daughter on Kenmare street in Nolita. Hands down Its the best vegetarian food and juice bar in the city.
Some time alone?
I drive around Manhattan in my car in complete silence. Other than the noises of City-life.
A celebration?
The Spa at the Mandarin Oriental in Columbus Circle. It's where I can go and pretend to be king for a day or at least a few hours. The Thai Yoga Suite is life changing.
www.BARUCH.tv