The Cost Of Getting There: The Hamptons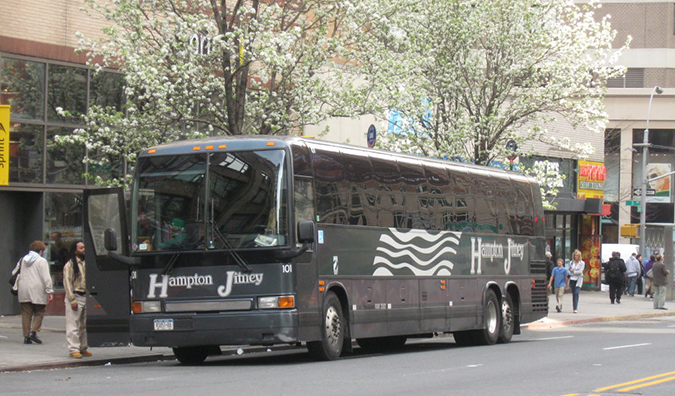 By Laurie Gelman
Sure, you got an awesome quarter share in a house in the Hampton's this summer for the bargain basement price of $3,000. You are broke but happy. However, when you ponied up for this rental, did you take into consideration how much it would cost you just to get to the beach and back every time you go? If you're very lucky, someone who really likes you has a car. If not, this is what you'll be facing.
Lets get the fantastical out of the way first. If shelling out $3,000 was a gut buster for you, then paying to take a helicopter out east is probably not in the budget. But just for shits and giggles you should know that it costs between $500 and $1,200 to get a seat on a chopper - even more for a ride on a sea plane (www.flyblade.com).
So, back to reality. The bus or the train is going to be your best bet and because there are options for each, you have to ask yourself how much is my time and comfort worth?
Two bus companies duke it out for your commuting dollar – the Hampton Jitney (www.hamptonjitney.com) which also has the Ambassador service and The Hampton Luxury Liner (www.hamptonluxuryliner.com).
The Jitney is always packed, rarely on time and in my experience, loud. But you get what you pay for which is a ride, a snack and a newspaper for $32 one way (less if you pre-pay) Their Ambassador service will run you $50 a ride but more room and less noise.
The Hampton Luxury Liner offers just that, a little more luxury in the form of movies, music, magazines, snacks and free wi-fi all for $45 a seat. The drawback? Not as flush a schedule as their competition.
If you choose the Long Island Rail Road (LIRR) a standard one way fare from Penn Station to Southampton on Friday night is $28.25. Not so bad but you do have to change trains in Jamaica Queens which should be considered a Hunger Games challenge. Train time to Southampton is 2 hours and 45 minutes. Just pray you get a seat.
The better train option is the Cannonball which leaves Penn Station at 4:08pm on Thursdays and Fridays. You need a reservation as there is limited seating, although they do use the double decker train. Price is $42.25 one way BUT you get to Southampton in 2 hours flat. Weigh that against Friday night rush hour traffic and you may want to spend the money (www.mta.info/lirr).
Of course these options only work if you don't plan on going anywhere while you're at your groovy Hamptons share tenement. If you enjoy clubbing and the beach, you may want to rent a car or use a Zip car (www.zipcar.com).
Rentals vary and are hard to nail down without advanced planning, but it pays when you have 2-3 friends splitting the tab with you. Friday to Sunday you are looking at a few hundred dollars plus gas.
The Zip car is an interesting and cheaper option. Although it will cost you $7 a month to be a member of the Zip Car Club, you can usually get a vehicle for $89 per day. Again, you can split it with friends. The downside for both? Hours and hours on the LIE. Smart people leave either before noon or after 8PM to avoid the soul sucking traffic.
Turns out there is no boat service to the Hamptons (unless you have a yacht) but I'd say that's a business opportunity just waiting to be scooped up. The Beast to Montauk in 60 minutes anyone?