SEPTEMBER BROADWAY REVIEWS
With Pat Collins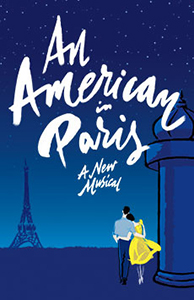 AN AMERICAN IN PARIS
October 9th is the date the cast of the romantic musical bids "au revoir" to Broadway. The sublime production with a George and Ira Gershwin score received four Tony awards. A trip to the Palace Theater is the best alternative to a holiday in the City of Light—and a lot less expensive
---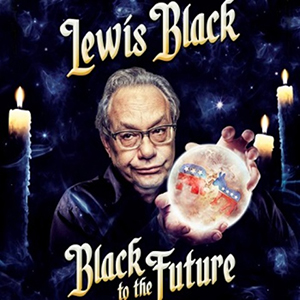 BLACK TO THE FUTURE
September 12th-October 10th The Daily Show alum and King Of Rant, Louis Black, offers his take on the 2016 Presidential race and other provocative current events in his one-man shows at the Marquis Theater. Mr. Black appears on Monday nights when the cast of the hit show On Your Feet has the night off.
---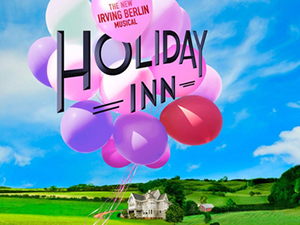 HOLIDAY INN
In Previews/Opens October 6th "White Christmas" and "Easter Parade" are among the memorable songs in Irving Berlin's Oscar-nominated score. The musical at Studio 54 is inspired by the 1942 Bing Crosby-Fred Astaire movie about two buddies who convert a farmhouse into an inn and stage spectacular musicals. Bryce Pinkham who earned rave reviews for A Gentleman's Guide To Love and Murder leads a cast of 27 including Lora Lee Gayer, Megan Lawrence and Corbin Bleu who starred in Disney's High School Musical.
---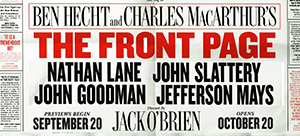 THE FRONT PAGE
First Preview September 20th/Opens October 20th Good news! Nathan Lane is back on Broadway as ruthless Chicago tabloid managing editor Walter Burns in a revival of the 1928 Ben Hecht-Charles MacArthur comedy. Mad Men's John Slattery plays his star reporter Hildy Johnson who plans to quit the rough-and-tumble newspaper business, marry his long patient fiancée and begin a new life. The escape of a prisoner on death row and Burn's persuasive powers lure Hildy back to the newsroom to pursue the big story. John Goodman Jefferson Mays, Robert Morse, and Sherie Rene Scott costar. Jack O'Brien directs. The popular comedy was previously restaged in 1946, 1969 and 1986 and was made into a 1974 movie directed by Billy Wilder and starring Jack Lemmon and Walter Matthau
---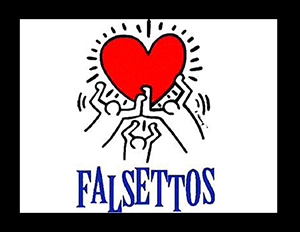 FALSETTOS
First Preview September 29th/Scheduled Opening October 27th Christian Borle, who earned Tonys for Something Rotten and Peter and the Starcatcher plays Marvin, a bisexual New Yorker dealing with his ex-wife, their teenage son, and the wife's new lover who is also her psychiatrist. The revival of William Finn and James Lapine's musical set is New York City in the late 70's is directed by Mr. Lapine. Andrew Runnells, who was Tony-nominated for The Book Of Mormon costars as Marvin's significant other. Falsettos is scheduled to play a 14-week engagement at the Walter Kerr Theater. Variety theater critic Jeremy Gerard wrote the following in 1992: "To call Falsettos a musical about gay life in modern times is also to shortchange its tremendous appeal as a masterly feat of comic storytelling."
---

THE CHERRY ORCHARD
First Preview September 15th/Opens October 16th The divine Diane Lane has the pivotal role of Madame Ranevskaya in a highly anticipated revival of the Chekhov classic. Coincidentally Ms. Lane made her stage debut in the same play at age 12.The setting is the family's estate in Russia where she and her relatives have gathered to discuss how to save the property from foreclosure. Ms. Lane's stellar supporting cast includes three Tony winners: Joel Grey, Chuck Cooper, and John Glover. Steven Karam whose brilliant The Humans won the Tony in June for best play, adapted The Cherry Orchard for the Roundabout Theater Company's production. The RTC offers a package deal for its three shows. You can buy tickets for The Cherry Orchard, Holiday Inn and Arthur Miller's The Price for $277. For more information, visit roundabouttheater.org.
---