LUXURY SPAS: BRINGING HAUTE TO HEALTH
By Griffin Miller
Aching muscles... Anxiety... Dubious eating habits... Migraines... Cell phones that won't shut up. In short, a good many of us are stressed to the max, mentally and physically. The optimum solution is, of course, downtime at an upscale spa: a couple of hours where you can disconnect and surrender to dim lights, soft music, the soothing touch of a skilled aesthetician and the ultimate prize: a healthier, more focused you.
Manhattan, of course, is home to myriad high-end spas, some dedicated exclusively to pampering and others that expand upon the expected with restorative and rejuvenating services. Remarkably, two of the latter can be found down the block from each other on East 76th Street: Cornelia Spa at the Surrey Hotel and The Spa Sisley at The Carlyle Hotel. With ambiance and creature comforts to spare, these two spas have distinctive personalities while yet sharing one remarkable ability: to meld pampering with wellness.
---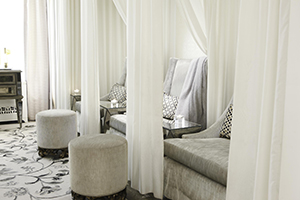 THE CORNELIA SPA
Not that long ago, I was privy to one of Cornelia Spa's deluxe services with a most seductive name: The Elixirs of Life. This multi-tiered treatment takes place in one of the spa's two suites, which is a two-room "urban refuge." It features a steam shower and decadently large whirlpool bathtub in one room and a lovingly furnished second room with seating area; a matching set of damask-embedded armoires (for clothes and valuables) and two massage tables. As you might have guessed, this luxe experience was created for couples, but that doesn't mean they discourage solo indulgence.
Like many of Cornelia's services, Elixirs begins with a spoonful of the artisanal honey and moves into a citrus and rose petal bath followed by a customized massage. Post-treatment, you're invited to relax in the lounge area (after 4 PM with a flute of Prosecco), or browse through the spa's select jewelry and gift items.
And while rejuvenation is certainly high on this spa's list, during the month of October the Cornelia is taking a proactive stance for Breast Cancer, by incorporating specially designed spa services into their menu. As Spa Director Tara Cruz puts it, "Early detection doesn't have to be exclusively medical, it can be pampering as well."
Donating their services to this "pathway to a peaceful recovery," are noted lymphatic drainage therapist Wafa Mzeghet and lymph drainage provider Sharon Houlihan. A number of individuals who have personally been affected by the disease—hand-picked patients, survivors, family members and caregivers—will experience targeted treatments like a foot soak in a copper tub filled with warm water and aromatic herbs and a personalized massage honing in on specific needs.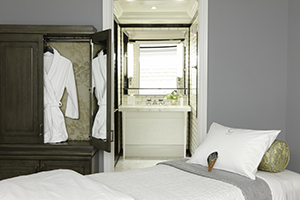 According to Cruz, "The object of this effort is to raise awareness of the disease and promote early detection. We would also like to bring light to Oncology & Lymphatic Massage," she continues. "Such modalities can indeed improve a patient's health, ease stress, and of course heal one's mind, body, and soul during these difficult times."
As for other Cornelia innovations, this fall the Spa introduced The Purist, a two-phase/two-hour detox healing treatment designed to "return the body to its balanced alkaline state where disease cannot flourish, and your sense of well-being is increased." Cruz adds, "This will hopefully prepare you for the over-indulgent holiday season ahead."
As you exit, take the time to check out the artwork in and around the outskirts of the Surrey's lobby. This mini-gallery (we're talking hundreds of thousands of dollars of fine art) changes on a regular basis and matches featured works to key events taking place in the city. Sweet.
The Cornelia Spa
20 East 76th Street
646-358-3600
corneliaspaatthesurrey.com
---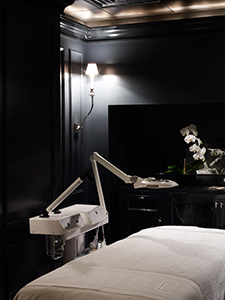 THE SPA SISLEY-PARIS
It was just last April The Carlyle Hotel welcomed the first full-service Sisley-Paris Spa to North America. It arrived bearing gifts—or bonus points—by way of its superstar status as the cornerstone of Phyto-cosmetology: Sisley's botanically-infused product lines and treatments have been an international phenom for decades.
The selection of The Carlyle – home to the famed Bemelmans Bar and Café Carlyle – was nothing short of inspired. Upstairs, the full-service environment features check-in desk, comfy lounge, first-rate boutique (including Sisley's product line) and access to high-end salon services, from hair color to cuts and styling to mani-pedis and professional (Sisley label) makeup applications.
Down a short flight of stairs vaulted by a gold mosaic-lined arch, the spa-scape changes and you find yourself in a quiet, dimly lit area flanked by a handful of treatment rooms. Signature essential oils and plant extracts come into play as relaxation and well-being take center stage via a menu of phyto-facials (including one dedicated to the unique needs of men). Also available are intraceuticals oxygen experiences (i.e., facials with a little something extra); massages (including prenatal therapy); and phyto-aromatic body treatments (regenerating, balancing— perfect for the overworked and under Zen-ed).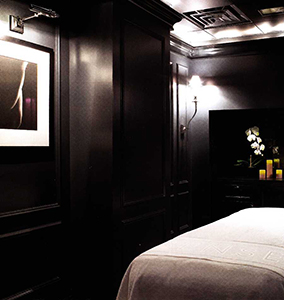 I speak from experience when I say a Sisley facial is rich with unique touches, beginning (and ending) with breathing exercises and gentle stretch alignment. It's truly therapeutic! Next, comes the customized facial featuring Sisley's signature skincare serums that—considering the results—are addictive. Aesthetician Bohumila gets five stars not only for her skill at renewing my skin but for putting up with my ongoing Q&A.
The Spa Sisley—Paris
Madison Avenue at 76th St., 3rd Floor
212-660-7560
thesisleyspa.com
---
NATIONAL SPA WEEK® TAKES NYC
October 17th through October 23th
Memo to all spa aficionados and neophytes: one of the sweetest highlights of the season is upon us: National Spa Week® – a bi-annual event during which we can indulge (and over-indulge) in high-end, full-service spa and health and fitness treatments for just $50 each. Seriously. Services—with regular price tags running between $100 and $500 at New York's celebrated spas—are served up by the finest aestheticians in the city for this unreal rate during the week of October 17th. Insider Tip: Certain spas have been known to extend their $50 treatments beyond Spa Week's official cut-off date.
According to Spa Week spokesperson, Julie Leventhal, "These services will provide consumers a path to optimal living and will serve as a preventative and alternative health approach. Routine spa visits now will aid in preventing future diagnoses and unwanted medical procedures."
Here are just a handful of this year's participating spas: The Red Door (thereddoor.com); L'Institut Sothys New York (sothyspa.com); Haven Spa (havenspa.nyc); VMV Hypoallergenics (vmvhypoallergenics.com); BioXage at The Roosevelt Hotel (bioxagespa.com); and DAPHNE (daphne.studio).
To make reservations visit SpaWeek.com. And after you've finished scheduling your treatments you might want to spend some time browsing the website for tips, perks, year-round spa deals and Spa & Wellness Gift Cards by Spa Week®.