PAT COLLINS' PICKS OF HOME ENTERTAINMENT RELEASES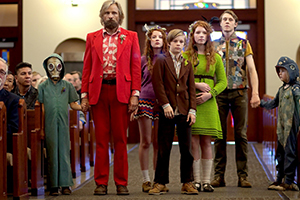 CAPTAIN FANTASTIC
RATED R
When the Oscar nominations are announced next January Viggo Mortensen's name should be on the list for his extraordinary performance as Ben Cash, a widowed father raising six children in the woods of Washington State. He isolates his family from what he believes are the corrupting influences of popular culture and, instructs the kids ranging in age from 7 to 18 to survive in the wilderness. The three daughters and three sons have never seen TV or a cell phone, but they are proficient in math, science, and literature. The outside world intrudes when Ben's wealthy father in law played by Frank Langella calls to inform his estranged son in law of the formal traditional service he has planned despite his daughter's expressed wishes to be cremated. Ben and the children's road trip to the maternal grandparents' estate in New Mexico results in an ugly confrontation between Ben and Jack. Despite the film's disappointing melodramatic last half hour director Matt Ross' film was well received at Sundance and is worth seeing if only for its exceptional performances.
---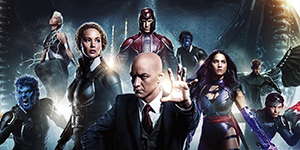 X-MEN APOCALYPSE
RATED PG 13
Director Bryan Singer relies on visual effects to maintain the audience's interest in the franchise's ninth installment. Unfortunately, Hugh Jackman's Wolverine, arguably the film series most popular character, does not appear in this sequel. Returning X-Men characters include James McAvoy's Professor Charles Xavier, Michael Fassbender's Magneto, Jennifer Lawrence as Raven/Mystique and Oscar Isaac as the titular villain who time travels from 3600 BC to wreak havoc in 1983. With so many X-men for movie goers to keep track of during a too long movie, the costume designer should have been encouraged to place the characters names on the back of their distinctive clothing. Hockey and football players' names are displayed on their uniforms. Why not adopt the same ID tradition for the X-Men team?
---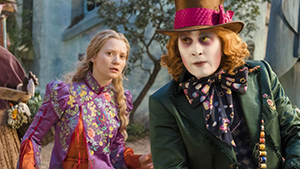 ALICE THROUGH THE LOOKING GLASS
RATED PG
In a dull sequel to Tim Burton's enchanting 2010 film Johnny Depp's Mad Hatter is a sad Hatter coping with the loss of his family. A brave and self-reliant ship captain Alice Kinsleigh (Mia Wasikowska) leaves her domineering fiancé, sails to Wonderland and emerges from a gilded mirror in the Hatter's ballroom. At the urging of the White Queen (Ann Hathaway) Alice goes back in time to save the Hatter's loved ones. The movie's villain "Time" is played by Sasha Baron Cohen whose acting career should have ended with Borat. The sibling conflict between the good White Queen and the evil Red Queen (Helena Bonham Carter) fails to enliven the plot. Under James Bobin's direction, the film relies on Ms. Wasikowska's plucky heroine and spectacular CGI to prevent the audience from nodding off with the Dormouse.
---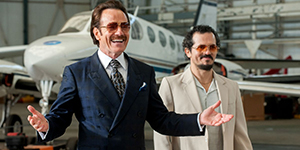 THE INFILTRATOR
RATED R
Bryan Cranston's character, Robert Mazur, is not dissimilar from Walter White the chemistry teacher drug dealer of Breaking Bad. The key difference is Mazur was a good guy who as a U.S. Customs official went undercover as a business person to find evidence that led to the arrest and conviction of notorious Colombian drug lord Pablo Escobar. Mr. Mazur whose alias was Bob Musella cast himself as a flamboyant money launderer for the mob to gain access to Escobar and his henchmen. In the supporting cast is John Leguizamo as a fellow agent, Diane Lane playing Mazur's wife and Benjamin Bratt is Escobar's top lieutenant. The film is based on Mazur's 1986 memoir. Escobar was killed in 1993.
---
Great For Halloween
BATES MOTEL
SEASON 4
Vera Farmiga as protective mom Norma Louise Bates explores her options as son Norman's erratic behavior forces her to seek professional advice. Freddie Highmore costars in the A&E series which is a prequel to Alfred Hitchcock's Psycho.
---
PENNY DREADFUL
SEASON 3
Showtime's horror series features iconic nightmare inducing villains including Dr. Frankenstein, The Wolfman and other frightening Victorian era characters. Eva Green, Reeve Carney and Timothy Dalton costarred in a scary Season 3.
---
AMERICAN HORROR STORY
SEASON 5
The FX series attracts a diverse cast of stars and Season 5 was no exception with Sarah Paulson, Lady Gaga, Chloe Sevigny, Angela Bassett and Misery's Kathy Bates among those who apparently have a higher tolerance for terror than most of us.
---
THE GOOD WITCH
SEASON 2
A less scary option is the Hallmark Channel's series starring Catherine Bell as the newly widowed Cassandra "Cassie" Nightingale who runs a B&B and the Bell Book and Candle bookshop in the small town of Middleton. Hallmark recently renewed the program Season 3.
---
GHOSTBUSTERS
RATED PG 13
Melissa McCarthy, Kristin Wiig, Leslie Jones and Kate McKinnon take on Manhattan poltergeists 32 years after the all-guy team was slimed.