PAT COLLINS' PICKS OF HOME ENTERTAINMENT RELEASES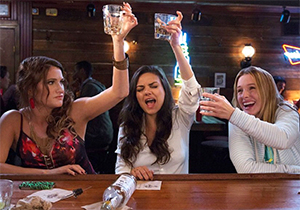 BAD MOMS
RATED R
The movie's global gross in excess of $159 million and its 73 percent Rotten Tomatoes audience score proved females 21-45 (a demo mostly ignored by Hollywood), have the power to turn a film budgeted at $20 million into a blockbuster. The Hangover screenwriters Jon Lucas and Scott Moore were convinced women would pay to see a raunchy comedy they could relate to. Mila Kunis gives another superb performance as Amy, a suburban Chicago mom with a demanding job, two children she adores and a husband she discovers is unfaithful. Amy and her best friend Kiki (Kristin Bell), a stay at home mother of four, are on the enemies list of the snooty and judgmental PTA president Gwendolyn James (Christina Applegate). Gwendolyn shames moms into following her rigid rules (they include abolishing gluten from their kiddie's snacks) to achieve parental perfection. Amy and Kiki's self-esteem rises when they bond with another outcast parent Carla (a wonderful Katherine Hahn). She is libidinous, an outspoken divorcee whose happy hour begins with vodka Jello shots. After Carla persuades Amy to challenge Gwendolyn for the PTA presidency, the movie loses some of the high-spirited comedy that propelled its first hilarious 70 minutes. However, Mr. Lucas and Mr. Moore are to be congratulated for making an entertaining satire about the pressures imposed on women to be multi-tasking super moms. If the movie creators are not working on a sequel, I will be surprised and disappointed.
---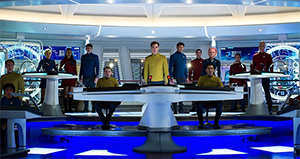 STAR TREK BEYOND
RATED PG 13
Timed to coincide with Star Trek's 50th anniversary the franchise's 13th film which grossed $330 million worldwide is a thoroughly entertaining adventure. Director Justin Lin, who helmed three Fast and Furious movies boldly destroyed The Enterprise, cast the charismatic Idris Elba as Krall, a new and terrifying villain, and unveiled the spaceport of Yorktown. Kirk (Chris Pine), Spock (Zachary Quinto) Uhura (Zoe Saldana) and Scotty (Simon Pegg, who also wrote the script) John Cho (Sulu) and Karl Urban (Bones) reprise their roles. A friendly, resourceful alien named Jaylah (Sofia Boutella) proves invaluable when Krall and his goons descend on Yorktown to annihilate the entire Starfleet. The film is dedicated to Leonard Nimoy and Anton Yelchin, the talented young actor who was killed in an automobile accident shortly before the movie opened. The DVD and Blu-Ray release date is November 1st. The Blu-Ray version features a special tribute to Mr. Nimoy. Full disclosure: a family member was involved in the film's production.
---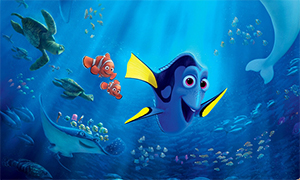 FINDING DORY
RATED PG
Our favorite computer animated, aquatic amnesiac voiced by Ellen DeGeneres remembers she has parents and sets out to find them accompanied by Nemo (Hayden Rylance) and his grumpy clown fish dad (Albert Brooks). The Pixar sequel is not Finding Nemo's equal but nonetheless the film ranks as one of the studio's most visually dazzling adventures. After a waterlogged beginning the action kicks in when the three arrive at the Marine Institute in California's Morro Bay and learn that Dory's parents are two of many specimens scheduled for shipment to a team of oceanographers in Cleveland. Dory's search and rescue crew charged with finding her folks feature an octopus (voiced by Modern Family's Ed O'Neil) and two sea lions with attitude. (Idris Elba and Dominic West). Dory's box office success—$940 million globally—proves that reuniting families be they fish, foul, furry or human has universal appeal, and no movie makers do it better than the folks at Pixar.
---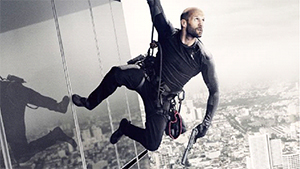 MECHANIC RESURRECTION
RATED R
Jason Statham excels at playing the laconic action hero whose performance is usually far superior to his movies' plot and dialogue. The sequel to 2011's Mechanic also relies on Mr. Statham's charisma and physical skills to keep the viewer's attention from wandering. Arthur Bishop, the highly paid assassin played by Mr. Statham, is living under the radar on the beach in Thailand when he is approached by message bearing goons working for Riah Crane (Sam Hazeltine) an international arms dealer and Bishop's childhood friend. His "request" involves Bishop murdering three enemies on Crane's hit list. When Bishop refuses, Crane threatens to dispose of Bishop's girlfriend played by Jessica Alba. Director Dennis Gansel does not score high marks for originality. One example: Bishop, emulating Tom Cruise memorably scaling Dubai's Burj Khalifa, performs a far less spectacular version of Ethan Hunt's death-defying scene. Bishop's other physically demanding challenge is an underwater rescue. There was no body double. That is Mr. Statham, a champion diver, jumping into the ocean. The Mechanic's Rotten Tomatoes score with moviegoers was a low 45 percent. Critics were equally unimpressed. It's time for The Mechanic to retire—perhaps to a beach which allows only water pistols.
---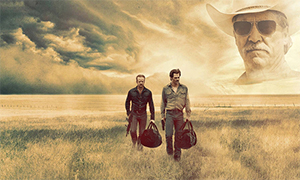 HELL OR HIGHWATER
RATED R
When the Independent Spirit Awards nominations are announced November 22nd, I predict this contemporary Western will have a least three nominations—best picture, best director David Mackenzie, and Jeff Bridges in the supporting actor category. The film has already succeeded at the box office by grossing more than $28 million and counting. Mild mannered Toby Tanner (Chris Pine) and his hot-tempered ex-con brother Tanner (Ben Foster) resort to robbing banks in their native West Texas to save the family's mortgaged farm from being foreclosed after their mother's death. The string of unsolved robberies interests soon to retire Texas Ranger Marcus Hamilton (Jeff Bridges) who is puzzled by the robber's unusual MO. Director David Mackenzie's film is more than gripping cops and robbers chase across the Southwest and the last hurrah for a dedicated lawman. Mr. Mackenzie subtly addresses nearly every middle-class American's concern about widespread job loss and economic inequality. The graffiti scrawled on the (fictitious) Texas Midlands Bank's exterior reads three tours in Iraq but no bailout for us. In addition to the stars' extraordinary performances, Gil Birmingham is first rate as Hamilton's deputy. Cinematographer Giles Nuttgens deserves high praise as well.
---
THANKSGIVING MOVIES AVAILABLE ON BLU-RAY/DVD
My choices include timeless animated adventures for young children and movies for grownups in which romance blossoms, families quarrel, and a heroic young Marine returns home for the holiday.
• Planes, Trains, and Automobiles
• Garfield's Thanksgiving
• Charlie Brown's Thanksgiving
• Hannah And Her Sisters
• American Son
• Nobody's Fool
• Jim Henson's Turkey Hollow
• You've Got Mail
• The Ice Storm
• Miracle On 34th Street (1947 version)
---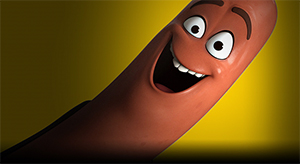 PARENT ALERT!
SAUSAGE PARTY
RATED R
Do not be misled by the movie's poster art above and the expletives deleted version of the coming attractions trailer for Pixar's first R-rated CG animated movie. The raunchy comedy featuring chatty hot dogs and buns contains profanity and sexual references aplenty. Seth Rogen, Kristen Wiig, Edward Norton and Salma Hayek supplied the voices of the four central characters.