METAMORPHOSIS DAY SPA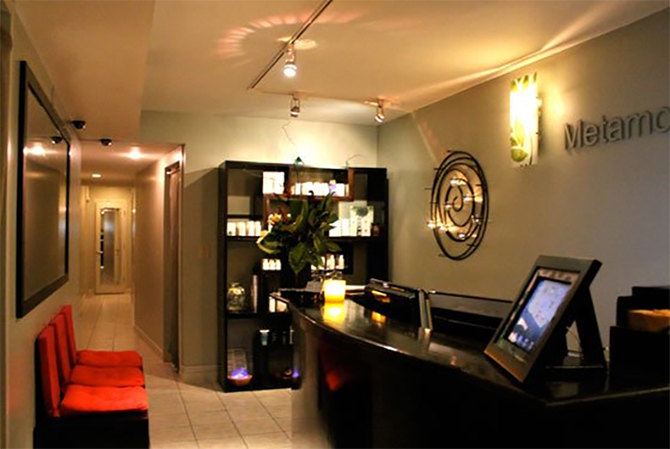 By Griffin Miller
For anyone who's dealt with New York's January bluster face first, lugged a handbag/briefcase/backpack through slush covered streets, or feebly nursed a pulled muscle for one too many post-workout days, there is salvation and it can be found five floors up on East 56th Street, just steps from Lexington Avenue.
Metamorphosis Day Spa is a study in gracious, first-class attention to the sort of wintertime woes that come with stress, the elements, and misadvised physical exertion. And while my spa service was a facial, rave reviews on social media assured me that the estheticians and therapists moving about on little cat feet in this intimate, soothing oasis are equally skilled in a delivering a formidable collection of massages, body treatments, peels and beyond.
CUSTOMIZED SERVICES
Indeed, when you visit the spa's website, the menu is such a combination of extensive and comprehensive it rather takes your breath away. Fortunately, it's presented in an easy to navigate fashion. Still, you'll want to take your time looking over the various offerings—all of which can be customized for the asking. And keep in mind, unlike many spas that limit themselves to one or two product lines, Metamorphosis boasts a wide variety to accommodate all their clients.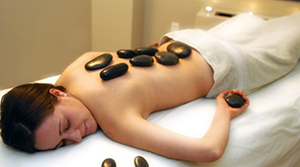 According to Metamorphosis's owner, Cleo Londono, when someone is a little vague on what they are looking for in, say, a massage, it's probably best to call in for an appointment rather than book it online. "This allows us to determine the type of massage—deep tissue, stone, aromatherapy, Swedish, Signature—and to guide them to the best therapist, taking into account their preference for a man or woman."
COLOR YOUR WORLD
Londono's personalized approach, along with the genuine friendliness of the spa staff, elevates the experience from the moment you step off the elevator into the warmly lit reception area. From there you are led to a cozy lounge area where water and tea are offered and where colored pencils and a beautiful coloring book are set out, should you feel so inclined.
Introduced this past year by Londono, the artistic paraphernalia speaks to her innate creativity that can also be seen reflected in two of the spa's most popular services: the Metamorphosis Signature Facial and Signature Massage, with each of these unique treatments boasting an eclectic mastery of elements. For example, for the Facial, Londono put together a mask of rare herbs, while her Signature Massage is a blissful amalgamation of various massage types.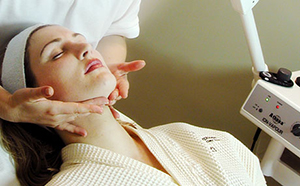 But clearly, I digress because my facial—the latest to be offered by Metamorphosis—is where my January skin allegiance lies. It is a Casmara Facial from the Spanish company Casmara Cosmetics known for its seaweed formulations and for introducing possibly the most decadently surprising facial component ever, the Algae Peel-Off Facial Mask. This fantastic treatment comes with the application of a cool (both temperature and nifty-wise) dense, creamy mask that lets the esthetician—in my case the ultra-awesome Marcy—overlay one's closed eyes and lips. As far as I know, this has never been possible before, and it is heavenly.
I should mention that the mask is only part of a multi-layered treatment that includes an aromatic neck pillow, exfoliation, steam, a moisturizing facial massage and other special effects that tend to get lost when one completely zones out. Which I did. More than once.
For the record, Metamorphosis is known for offering monthly services, specials, and packages that tie into the season at hand. For the holidays, the Golden Glow and Berry Facials were front and center.
"You have to check our website because we're constantly updating our offerings," says Londono, adding that while last minute bookings are do-able during the week, "For weekends it's best if you book at least a week in advance."
Metamorphosis Day Spa
127 East 56th Street
212-751-6051
metspa.com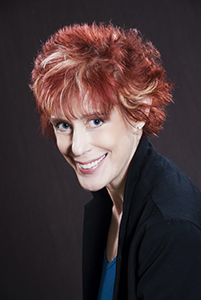 Griffin Miller, Spa Editor, specializes in spa travel and New York theater. Griffin's resume includes writing for The New York Times, For the Bride and Hotels. She also creates promotional materials for the Metropolitan Opera, BAM and Guggenheim Museum. A member of The New York Travel Writers' Association, she is a playwright and award-winning collage artist. She is married to Richard Sandomir of The New York Times.