THE CHAMBERLAIN: AN UWS GEM
By Daniel J. Bollinger
The Chamberlain—inspired by classic pre-war construction on the Upper West Side (UWS)—is one of New York's most exciting new editions. New development on the UWS is rare given that there is not that much undeveloped space.However, The Chamberlain with its distinctive architectural features, such as Juliet balconies, bronze-finished double entry doors, and Garden Courtyard blends in well with the existing structure of the block.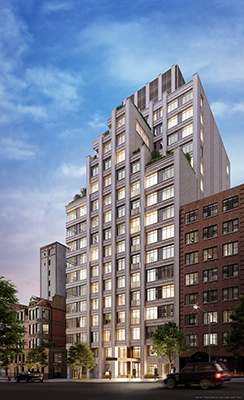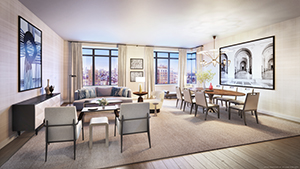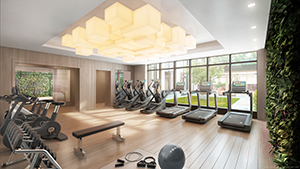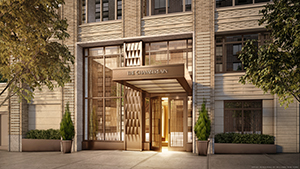 DUPLEX TOWNHOUSES
Masterfully composed by FXFOWLE and Champalimaud, with only one-to-three residences per floor (including three full-floor-penthouses and two duplex townhouses), the 39 gracious sun-drenched layouts offer formal entry galleries, ten-foot ceilings, and hand-laid white oak wood flooring throughout. The Chamberlain is slated for completion in Spring 2018.
FXFOWLE is known for sustainable design and 'thoughtful luxury'. Pre-wired with NEST smart wiring allows residents to control their units' utilities via smartphone, fitted with Variable Refrigerant Flow (VRF) HVAC systems, an industrial zoned heating system that saves energy costs and results in greater control of the building's interior temperatures, this residence is a model of modern-day living.
SIMPLY FABULOUS
Master baths include floor-to-ceiling marble, large mirrored custom medicine cabinets with plenty of storage space below double vanities, and oversized showers with a marble seating bench. But the piece-de-resistance is the marble encased "Tea for Two" soaking tub. There are four fabulous ledges/niches—making this master bath one of the best designs ever seen.
The kitchens are a wonderfully thought-out, collaboration between Smallbone of Devizes and Champalimaud. The seamless slabs of marble on the countertop, backsplash, and side's frame out the integrated cabinetry like a work of art. The cabinets interiors are built with handcrafted walnut wood and come with liners and inserts. The highest quality Subzero, Wolfe, and Miele appliances are a mark of the distinction. At The Chamberlain, the saying "Everything but the kitchen sink" does not apply, but rather, "Everything and especially the kitchen sink." The sink has a three-tiered structure designed to accommodate inserts including custom-inset hardwood cutting board, strainer, drainage inserts and a garbage disposal. For those who know that dinner time is family time and special moments are made in the kitchen, this is the home for you. With spacious layouts that include culinary islands and room for built-in banquet seating, no one is going to miss a family meal here. These spacious condos with their exquisitely designed kitchens and baths, luxury materials, and appliances are qualities that set The Chamberlain apart from most offerings on the Upper West Side.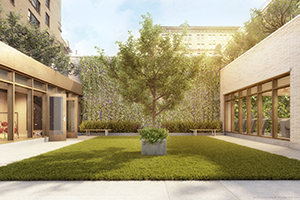 OUTDOOR LIVING & MORE
The amenities are all designed around the garden courtyard, an oasis alive with plantings and a lush vertical green wall. Two levels of recreational and leisure spaces include a library lounge with fireplace, a fitness center, children's playroom and sports court. The children's playroom and sports court are situated next to each other with a large window allowing you to keep an eye on the whole gang. The sports court includes a half-court basketball court with a rock climbing wall that doubles as a giant movie screen.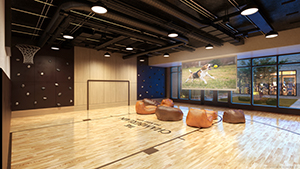 The Chamberlain is destined to become an iconic building in Manhattan—a "Super Value Gem." The super value is that these offerings are 20 percent less than most of the comparables in the area. The gem is that there's very few ground up developments on the Upper West Side. This area doesn't offer many chances like this, as most offerings in the neighborhood are gut renovations.
I highly recommend checking out The Chamberlain as soon as possible. I can see this building breaking records in the "quickest sellout period".
For more information, visit thechamberlainnyc.com.