MANHATTAN'S SWEET SENSATION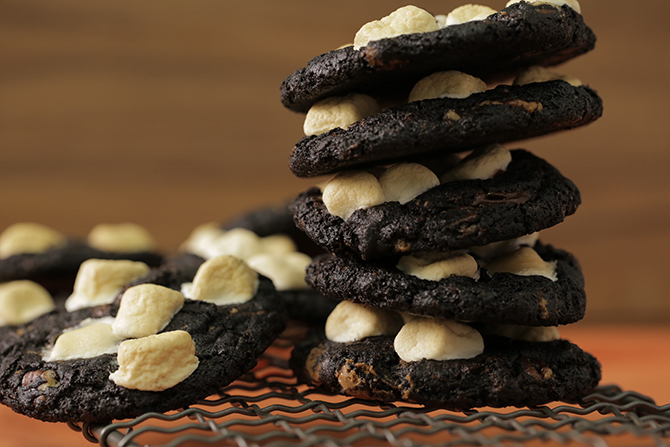 Rocky's Road Cookie
By Tricia Connolly
More than a bakery, Padoca is a passion of two women—Marina Halpern and Rachel Binder—who joined forces to create innovative multicultural baked goods with a Brazilian flair. The word padoca means "neighborhood bakery" in Sao Paulo and this inventive bakery certainly seeks to evoke a sense of comfort to one and all.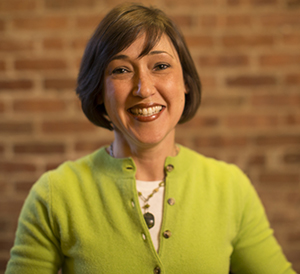 Pastry Chef Rachel Binder
THE START OF SOMETHING GOOD
Originally set to work in the entertainment industry as a 3-D animation producer in Brazil, Halpern worked in advertising before she discovered her real passion and appreciation for the power of human connection through cuisine. She took cake decorating and baking classes and was inspired to enroll at International Culinary Center, where she graduated five years ago. Shortly after, she went on to do stints at many well-known NYC restaurants, but in the back of her mind, she dreamed of opening her own bakery one day.
Born in Canada, Pastry Chef Binder grew up in Israel, where she developed her passion for baking from her mother and grandmothers. After moving to New York and graduating from the State University of New York at Binghamton, she studied at Pastry Arts at the Art Institute of New York City. She began her career under Chef Peter Hoffman of Savoy, who pioneered the focus on fresh, seasonal and local ingredients. Binder's career includes Union Square Cafe, Tabla, Lure Fishbar, and recently left her position as Pastry Chef of Maialino and the Gramercy Park Hotel to open Padoca.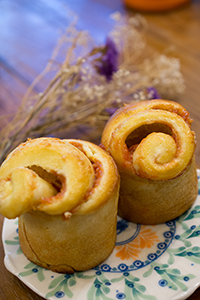 Romeo and Juliet
Binder's extensive experience with global cuisine influences the Padoca menu, with the collaboration of Halpern's Brazilian background and family recipes, to create reimagined, signature baked goods. The showstopper PDQ, an acronym for the Brazilian Pão de Queijo, is a traditional Brazilian cheese bread, made from a naturally gluten-free blend of the starchy root plant yucca, and cheese, irresistibly crunchy on the outside and chewy on the inside, baked fresh and served warm throughout the day. The PDQ is offered alone or as various sandwiches, such as Ham and Béchamel or Tomato and Cream Cheese. Empadinhas, flaky pastries similar in concept to a pot pie, are offered with traditional chicken and hearts of palm, and the Israeli-influenced flavor of mushrooms. Equally innovative is Binder's version of the Brioche, a flaky, golden pastry served with a perfectly cooked egg nestled inside and generously sprinkled with parmesan and bacon bits. For a unique Brazilian experience, try the Polvilho Snacks, a yucca snack with an airy, crispy texture, offered in various flavors.
But there's more! Choose the Romeo and Juliet Babka, named after the combination of guava and cheese (a cream cheese and goat cheese blend here). Then, you can't leave without a bite of the Coconut Cake, a Halpern family tradition; it strikes the perfect balance of creamy coconut and a slight hint of orange flavor. Not to be overlooked is the Açaí Bowl, served the traditional Brazilian way.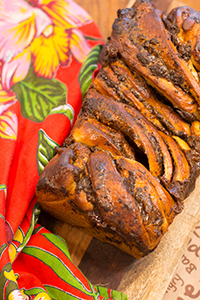 Chocolate Babka Loaf
NEW TWISTS
In addition to its wide range of international delights, Padoca offers American classics with a twist, including the Chocolate Chip Cookie, made with Swiss dark and milk chocolate with a lightly crisp exterior and soft, gooey center. There's also the big Black and White Brownie, a satisfying version of the traditional cookie, and perfectly-sized Mini Muffins made with seasonal fruit.
The bakery's commitment to excellence is expressed not only in the inspired goods but also through its coffee program—which includes a Brazilian Dromedaire Cuveé medium roast from Nobletree Coffee, a passionate Brooklyn-based company. Nobletree has implemented its Modbar Espresso System which affords the barista to exert more control over the pressure used in the espresso extraction process. Padoca also offers brunch with their version of a classic deli egg sandwich using the PDQ, with egg and Swiss cheese and optional bacon or ham, as well as a BLT with optional avocado or egg.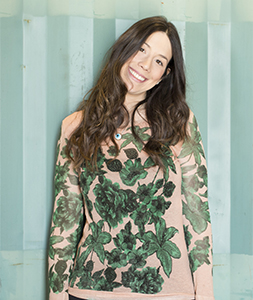 Owner Marina Halpern
Consumers can enjoy all of this in the bakery's quaint interior, which is lined with reclaimed wood in the Brazilian fashion, and dotted with whimsical touches of hanging teapots, a magazine rack made of rolling pins, and even a swing. Padoca is the place you can relax and sample an innovative and delicious treat in an inviting and comfortable setting.
Padoca Bakery
359 East 68th Street
(between First and Second Avenues)
212-300-4543
padocabakery.com