A NATURAL BORN ARTIST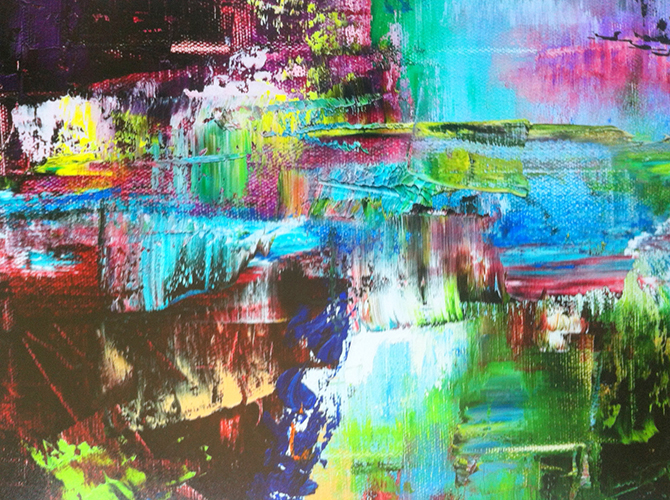 By Alana Johnson
I once overheard a man say, "You just can't escape your DNA." If that is true, perhaps it explains why, even as a little girl, I was called a natural born artist.
Born in Princeton, New Jersey, the only child of Edmund Langhorne Johnson and Eileen Lynn Dennis, my family tree boasts three generations of artists. Most notable is Charles Dana Gibson, whose wife, Irene Langhorne, was my father's great-aunt. Gibson was an American graphic artist best known for his creation of the Gibson Girl, the iconic American woman, beautiful and independent.
A MAJOR INFLUENCE
My father, Edmund, was a significant influence in shaping my view of the world. I admired him greatly; he encouraged me to see things differently, unconventionally, and from an original perspective. I like to believe his wisdom is echoed in my paintings.
My mother, Eileen, taught me the beauty of life. She is the "heartbeat" of my creativity, beautiful and independent, not unlike the Gibson Girl. She was a June Taylor Dancer featured on The Jackie Gleason Show and even worked as a set designer for DuMont Television Network. She has lived an amazing life, but to me, she is the most beautiful mother a girl could ever have. As a child, we would sit in front of the fireplace drawing for hours on end. She loved art, and our home was beautifully decorated. I remember a lithograph of Pablo Picasso's 1955 sketch of Don Quixote hanging in the hallway of our house. I adored the simplicity of the jet-black line in contrast with the ivory background. My mother would hang my doodles next to it. She wanted me to believe that I, too, was a great artist. My mom regularly insisted we visit the art museums in Manhattan; afterward, we would sit in The Palm Court at the Plaza Hotel discussing what masterpieces we viewed that day. Funny enough; I recall being much more intrigued with the grand steps of The New York Public Library on bustling Fifth Avenue.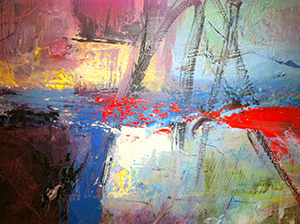 While growing up, our home was a favorite for an eclectic group of writers, television producers, actors, jockeys, photographers and more. I enjoyed their interesting stories and views on life. No doubt, these fascinating "characters" played a role in fueling my love of the Arts. My parents eventually divorced, but later a wonderful man entered into our lives and became my beloved step-father, John S. Dennis. A Ceramic Engineer and entrepreneur. John became the "driving force" behind my ambition.
THE LOVE OF ART
I'm a classically trained artist having graduated with a Bachelors of Fine Arts degree from The Philadelphia College of Art. Philadelphia is a city steeped in art and culture. I loved it there. My professors were dedicated to my development and paid close attention to my skills as both an illustrator and painter. I delight in harnessing moments of "light" as my paintbrush glides across the canvas. The solitude of my "studio," where brush and canvas come together, is where the purest form of who I am is realized.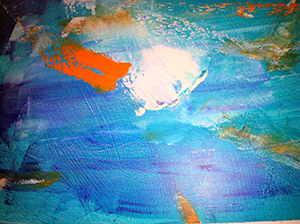 I have always had a fascination with abstraction. My favorite painter is Franz Kline who was associated with the Abstract Expressionist movement of the 1940's and 1950's. I like to paint in mixed media, both oils and acrylic. I prefer to paint on larger scales, however; I enjoy the challenge of creating my art in a variety of sizes that fit the desires of my clients. This allows me the freedom to enter into the various worlds of space and matter engaging those works from the inside out. The styles of my paintings are both Abstract Expressionism and Abstract Impressionism. Perhaps, my paintings have been devoted compositionally to the tassels spurred by memories of a colorful childhood. I patiently await what reveals itself to me as my paintings emerge mysteriously. Attaching, scraping, removing as I am compelled to bring to light that which is hidden. Domains of saturated color compliment the indisputable opposition between abstraction and figuration. Bright white spaces and forms not only suggest a unique landscape but leave the openings for the viewer's interpretation. My paintings propose a bold, yet sophisticated presence that would enhance the environment of any home, corporate, or public setting. My faith and deep love of God completes a self-portrait that is me. For it is He who guides my every brushstroke.
THE ART OF BEAUTY
Over the years, I discovered another way of expressing myself as an artist. I became interested in the impactful art of makeup. I became intrigued by the technical aspect of the application. While learning, I instantly discovered that my background as a painter gave me the additional insight and skills in becoming a professional makeup artist. I have the innate ability to see fractional undertones in one's face so as to achieve the best and ultimate makeup application. As a visual artist, my full understanding of color is an enormous advantage.
---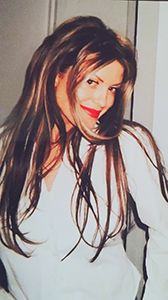 I currently reside in Manhattan where I work as a makeup artist at WNYW FOX 5 and the UNTV Department at the United Nations are among my employers. To view my paintings, visit pixipaintings.net and to inquire about my makeup skills contact makeup212@aol.com.