THE LIBRARY HOTEL COLLECTION
By Jeff & Stephanie Sylva
Thinking of spending a romantic time at a New York City hotel to celebrate Valentine's Day this year? We suggest you book a room at one of the Library Hotel Collection's unique luxury hotels. Each of the Collection's four NYC hotels is wonderfully small, yet stylishly elegant bringing "a novel approach to hospitality." The Library Hotel Collection is just that—a collection, not a chain—of boutique hotels offering Old World charm or a soft contemporary, "private club-like" feel, and each with its own personality.
We were quite impressed with the staffs' attention to detail and sincere approach to assuring us an enjoyable stay at two of the hotels, The Library Hotel and The Hotel Giraffe, as well as during our visits to The Hotel Elysee and The Casablanca Hotel. This personalized service reflects owner and President Henry Kallan's keen eye for detail and instincts on how to make people feel cared for and comfortable. All of the hotels offer the Collection's bounty of complimentary amenities: a generous continental breakfast; refreshments such as fruit, cookies, coffee, and tea throughout the day; and high-speed WiFi. Also, guests receive daily passes to the New York Sports Club; evening turndown service with bottled water and Belgian chocolates; and a guest favorite—an evening wine and cheese reception. Each of the hotels has a "collaborative" restaurant offering guests an enjoyable dining experience without having to leave the hotel.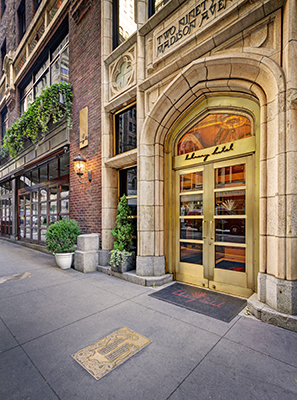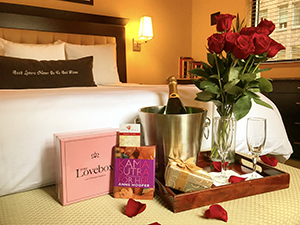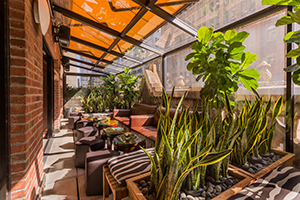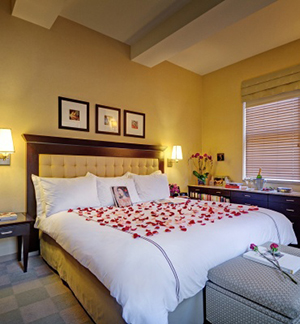 THE LIBRARY HOTEL
Located just one block from the New York Public Library on Madison Avenue at 41st Street, The Library Hotel is an intimate 60-room hotel that feels more like a private club than a hotel. Each guest room has a collection of books and art based on one particular topic associated with the Dewey Decimal System (anyone remember those days?) for cataloging books in a library. Visitors can book the room that reflects their specific reading preference.
Our favorite common room at The Library was the book-lined second floor Reading Room, where guests are invited to enjoy the complimentary refreshments and deluxe continental breakfast, as well as the perfect unwinder—the wine and cheese reception from 5 to 8 PM each day. Another comfy spot to sip the complimentary cappuccino or glass of wine is the 14th floor's Poetry Garden, a rooftop greenhouse sitting room with an outdoor terrace, and the cozy Writer's Den, a mahogany-paneled sitting room featuring overstuffed seating, a gas fireplace, and a glass-enclosed terrace. Every evening this area transforms into Bookmarks Lounge, an intimate rooftop bar offering literary-inspired cocktails. The Library Hotel's collaborative restaurant, Madison & Vine, is a wonderful American bistro and international wine bar, located just off the hotel's lobby.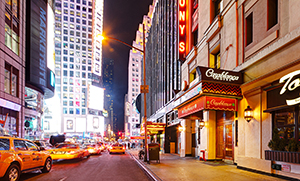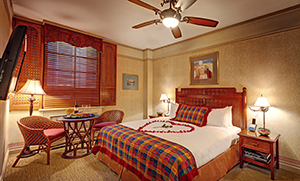 THE CASABLANCA HOTEL
Located just steps from Times Square on 43rd St. and within easy walking distance of many of Manhattan's most popular attractions, the Casablanca Hotel is one of the Collection's intimate European-style boutique hotels. Inspired by the romance of the classic movie Casablanca, the hotel exhibits a luminous "Moroccan glamour." After a busy day of touring the Big Apple, guests welcome the chance to sit and relax in front of the fireplace in the hotel's intimate club room—naturally named Rick's Café. It is here that the hotel serves its complimentary deluxe continental breakfast, maintains a selection of complimentary refreshments throughout the day, and, of course, its evening wine and cheese reception.
The Casablanca Hotel houses Tony's Di Napoli Italian restaurant, serving Old New York Italian favorites since 1959. Come hungry to Tony's because he serves large, family-style platters following Southern Neapolitan traditions.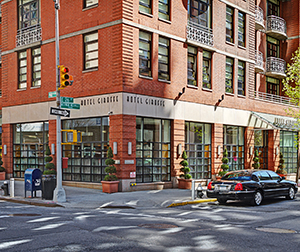 HOTEL GIRAFFE
The giraffe—one of nature's most beloved animals and also owner Henry Kallan's favorite animal—is admired for its gentle power, grace, and beauty. Embodying these same traits, Hotel Giraffe, located at 26th St. and Park Avenue, is inspired by the architecture and design of the Art Modern period, a distinctive trademark of NoMad, the neighborhood North of Madison Square Park.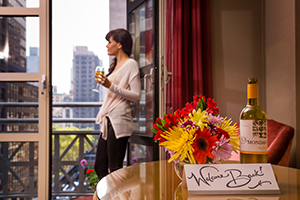 We loved the hotel's soft contemporary style and especially appreciated the spaciousness of our room. All of the hotel's 72 rooms are expansive, with two-thirds of the rooms sporting Juliet balconies. Hotel Giraffe has also won numerous hospitality awards, especially for its family-friendly features.
Hotel Giraffe's resident restaurant is Bread & Tulips, a cozy neighborhood spot serving rustic Italian cooking. Italian favorites such as crostini, meatballs, handcrafted pasta, and a great selection of signature pizzas dominate the menu. We enjoyed a delicious entrée of Pappardelle with braised leg of lamb, tomato and Parmigiano and a brick oven baked Mortadella pizza with Parmigiano, Fresno peppers, pistachios, olive oil and Fiore di latte mozzarella. Hotel guests enjoy a 20 percent discount at the restaurant. During the warmer months, the Rooftop Garden is a perfect spot to escape and enjoy some fresh air and al fresco drinks in the evening.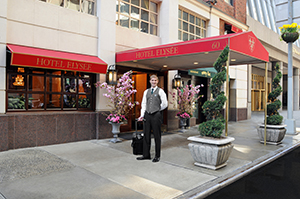 HOTEL ELYSEE
Typical of all of the Library Hotel Collection hotels, the Hotel Elysee has the feel of a "neighborhood hotel" in the heart of Manhattan. With the warmth and charm of a countryside inn, Hotel Elysee, situated on East 54th St. between Madison and Park Avenues, is located within an easy walking distance of New York's famed area of shopping.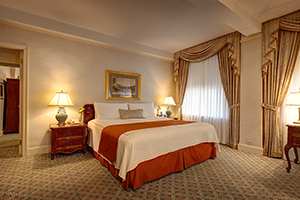 Built in the 1920's, the Hotel Elysee is named for one of the finest French Restaurants of that era and was a favorite playground for the rich and famous. In 1993 the hotel was renovated as one of the first boutique hotels in New York City and one of the last hotels to have outside terraces still available. Hotel Elysee's collaborative restaurant is the world-famous Monkey Bar, which continues to attract many a celebrity (Lady Gaga being a recent patron).
SPECIAL ROMANCE PACKAGES
• The Hotel Elysee wants to bring Paris to you this Valentine's Day with its "L'Amour in New York City" package. Available for suites only and for a 2-night minimum during the entire month of February, this package will have you sipping Veuve Clicquot out of signature Champagne flutes (yours to keep), and enjoying a dozen macarons and two truffles from La Maison du Chocolat.
• Inspired by its namesake classic romantic movie, The Casablanca Hotel features its "Return to Romance" package (an exclusive website offer). After a rose-petal turn down, curl up with your loved one, a chilled bottle of Prosecco, and a bowl of popcorn as you settle down to view a DVD of Casablanca.
• Hotel Giraffe has two specials that can spice up your stay. The "Warm Up Your Winter" special includes a 20 percent discount off the hotel's Best Flexible Rates and 2 Hotel Giraffe mugs with hot cocoa. The "Suite Escape" special includes a suite with separate living room and bedroom and a chilled bottle of Prosecco and European chocolates in room upon arrival.
• For those looking to be a bit more daring, The Library Hotel offers a special package that includes a bottle of Veuve Clicquot, one dozen red roses, an assortment of Belgian chocolates, and lots more!
For more information about The Library Hotel Collection and its properties in New York City as well as Prague, Budapest, and Toronto (due to open in Spring 2017), visit libraryhotelcollection.com