ON THE BIG SCREEN
By Pat Collins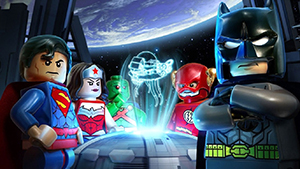 THE LEGO BATMAN MOVIE
RATED PG
Put two iconic brand names in the title, and the result is a guaranteed global blockbuster and huge consumer demand and other movie-related merchandise. The CGI Dark Knight, like his human predecessor on the big screen, is a solitary, nocturnal creature but one who learns to work with his new buddies and Police Commissioner Barbara Gordon (Rosario Dawson) to save Gotham City from The Joker (Zach Galifianakis). Of course, there is a LEGO version of the disfigured villain and his Notorious Lowrider. Chris McKay directed this spin-off of the clever and entertaining 2014 LEGO movie which grossed close to $470 million worldwide. The voice cast includes Will Arnett (Bruce Wayne/Batman), Michael Cera (Robin) Mariah Carey, an interesting choice as Gotham's Mayor, Jenny Slate (Harley Quinn/ Dr. Harleen Quinzel) and Ralph Fiennes as Alfred Pennyworth, the loyal butler. Anyone who saw the coming attractions trailers would agree that a LEGO Batman is a far more interesting superhero than the one played by Ben Affleck in the dreadful Batman V Superman.
---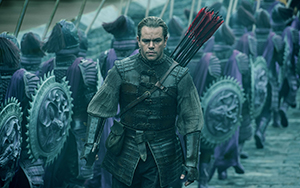 THE GREAT WALL
RATED PG 13
Matt Damon as a mercenary soldier joins a corps of Chinese warriors tasked with preventing invading humongous beasts from feasting on the human population. Mr. Damon's decidedly unscrupulous character enters the battle not to save mankind but to pocket the cash reward. The setting and Mr. Damon appear to be the movie's best assets.
---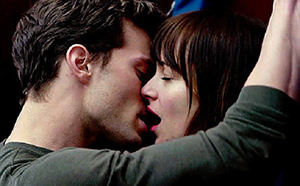 FIFTY SHADES DARKER
RATED R
Would the title Fifty Shades Duller be more accurate? The answer depends on your opinion of the first installment which was on my 2015 worst movies list. In the sequel's trailer Anastasia Steele (Dakota Johnson) and Christian Grey (Jamie Dorman) look like characters in a sadomasochistic version of an expensively decorated wax museum. They are still young, unblemished and dull. There is an added element of danger here which does not involve whips and chains. A toting gun rival for Christian's affections requires Ms. Johnson to add a frightened expression to her limited range of emotions. Taylor Swift and Zahn Malik collaborated on "I Don't Want To Live Forever" for the movie's soundtrack. Does the song title suggest we will be spared a third film? Unfortunately not if the sequel does as well as Fifty Shades of Grey which was an unexpected box office success despite negative reviews. A possible title for the next movie is Fifty Bars of Soap. The co-stars should qualify for the Guinness Book of World Records for most time spent in a hot shower on screen.
---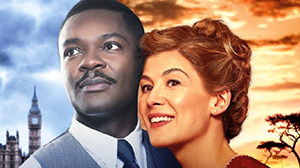 A UNITED KINGDOM
RATED PG 13
Big screen love stories are in short supply in February, a month during which couples debate about how and where to celebrate Valentine's Day. Acclaimed actors David Oyelowo and Rosamund Pike provide a solution with the romantic drama A United Kingdom based on the real life love affair between Sir Seretse Khama, the King of what is now Botswana, and the white English secretary he marries. His father and hers disapproved of the match. The American and South African government also attempted to intervene. The year is 1948. Apartheid is the law of the land and the couple risks being exiled. Mr. Oyelowo earned rave reviews for his portrayal of Dr. Martin Luther King in Selma and recently starred in Queen Of Katwe. Ms. Pike was Oscar nominated for Gone Girl. These two first rate and likable pros are worth spending time with even if you do not have a date on February 14th.
---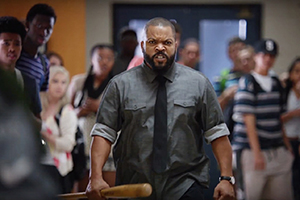 FIST FIGHT
RATED R
One teacher challenges another to a schoolyard fist fight in a comedy starring Ice Cube, Charlie Day and Tracy Morgan in his first movie since surviving a 2014 crash on a New Jersey highway. Mr. Day's risk-averse character Andy Campbell tries but fails to avoid a brawl with a colleague who suspects Campbell is behind a plot to have him fired. Rounding out the cast are Christina Hendriks, Dennis Haysbert, and Jillian Bell. In the battle of the box office on the weekend of February 17th-19th, I predict Fist Fight will beat Matt Damon's The Great Wall.
---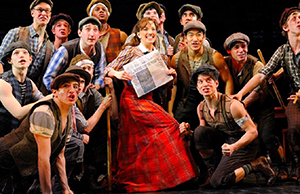 DISNEY'S NEWSIES THE BROADWAY MUSICAL
The Disney musical which was staged first at New Jersey's Papermill Playhouse before opening on Broadway will be shown in select movie theaters on Feb 16th, 18th, and 22nd. The plucky newsboys, who stood up to millionaire New York World Publisher Joseph Pulitzer and went on strike when he refused to increase their meager salaries, were the city's heroes in 1899. The actual story was adapted for the stage by award-winning theater pros Alan Menken (music) Jack Feldman (lyrics) and Harvey Fierstein (book). The immensely entertaining show comes with a message about having the courage to take on the wealthy and powerful and it is the rare new musical to celebrate working class Americans.
---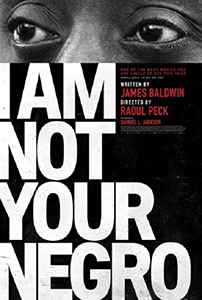 I AM NOT YOUR NEGRO
RATED PG 13
James Baldwin, the novelist, poet, and playwright who died 30 years ago is the subject of a riveting documentary about his too short life. Described as the "literary voice of the civil rights movement," Mr. Baldwin became a prominent figure with the publication of his semi- autobiographical novel Go Tell It On The Mountain. After the release of The Fire Next Time, he was on the cover of Time magazine and an in-demand guest on late night talk shows. However, fame did not interest him. Securing equal rights for African Americans was his mission, and he worked ceaselessly to achieve that goal. Samuel L. Jackson reads passages from Mr. Baldwin's books and letters. The Harlem-born writer lived most of his life in France and died in 1987. He counted Nina Simone, Robert Kennedy and Maya Angelou among his closest friends. Raoul Peck, Haiti's former Prime Minister, directed the film which many critics chose as one of the best documentaries of 2016.
---
ALSO OPENING THIS MONTH
EVERYBODY LOVES SOMEBODY
(English/Spanish)
A romantic comedy and an audience favorite at the 2016 Palm Springs International Film Festival.
MY LIFE AS A ZUCCHINI
Animated family movie.
THE SPACE BETWEEN US
Asa Butterfield's character is the first human born on Mars.
---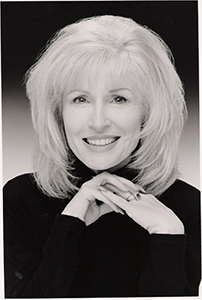 About Pat Collins
Pat Collins is a three-time Emmy award-winning film, theater and entertainment critic/reporter. Her outstanding media credits include WCBS-TV, Good Morning America and WWOR-TV. She is a contributor to CUNY-TV's Arts and The City program and the host of several Broadway specials including Kinky Boots On Broadway, Fiddler On The Roof: Back On Broadway, and The Road To The Tonys.