PAT COLLINS' PICKS OF HOME ENTERTAINMENT RELEASES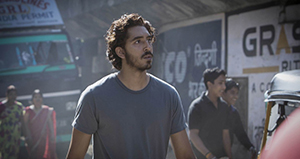 LION
RATED PG
One of last year's highly praised movies is based on a remarkable true story which began in a train station in India 31 years ago. Five-year-old Saroo Brierley (Sunny Powar) is separated from his older sibling and boards a train assuming his brother is on board. He is not, and when the trip ends in Calcutta, the police send Saroo to an orphanage. He is adopted by an Australian couple Sue and John Brierley (Nicole Kidman and David Wenham). Flash forward two decades and the grown up Saroo (Dev Patel), a university student in Melbourne follows the advice of girlfriend (Rooney Mara) to use Google Earth to locate his family's remote village near the Khandwa rock formations. The quest is not only an emotional one for Saroo but also for his adoptive parents. I will not divulge how his search ends but place a tissue box next to the bowl of popcorn. There are innumerable stories of separated families and a protagonist's quest to find a way home but none more powerful than the one in director Garth Davis' film. Mr. Patel whose performance in Slumdog Millionaire launched his career received a supporting actor Oscar nomination. The film was also recognized with five additional nominations including best film and Nicole Kidman's Supporting Actress performance. What is the derivation of the movie's title? The real life hero's name is Sheru which is the Hindi word for Lion.
---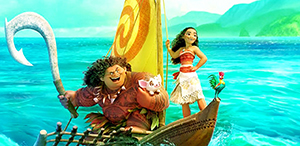 MOANA
RATED PG
She is a spunky Polynesian princess who does not wear royal robes or a bejeweled crown or require a prince to help save the people of her small island from extinction. There are fewer fish to catch in the surrounding ocean waters, and a blight destroyed most of the island's vegetation. The demi-god Maui (Dwayne Johnson) who stole a special stone from a vengeful goddess, is responsible for the curse which Moana sets out to reverse. She disobeys her father's royal orders which forbid all islanders from swimming or sailing beyond the barrier reef. Undeterred Moana sets sail in a small boat with her sidekick Heihei (Alan Tudyk) a rainbow colored chicken with little chance of making the list of all-time most memorable animated sidekicks—visually Moana is spectacular from rolling ocean waves to flora and fauna. The screenwriters wisely created a supportive grandmother for Moana. What grandparent can resist buying the DVD/Blu-ray version for her/his grandchild? The movie's talented directors John Musker and Ron Clements also entertained family audiences with the enchanting Aladdin, and another water themed animated film The Little Mermaid. Lin Manuel-Miranda, a Tony winner for Hamilton, co-wrote Moana's Oscar-nominated song "How Far I'll Go." With a thin plot and an ordinary screenplay, the mouse house's recent animated feature does not equal the enchanting Frozen. However, Moana's titular character embodies optimism, determination, and bravery—qualities we want to instill in all our young girls.
---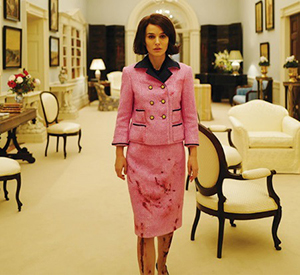 JACKIE
RATED R
November 23, 1963: Jacqueline Kennedy in a blood-stained pink suit watches as Vice President Lyndon Johnson is sworn in as the nation's 36th president aboard Air Force One. The images are indelible for all who saw the events of that day in Dallas unfold live on television. Chilean director Pablo Larrain does not focus on President Kennedy's assassination or the conspiracy theories surrounding it. Instead, he combines fact and fiction to recreate the First Lady's last days in the White House. Natalie Portman has the daunting assignment of playing the then most famous woman in the world as she consoles her young children, meticulously plans her husband's funeral and copes with her grief. An interview she granted Theodore White (Billy Crudup) for Life magazine was one of the director's' many sources of information. Mr. Larrain added several fictional scenes as well including one in which Mrs. Kennedy walks through the many rooms in the White House at night with a cigarette in one hand and a glass of vodka in the other. Ms. Portman carries the movie on her slender shoulders as the elegant, strong-willed, emotionally devastated woman who was a symbol of endurance for millions of Americans who desperately needed one. Unfortunately, Jackie is not a memorable movie, but Ms. Portman delivers an unforgettable performance.
---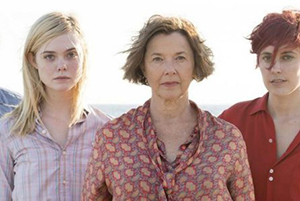 20th CENTURY WOMEN
RATED R
All movies fall into one of three categories—those with a memorable plot, those with a forgettable plot and those with plots which can be summarized on a small post-it. Director Mike Mills' dramedy falls into the latter category. Annette Benning who was Oscar nominated for playing a mother in American Beauty and The Kids Are Alright adds another parental role to her bio as Dorothea Fields, a 50-something divorced mom raising a 15-year-old son in the upscale community of Santa Barbara. Jamie (Lucas Jade Zunmann) has two other females in his life—a sort of girlfriend (Elle Fanning), Abbie (Greta Gerwig), a young photographer in her early 20's and Dorothea's tenant. The aging hippy handyman/carpenter (Billy Crudup) sleeps with both. The story such as it is revolves around the fractious relationship between mother and son. Dorothea who describes herself as an old-school feminist asks Abby and Julie to take on the responsibilities of raising Jamie. The movie is a fictionalized account of Mr. Mills' teen years in the 1970's. Moviegoers showed little interest in Mr. Mills' adolescence and his virtually plotless movie which grossed approximately $5 million at the box office. For movies with very good plots, I suggest watching Ms. Benning in The Grifters, Being Julia and the two referenced above.
---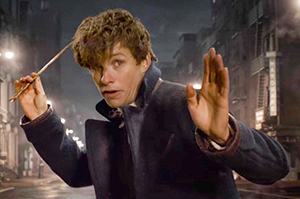 FANTASTIC BEASTS AND WHERE TO FIND THEM
RATED PG 13
Magizoologist and author Newt Scamander traveling with a suitcase containing restless magical creatures arrive in Prohibition-era New York City for what turns out to be an unexpectedly dangerous adventure. The events unfold several decades before Scamander's books were required reading for Harry Potter and his fellow Hogwarts classmates. J. K. Rowling wrote the screenplay and produced the movie which took in more than $8 million at the global box office. That buys a lot of butterbeer!
---

ALLIED
RATED R
It's 1940's Casablanca, two lovers, and Nazis occupying the city: Sound familiar? Director Michael Curtiz's 1943 film and director Robert Zemeckis' Allied have these three elements in common. However one is a treasured Oscar winner, and the other is an unexceptional tale of love and betrayal. Brad Pitt as Max Vatan, a Canadian intelligence officer, arrives in Morocco and is greeted by Marianne Beausejour (Marion Cotillard), a French Resistance fighter. Their mission is to pose as a married couple while preparing to assassinate the German ambassador at a swastika-decorated formal dinner party. What better way for these two to get acquainted than making love in the backseat of a car during a ferocious sandstorm. The plot becomes less attractive when Max is reassigned to a desk job in London. Marianne puts away her guns and begins a new life as a doting wife, the mother of their baby girl and maybe a Nazi spy. No need for a spoiler alert. That major plot point, unfortunately, is revealed by one of Max's superiors in British Intelligence in Allied's coming attraction trailer. The lack of on-screen chemistry between Ms. Cotillard and Mr. Pitt should put an end to those rumors of an off-screen affair between the co-stars. Mr. Pitt who fought the Nazis in Fury and Quentin Tarantino's Inglourious Basterds appears less enthusiastic about this role which requires little more than eliminating a few Nazis in dinner jackets and romancing Ms. Cotillard's character. Robert Zemeckis who directed such diverse and superb films as Who Framed Roger Rabbit and the Oscar-winning Forest Gump will not be handed a prize for Allied.
---
MISS SLOANE
RATED R
In the not too distant future tech wizards attempting to create robotic lobbyists should consider modeling their creations after Jessica Chastain's character Elizabeth Sloane, an unemotional, workaholic perfectionist. Ms. Sloane is a shark in stilettos and Armani suits. Her passion is outmaneuvering the opposition. "I'm hired to win" is her mantra. Sam Waterston, as the firms' senior partner, chooses Ms. Sloane to represent the well-financed gun lobby before a congressional committee in the aftermath of the massacres in Columbine, Newton and Charleston. She refuses, is unceremoniously fired and joins a boutique firm representing clients who support passage of gun control legislation. Is Ms. Sloane on board to exact revenge on her former boss or has she suddenly acquired an ethical gyroscope? Ms. Chastain, a superb actress whose filmography includes Zero Dark Thirty and The Help, is her latest movie's one and only asset. Mr. Madden attempts but fails to deliver an engrossing story of how lobbyists and spin doctors influence members of Congress. Director John Madden's film is not in the same league as. The West Wing remains the gold standard in its fictional depiction of Washington insiders.
---

A MONSTER CALLS
RATED PG
Connor (Lewis MacDougall) a bullied twelve-year-old British schoolboy who lives with his terminally ill mother (Felicity Jones) has an unusual ally- an enormous, talkative yew tree creature voiced by Liam Neeson.
---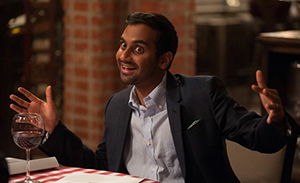 MASTER OF NONE (Season 1)
Netflix's ten episode comedy/drama starring the show's co-creator Aziz Ansari as Dev, a struggling New York actor.