POSTCARD FROM ANGUILLA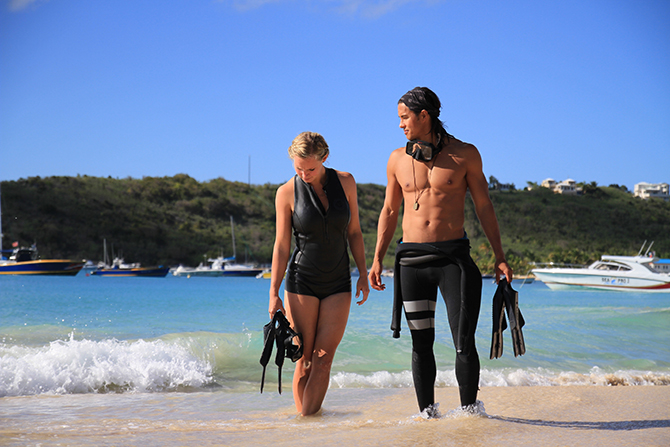 By Patricia Canole
Where do stressed-out celebs go when they need a break from the glamour grind? Anguilla, of course. Blissful beaches, gourmet cuisine, and total seclusion. Those seeking relaxed luxury won't find a more perfect setting.
LUXURIATE IN EXCLUSIVITY
Celebs flock to tiny Anguilla more for what it doesn't have than what it does. There are no high-rise resorts, casinos, boutiques or even historical sites, which means the 16-mile-long island doesn't have crowds, either. Sure, the scenery isn't as lush as other Caribbean islands, but you will find lovely beaches (such as Shoal and Mead's Bay), as well as exclusive beachfront resorts. And while there is limited nightlife, there are rustic reggae bars where the boldfaced names can let their hair down, away from the prying eyes of the paparazzi. And with more than 30 beaches, it's never hard to find a cove to get away from it all!
---
CELESTIAL RESORTS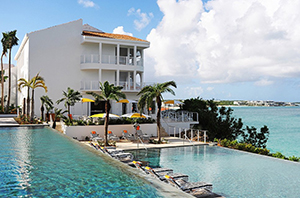 Malliouhana Hotel & Spa, an Auberge Resort
With its tall archways,
Malliouhana Hotel & Spa, an Auberge Resort (malliouhana.aubergeresorts.com)
, embodies the romance and beauty of a faraway land. Peace and tranquility are pervasive here, and so is the desire to be pampered! Understated island luxe characterizes the décor, with treasures from all over the world beautifully capturing your imagination. You'll no doubt spend plenty of time on your private terrace, designed for outdoor living and complete privacy. For dining with a view, you can't surpass Malliouhana's garden, where bright-coral bougainvillea frames views of the turquoise sea.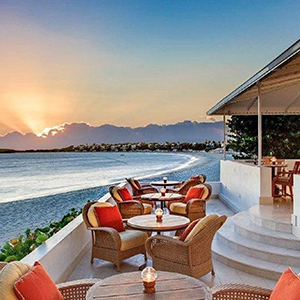 Cap Juluca
International bold-faced names have stayed in the whitewashed domed-and-turreted villas at Cap Juluca (capjuluca.com). Strung along 179 acres of breathtaking Maundays Bay, these villas are a favorite, thanks to the caring staff, excellent sports facilities, and plenty of privacy and comfort. The atmosphere makes this resort famous for romantic escapes or destination weddings. Amenities include a fitness center and a water-sports pavilion. Spa services can be provided in the privacy of your villa. Daily activities including beach fitness and nature walks may even tempt you to leave your beach chair. Enjoy the complimentary afternoon tea which is served under the dome.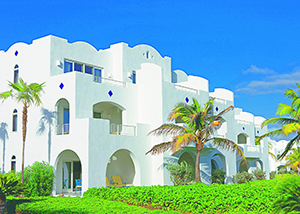 Cuisinart Golf
Resort & Spa
Not too far away is Cuisinart Golf Resort & Spa (cuisinartresort.com) which offers an excellent family-friendly full-service resort: miles of stunning beach, world-class golf, a gorgeous spa, and health club, top dining, and sports galore. Roomy guest rooms have flat-screen TVs. A daily continental buffet breakfast is included in all rates. Guests return here because of its casual atmosphere, extensive facilities, and the concierge crew who will grant every wish: They'll get you nannies, and hard-to-get reservations. Cuisinart offers great packages for the Greg Norman Golf Course. There are five restaurants, a hydroponic farm providing organic produce, and tours of the greenhouse. Cooking classes and demonstrations are conducted in the teaching kitchen and enjoyed at the Chef's Table twice weekly.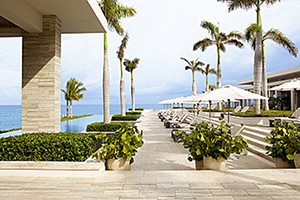 Four Seasons Resort &
Private Residences Anguilla
Four Seasons Resort and Private Residences Anguilla (fourseasons.com/anguilla) truly wows sophisticates. Go ahead and book one of the spacious two- to five-bedroom villas, complete with private pools and hot tubs, indoor/outdoor showers, gourmet kitchens, not to mention your very own house manager. The five on-site restaurants satisfy with beach barbecue to fine dining and cocktails are a must at the Sunset Bar. You'll find a fully equipped spa, gym, yoga center and even a camp-like kid's program.
---
DINE AROUND THE ISLAND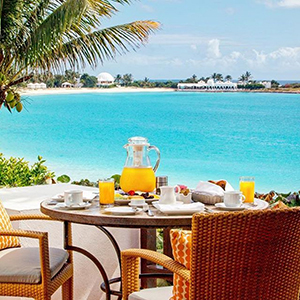 Cap Juluca veranda dining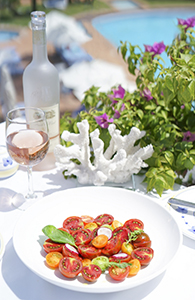 Cuisinart Golf Resort & Spa
Dining in-villa with your own personal chef, or out at one of the surprisingly numerous top-notch restaurants, is one of the island's most popular pastimes. For the haughty gourmet, not to mention a fab sunset view, try Blanchards. But for a truly spectacular night, book a torch-lit table in the sand at Cap Juluca, where white Moorish archways rise behind you, and the chef serves up a fantasia of fresh seafood and tapas. Famous pairs have been known to enjoy the casual vibe at Straw Hat. This seafood restaurant's whimsical décor (think straw-hat light fixtures) complements the stunning sea views. Be sure to try the red snapper ceviche and grilled crayfish with ginger vinaigrette. Next day, head down to Scilly Cay for a truly memorable lunch. Scilly Cay, a private island can be reached by water taxi from Island Harbour. Go on a Sunday, and sit under the thatched roof, sipping rum punch and dining on grilled local lobster while a calypso band keeps things lively. Dancing barefoot is encouraged.
DO NOTHING (AND DON'T FEEL GUILTY)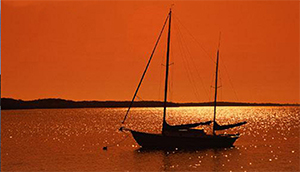 Chocolat Catamaran
There's not much to see or do around Anguilla. No mountains to scale, no extreme sports. Not even good shopping. And that's precisely the point. Mornings are spent lingering in bed over fresh-squeezed juice and croissants; afternoons are best enjoyed on the beach or by your private plunge pool. For seafarers, book a full-day cruise aboard the
Chocolat Catamaran (sailinganguilla.com)
, and spend the afternoon visiting deserted beaches and prime snorkeling spots. Back on land, why not soothe the body and soul at one of Anguilla's top spas: At Malliouhana Hotel & Spa, you may want to try all of their treatments. Equally decadent is Cap Juluca's Lulur Royal Ritual, a turmeric yogurt scrub, flower-petal bath and exotic oil massage delivered on your private veranda. Nightlife is limited with Johno's Beach Stop being a favorite of all who visit. It is known for its great music and dancing under the stars.
For more information on Anguilla, go to visitanguilla.com.