BY GEORGE…IT'S LAKE GEORGE!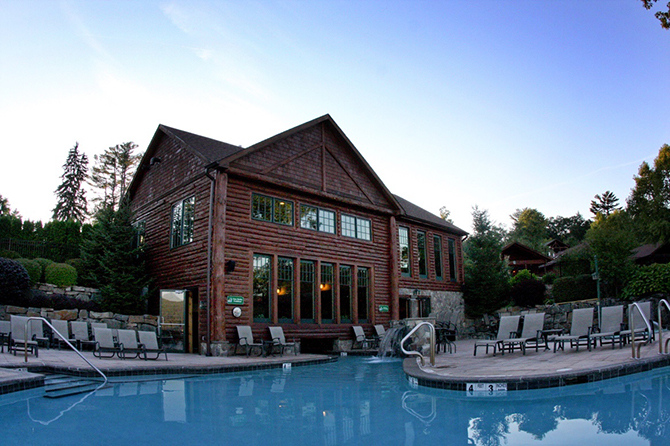 By Patricia Canole
Located at the base of the Adirondack Mountains, Lake George is the epitome of a jet-set escape. Since the late 19th-century, the spot has been a favorite retreat for summer sports enthusiasts, millionaires (John D. Rockefeller), and artists (Georgia O'Keefe). And although the region is open year-round, it's the months during spring and summer that beckon the outdoor enthusiasts. During this time, visitors come to camp, hike, birdwatch, fish, golf, and raft the rapids, too. And for the less active, there are superb resorts along with food and wine festivals and plenty of art museums to satisfy.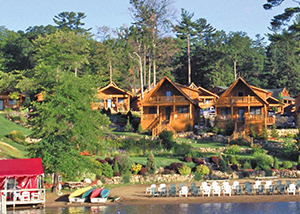 Just a 3.5 hour drive from New York City, Lake George - better known as the "Queen of American Lakes" - sits on a 32-mile jewel of a lake ringed by mountains and dotted with dozens of state-owned islands. The area can also be reached by Amtrak train departing from Penn Station- NYC - for info visit amtrak.com. So pack your gear and get ready for some thrilling adventures in Lake George, where Mother Nature reigns supreme.
BEACHES
Lake George's beaches offer great space to relax in the sun in addition to picturesque views of the surrounding Adirondack Mountains. While there are many places to swim, the most popular is the state-run Million Dollar Beach, where lifeguards are on duty and, best of all, it's free. The swimming is ideal for kids of all ages with calm waters. You'll find restrooms, showers, a volleyball area, snack stands, and picnic tables (there are grills, too!).
CAMPING
Summer is tuning in with nature, and there's no better way to do just that than by camping. With more than 380 shoreline campsites available on the 44 islands of Lake George, campers come back year after year to enjoy the crystal clear waters and stunning green mountains. Some islands boast a single site while others offer a cruiser dock—Glen Island even has a camp store. For those craving the creature comforts, there are nearby glamping sites. Posh Primitive in Chestertown offers custom-styled tents on platforms which includes the luxuries of home. If you prefer, Adirondack Safari will set up a custom canvas tent on any site of your choice and will even arrange outdoor activities, too.
LARAC JUNE ARTS FESTIVAL
One of the premier summer events in the Southern Adirondack Region, LARAC draws crowds of twenty thousand plus! The festival features 200 exhibitors offering shoppers a variety of products—many handcrafted—including jewelry, fine art, textiles, and homemade foods. The festival is near Lake George in beautiful downtown Glens Falls City Park. The festival also boasts not-for-profit booths, art demonstrations, kid's activities, food concessions and lots of live entertainment by local musicians.
ADIRONDACK WINE & FOOD FESTIVAL
Take your taste buds on an unforgettable journey as you are introduced to over 80 New York State wineries, craft beverage producers, artisanal food vendors and so much more—all with the beauty of Lake George in the background. Starting June 24th, this annual weekend of fun will include a commemorative tasting glass and unlimited samples of local Adirondack wines and specialties the region has to offer.
HYDE COLLECTION ART MUSEUM
This complex, which includes a historic house and art museum, combines the heritage of the Adirondacks. It's one of the finest art museums in the Northeast with some 2,800 pieces including paintings and works by Cezanne, Da Vinci, Degas, El Greco, Rembrandt, and Picasso. In addition there are displays of antiques and period furniture as well as educational programs.
PURE FUN
Kids love re-creating 35th Regiment at Fort William Henry, on the site of the original fort from 1755 to 1757 (when it was burned down by French troops). Each youngster is issued enlistment papers, a wooden shilling, a waistcoat, three-cornered hat and musket, and then marched around the center of the Fort to fire his/her musket. Learning history was never so much fun!
THE LODGES AT CRESTHAVEN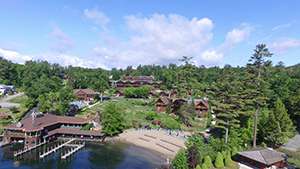 The Lodges at Cresthaven
is a destination in itself which offers beautiful family-sized lodges featuring two-bedrooms, a full sized kitchen, and a living area. Each lodge has a covered porch with view of the beautiful lake. The large indoor/outdoor pool complex is open from April until November and is heated to a balmy 85 degrees. There's also a kiddy pool with a water fountain for the small children in your party. For sun worshippers there's the 300-foot private, sandy beach with lounge chairs and umbrellas to relax. Also on hand is a protected swimming area with floating lily pads for relaxing on or for fun for the kids! The newest addition is
The Oak Tree Lodges
which afford vacationers two Master bedroom suites. Families and friends will enjoy a large dining and living area with a large flat screen TV, gas fireplace and beautiful panoramic views of Lake George. The Oak Tree lodges sleep up to 6 people total as a 2 bedroom unit. The Oak Tree Lodge units can also be rented as either one bedroom or hotel room style units in the winter, spring and fall. For your enjoyment, there is also a private game room featuring foosball, air hockey, card table and ping pong. Coming soon will be a private indoor spa pool for Oak Tree Lodge guests to enjoy!
A stay at The Lodges of Cresthaven means you don't have to go far for a waterfront restaurant to meet, dine and drink. Stop in at The Boathouse Restaurant (lakegeorgeboathouse.com) where Chef Paul Kuntz (celebrating 12 years!) enjoys using his expertise in creating dishes and specials. Reserve a table on the outdoor terrace and choose from menu selections which include succulent fresh seafood, juicy steaks and burgers, pasta, creative nightly specials and a wide variety of drinks. Live entertainment during the summer months make for a special evening.
For more information on The Lodges at Cresthaven visit lakegeorgelodges.com. Cresthaven offers affordable ownership options, nightly, and weekly vacation options as well as great off season specials.
THE SAGAMORE RESORT
Occupying its own island on Lake George, The Sagamore is an escape to a bygone era. Accommodations in the 1883 colonial-revival main house have views of the lake or gardens. The decor, including marble bathrooms and handsome wood furniture, is elegant but not formal, while accommodations in the newer lodge buildings are country-chic. Lodge rooms have garden views; suites have gas fireplaces and a terrace with a lake view. The separate condo units have two bedrooms, two bathrooms, a kitchen, a living room, a dining area, and two lake-view terraces. Leather couches, Adirondack-style furniture, and wood-burning fireplaces contribute to the lodge feel here. Notable facilities include an 18 hole Donald Ross golf course,a sailing school and a full-service spa.
Dining options are abundant and include Sagamore signature restaurant La Bella Vita. The classic Italian eatery celebrates Italian cuisine with centuries-old recipes. Savor a delicious meal al fresco on the outdoor deck with the Adirondack Mountains as your backdrop.
For more information on The Sagamore Resort, visit sagamore.com.
For more information on Lake George, visit them at visitlakegeorge.com.