The NOMA
By Daniel J. Bollinger
The NOMA is a 55 unit, 24 story neo-Bauhaus tower comprised mostly of two bedrooms but has some three bedroom penthouses. There is some smart, functional design here and something unique about this building. The setback that rises above the commercial portion of the building is angled so that residents have more unique exposures than traditional NYC buildings. The facade of this setback is also offset at the shared apartment walls, so residents' exposures are not blocked by the apartment wall next to it. Very smart and unique design by developer Alchemy Properties and architects FXFOWLE. Located in a great part of NOMAD at 50 West 30th Street it is near Chelsea, Union Square and the Flatiron District. Gramercy Park and Madison Square Park are just some of the parks within walking distance. NOMAD continues to become a desirable neighborhood with the highly anticipated arrival of the Virgin Hotel among other hotels, restaurants, and destinations in this thriving location.
DESIGN PERFECTION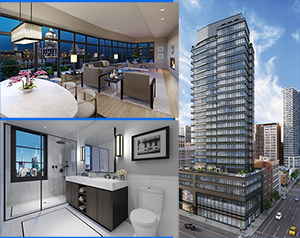 The residences have large open layouts with the nearly floor to ceiling windows allowing plenty of natural light into these homes. The black casement-like windows are consistent with the Bauhaus design thread and harken to Nomad's industrial and artistic past. Many residences have balconies, and others have oversized box-style bay windows. The kitchens are very impressive; generous proportions with integrated cabinetry.The central island is the perfect workspace for a chef and can also serve as a dining table with seating. There are exceptional Miele six-burner ranges in all homes—kitchens in the two and three bedroom homes feature Marvel wine coolers.
The master baths are also special, featuring oversized wet rooms draped in marble complete with marble oval inlays outlined in black that make a statement. One unit line has windowed bathrooms. The black casement-like windows accented by the black outline in the inlaid marble floors complimented by the gunmetal fixtures is very impressive. There is a great nouveau classic aesthetic here. And with a great 'niche factor', Robern medicine cabinets, radiant heated floors, and a rain shower head NOMA's master baths exhibit great style and class.
LOTS OF EXTRAS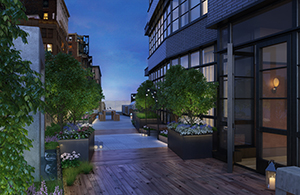 All units feature a Bosch washer/dryer. There are lots of pocket doors made of solid wood throughout the residences. Both penthouses have fireplaces and large balconies. Another interesting architectural detail about the building is there are two floors of commercial and retail followed by two floors of apartments and the fifth story setback is where you will find the buildings' amenities. There is a very wide (125 feet), expansive outdoor residents' terrace with landscaping, multiple seating areas, barbecue, and a dining table which leads to the building's interior amenities including a library/lounge and a fitness center. There are some great design details within the lounge including the use of a lot of reclaimed wood. The use of reclaimed wood with much leather in the library/lounge (with wet bar) makes for a warm, relaxing room.
Alchemy and FXFOWLE have once again teamed up to make a great addition to our city skyline. The exterior façade of this building is striking with bold contemporary architecture. I give many accolades to the angled setback with split façade providing different and additional exposures compared with a typical NYC building. Nomad is becoming an "it" area in our city with all of the restaurants, cultural attractions, and center proximity of the city. The price points here are reasonable, and there is exceptional value at The NOMA.
For more information on The NOMA, visit thenoma.com.