MY NEW YORK STORY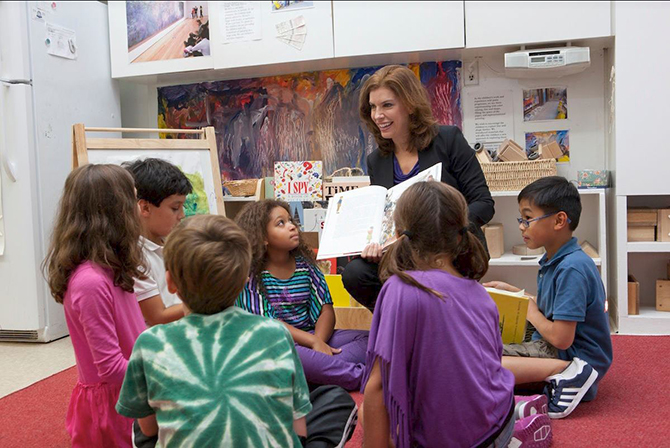 By Julie Menin, Media & Entertainment Commissioner
I have been New York's Media & Entertainment Commissioner for a little more than a year and it has been action packed. Looking back on the whirlwind of activity, I could not be more proud of all that our office has accomplished.
When Mayor Bill de Blasio appointed me to this position back in February 2016, he added several new creative industries to the agency's portfolio. Along with film, TV, and theater, we also became the go-to agency for the music, publishing, advertising, and digital media industries. For the first time, these vital businesses had a home and an advocate in the City government. They are hugely important to New York's identity and spirit as a cultural and entertainment capital, and they are vital to the health of the city's economy. All told, the media and entertainment sectors account for 305,000 jobs and add $104 billion to our economy. The fact that they now have a city agency supporting them and their efforts to grow and create more great jobs for more New Yorkers is a win-win.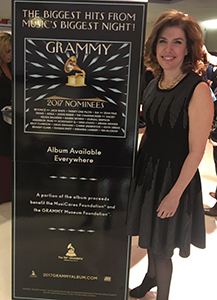 Julie Menin at the L.A. Grammys
MUSIC TO YOUR EARS
I am especially proud of the work our office has done in very short order with the music industry. Our first step was to convene over 75 music companies to talk about the challenges they face, and how the City can support them. Next, we commissioned a study of the economic impact of the music industry in New York and found that it is substantial, representing $21 billion in annual economic benefit, and $5 billion in wages. In fact, music related jobs and wages here in the city are growing slightly faster than those in the overall economy. We sell more tickets to live performances than the next three U.S. cities combined, and have twice as many digital music start-ups as San Francisco. It's clear that in music, as in so many areas, New York is a magnet for talent and a hub of innovation.
Still, musicians and the small venues where many of them hone their craft face significant challenges here, and our office is looking into ways to help them. We have programs providing free rehearsal space in the month of June as part of our New York Music Month celebration, and are in the process of creating an on-line toolkit for musicians to help them with the business side of their careers.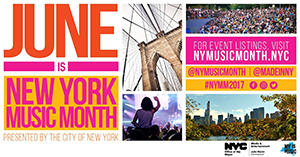 And then there is the work our office spearheaded to secure the return of The Grammy Awards to New York City in 2018. Luring music's most watched awards show back here after 15 years in Los Angeles was a top priority for us from the start, and it took an almost Herculean effort to accomplish it. We arranged sponsorships, negotiated with labor unions and formed a host committee, which I now chair, to raise nearly $3 million dollars to help make up the the difference between mounting the show here as opposed to in L.A. The Grammy awards telecast from Madison Square Garden takes place on January 28, 2018. All the events leading up to the big night will offer a huge economic boon to the city which is estimated at $200 million all told, and hundreds of millions more in tourism dollars.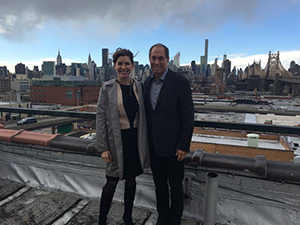 Julie with President of Silvercup Studios
Stuart Suna.
BOOKS & BEYOND
In publishing, which is also new to our portfolio, we launched a program this Spring that is so exciting. It's called "One Book, One New York"—the largest community read in the country. We rolled it out a little differently than other cities have done with their One Book programs. A panel of literary experts chose five incredible books in which either the protagonist or author lived here at one time. The nominees were: Between the World and Me, by Ta-Nehisi Coates; The Sellout, by Paul Beatty; Americanah, by Chimamanda Ngozi Adichie; The Brief Wondrous Life of Oscar Wao, by Junot Diaz; and A Tree Grows in Brooklyn, by Betty Smith. New Yorkers were invited to vote for their favorite, and they did, in droves, tens of thousands of them. Americanah, which is wonderful and extremely timely with its themes of immigration, race, and identity, as well as being a terrific love story, won out. The City's libraries and bookstores saw more traffic, New Yorkers struck up conversations with each other about the book on the subway, and we kept the conversation going with a whole host of stimulating events throughout the five boroughs in the last few months.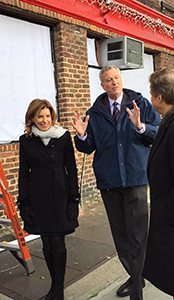 Julie and Mayor de Blasio being interviewed about the TV business in NYC.
The de Blasio administration is also fiercely committed to gender equity, diversity and access for all New Yorkers to opportunities in the entertainment industry. Study after study has shown that women—along with people of color, LGBTQ individuals, and people with disabilities, and other groups—are consistently underrepresented both on camera and behind the scenes in TV and film. The Center for the Study of Women in Television and Film recently found that women made up just 7 percent of directors on the top-grossing 250 films, 18 percent of directors on independent narrative features, and 29 percent of directors working on documentaries. On screen, women fare just a little better, represent only 33.5 percent of speaking characters in films, according to the Annenberg School at USC.
We don't just bemoan those statistics; we're doing something about them. We've created a $5 million fund that will provide grants to support film and theater projects by, for and about women, for starters. When we learned that women filmmakers need help with pitching and bankrolling their projects, we offered pitch workshops and a film financing conference connecting these artists with real film financiers. We've also created an inspiring block of programming on Channel 25, a TV station the City owns, and we operate.
At the Office of Media & Entertainment, we still serve the film and TV industries. Production is booming in New York, which has become the episodic TV capital of the world, which is great for our City since it brings steady, well-paying work. All told, filmed entertainment provides 130,000 jobs for New Yorkers, and it is helping many of our small businesses. We've just greatly expanded our mission. Stay tuned! I know I can't wait for the next season!