BIG SCREEN PREVIEWS
By Pat Collins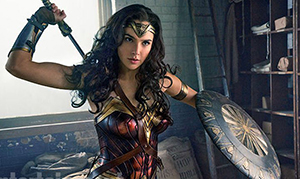 WONDER WOMAN
Rated: PG-13
Release: June 2nd
Timed to celebrate Wonder Woman's 75th anniversary as a DC Comics superhero. The action adventure at last features the Amazon princess (a/k/a Princess Diana) in a leading role, not a supporting one. Gal Gadot the Israeli actress who served in her country's military spent months training in kickboxing and Jiu Jitsu before shooting the World War I battlefield scenes. Central to the plot is her character's relationship with American intelligence officer Steve Trevor (Chris Pine) whom she finds in critical condition after his plane crashes. Their mission: to prevent a German general from using a chemical super weapon. Ms. Godot whose presence in the 2016 Batman vs. Superman was the movie's one redeeming feature, first appears in her character's classic costume during a lengthy battlefield scene.
---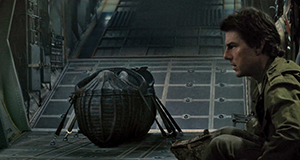 THE MUMMY
Rated: PG-13
Release: June 9th
Tom Cruise's character Nick Morton seemingly perishes after a military transport plane carrying him and other soldiers is attacked by otherworldly characters. He comes back to life, tears open his body bag, escapes from the morgue and makes it his mission to prevent the vengeful mummified Princess Ahmanet (Sofia Boutella) from wreaking havoc in 21st-century London. Javier Bolet is the ancient Egyptian god. Russell Crowe plays Dr. Henry Jekyll. Director Alex Kurtzman describes his movie as having more in common with the 1932 Boris Karloff classic than the forgettable 1999 movie with Brendan Fraser.
---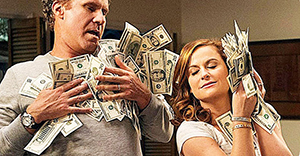 THE HOUSE
Rated: Not Yet Rated
Release: June 30th
The good news is Scott and Kate's daughter Alex receives an acceptance letter from her first choice—Buckley College—a fictional institution of higher learning created by the comedy's screenwriters. The bad news is Kate's parents played by Amy Poehler and Will Ferrell, cannot afford to pay the $50,000 a year tuition. To raise money, mom and dad convert a basement into a combo gambling casino/strip club/cocktail lounge. What could go wrong in this suburban version of Vegas? Everything: Scott mishandles the cash and Kate finds new ways to spend their ill-gotten gains. Of course, Alex could have applied for financial aid, but that plot line would have inhibited director Andrew J. Cohen and his comically uninhibited co-stars.
---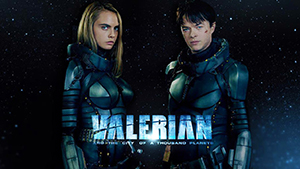 VALERIAN AND THE CITY OF A THOUSAND PLANETS
Rated: PG-13
Release: July 21st
Director Luc Besson's 28th-century comic book inspired space adventure brings Valerian (Dane DeHaan) and his partner Laureline (Cara Delevingne) together. Their mission: To prevent an as yet unidentified force from destroying the harmonious relationships that exist among the city's various species of extraterrestrials who have co-existed for centuries. Supporting cast members include John Goodman, Ethan Hawke, Rihanna and Clive Owen.
---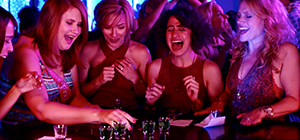 ROUGH NIGHT
Rated: R
Release: June 16th
The boozy groomsmen of The Hangover look like misbehaving boy scouts compared to the bride-to-be and her bridesmaids in a raunchy comedy involving cocaine, copious amounts of liquor, and a dead male stripper. Scarlet Johansson as the soon-to-be-married Jess reunites in Miami with her best friends played by Kate McKinnon, Jillian Bell, Zoe Kravitz and Ilana Grazer.
---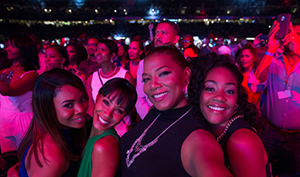 GIRLS TRIP
Rated: R
Release: July 21st
When it comes to comedic debauchery the women in director Malcolm D. Lee's wild, hedonistic adventure surpasses the cast of Rough Night, and that is no small albeit dubious accomplishment. Queen Latifah, Jada Pinkett Smith, Regina Hall and Tiffany Haddish play the ready to party BFF's who bar hop in New Orleans during the Essence Music Festival. Mr. Lee had more than a few logistical challenges shooting scenes with his famous cast members while local folks and fest attendees alike were eager to watch the stars in action.
---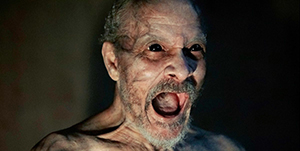 IT COMES AT NIGHT
Rated: R
Release: June 9th
Moviegoers who feel queasy should avoid the horror movie with Joel Edgerton and Carmen Ejogo whose characters attempt to survive a pandemic by moving from their densely populated community to the woods. The movie's special effects makeup artists relied in part on photos of bubonic plague victims to create the grotesque creatures in what promises to be one of the summer's scariest films.
---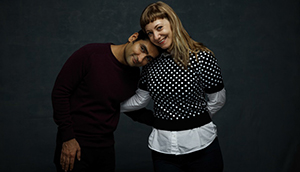 THE BIG SICK
Rated: Not Yet Rated
Release: June 23rd
The real life love story of a struggling Pakistani/American standup comedian, Kumail Nanjiani and Emily Gordon, an aspiring screenwriter, inspired this part true/part fictional dramedy which was enthusiastically received by critics and audiences alike at the Sundance Film Festival. Mr. Nanjiani, best known to viewers as Dinesh Chugtah on Silicon Valley co-wrote the screenplay with Emily Gordon, his wife of ten years. In the early stages of their relationship, Ms. Gordon was rushed to a hospital and placed in a coma-induced state. Her parents, (Holly Hunter and Ray Romano) forbid him to see their daughter. His equally disapproving parents attempt to make a match between Kumail and a young, chatty Pakistani woman. One of the many funny semi-autobiographical scenes has Mr. Nanjini's dodging his parents probing questions about his love life. Prediction: The Big Sick will be recognized when nominations for the Independent Spirit Awards are announced later this year.
---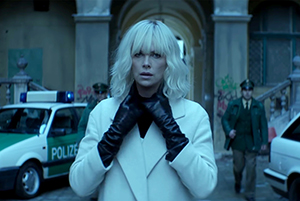 ATOMIC BLONDE
Rated: R
Release: July 28th
Charlize Theron whose bravura performance in Mad Max Fury Road firmly established her as a bone fide action movie star again proves she can take and throw a punch as well as and frequently better than her male counterparts. Director David Leitch's movie is set in 1989 Berlin a few days before the wall comes down. An undercover MI-6 agent Lorraine Broughton (Ms. Theron) is assigned to retrieve a stolen list with the names of British secret agents, eliminate the assassin who murdered a top ranking spy and unmask a possible double agent. The role of the vodka drinking, bisexual, emotionless Broughton may not bring her another Oscar nomination. However, the not easily impressed audience members at the SXSW (South by Southwest) Film Festival gave her a standing ovation. Ms. Theron's fellow cast members include John Goodman as the CIA station chief in Berlin, James McAvoy, a decidedly odd fellow agent, Toby Jones as her MI-6 boss, and Sofia Boutella whose passionate bedroom scene with Ms. Theron's character will be the movie's most discussed. In an interview with Entertainment Weekly, Ms. Theron remarked "why is it that only James Bond can sleep with every girl? Am I the only person whose character had a one night stand?"
---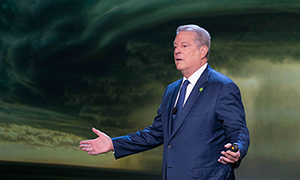 AN INCONVENIENT SEQUEL: TRUTH TO POWER
Rated: Not Yet Rated
Release: July 28th
The long overdue follow up to Al Gore's 2006 Oscar winning documentary will confirm the worst fears of those concerned about global climate change and will be dismissed as inconvenient hokum by climate change deniers. The hard evidence, however, is on Mr. Gore's side. One example of many in the film focuses on a section of New York City. Eleven years ago Mr. Gore and his research team predicted lower Manhattan would soon experience a devastating flood. Six years later that part of the city was flooded in the wake of 2012's Hurricane Sandy. Directors Bonni Cohen and John Shenk filmed the former Vice President as he took his message to audiences in several countries who face the same environmental challenges we Americans do.
---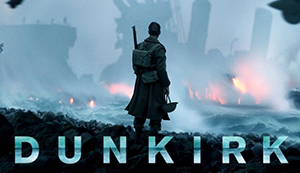 DUNKIRK
Rated: PG-13
Release: July 21st
Director Christopher Nolan who took moviegoers to a dystopian future in 2013's Oscar-nominated Interstellar recreates one of the historic battles of the past with a cast of thousands. The year is 1940, and the location is the beach where Allied troops were surrounded by German soldiers. How 300,000 men miraculously were evacuated and survived the journey from the coast of France to England's shores is a story worth re-telling for millennials and members of the Greatest Generation alike. Tom Hardy who was Oscar nominated for The Revenant and had the title role in Mad Max Fury Road plays a brash fighter pilot. Oscar winner Mark Rylance, Sir Kenneth Branagh, John Mills, Richard Attenborough and Lionel Jeffries are among the distinguished members of Dunkirk's cast.
---
SEQUEL-ITIS
This is the so-far-incurable, contagious condition that sweeps across Hollywood every summer and results in an infinite number of movies based on previous blockbusters.
DESPICABLE ME 3
Rated: PG
Release: June 30th
The sibling rivalry between the now jobless Gru and his happier well-to-do brother Dru (both voiced by Steve Carell), a new vengeful villain and former child star Balthazar Bratt (Trey Parker), plus Gru's secret agent wife (Kristin Wiig) add more delightful mayhem to this wanna see sequel. And. of course, those irrepressible Minions are back wreaking havoc too.
CARS 3
Rated: G
Release: June 16th
Lightening McQueen who dreams of a comeback in the Florida 500 gets an unexpected boost from a new ally, a smart business car named Sterling in a high-octane sequel from Pixar.
SPIDER-MAN: HOMECOMING
Rated: Not Yet Rated
Release: July 5th
British actor Tom Holland dons the superhero's spandex suit to confront a new villain, The Vulture, with help from Robert Downey's Iron Man.
WAR FOR THE PLANET OF THE APES
Rated: Not Yet Rated
Release date: July 14th
"All of human history has led to this moment," proclaims the villain in a sequel to 2014's Dawn Of The Planet of The Apes. Andy Serkis, without whom there is no Apes franchise, reprises the role of Caesar, the clever, resourceful chimpanzee with a high IQ and leadership skills to match. Caesar and his ape warriors are threatened by a psychotic enemy known as the Colonel (Woody Harrelson) who with his well-armed soldiers is on a mission to kill Caesar and annihilate the ape population. I for one am rooting for Caesar.
TRANSFORMERS THE LAST KNIGHT
Rated: Not Yet Rated
Release date: June 21st
According to an astronomer (Anthony Hopkins), the current generation of Hasbro robots is descended from a long line of shapeshifters dating back to King Arthur and the Knights of The Roundtable. An Oxford scholar Viviane Wembly (Laura Haddock) makes a connection with Hot Rod the Autobot, who in the form of a Citroen DS, serves as her guardian angel. Mark Wahlberg adds moral and muscular support as the reliable, good guy mechanic and Michael Bay was back in the director's chair to helm the fifth film in the series which began ten years ago.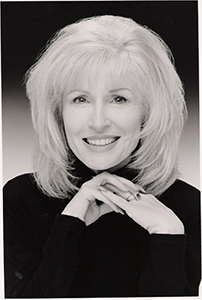 Pat Collins is a three-time Emmy award-winning film, theater and entertainment critic/reporter. Her outstanding media credits include WCBS-TV, Good Morning America and WWOR-TV. She is a contributor to CUNY-TV's Arts and The City program and the host of several Broadway specials including Kinky Boots On Broadway, Fiddler On The Roof: Back On Broadway, and The Road To The Tonys.