RUMBLE: The Indians Who Rocked the World

By Richie Realms
Many artists and musical forms played a role in the creation of rock, but arguably no single piece of music was more influential than the 1958 instrumental "Rumble" by American Indian rock guitarist and singer/songwriter Link Wray.
When recalling Link Wray's shivering guitar classic, "Rumble," Martin Scorsese marvels, "It is the sound of that guitar . . . that aggression." "Rumble" was the first song to use distortion and feedback. It introduced the rock power chord – and was one of the very few instrumental singles to be banned from the radio for fear it would incite violence. RUMBLE explores how the Native American influence is an integral part of music history, despite attempts to ban, censor, and erase Indian culture in the United States.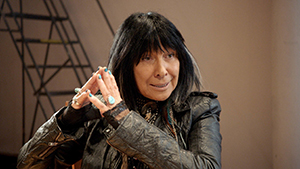 Buffy Sainte-Marie
As RUMBLE reveals, the early pioneers of the blues had Native as well as African American roots, and one of the first and most influential jazz singers' voices was trained on Native American songs. As the folk rock era took hold in the 60s and 70s, Native Americans helped to define its evolution.
Father of the Delta Blues Charley Patton, influential jazz singer Mildred Bailey, metaphysical guitar wizard Jimi Hendrix, and folk heroine Buffy Sainte-Marie are among the many music greats who have Native American heritage and have made their distinctive mark on music history. For the most part, their Indian heritage was unknown.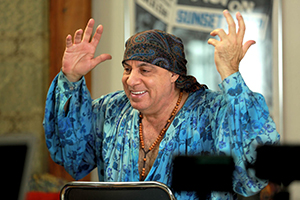 Steven Van Zandt
RUMBLE uses playful re-creations and little-known stories, alongside concert footage, archives and interviews. The stories of these iconic Native musicians are told by some of America's greatest music legends who knew them, played music with them, and were inspired by them: everyone from Buddy Guy, Quincy Jones, and Tony Bennett to Iggy Pop, Steven Tyler, and Stevie Van Zandt.
RUMBLE shows how Indigenous music was part of the very fabric of American popular music from the beginning, but that the Native American contribution was left out of the story – until now.
RUMBLE: THE INDIANS WHO ROCKED THE WORLD TO OPEN JULY 26, at Film Forum 209 W, Houston St., NYC, NY 212-727-8110 in New York City and July 28 at the Ted Rogers Hot Docs Cinema in Toronto before expanding to cities across the U.S. and Canada.
"Rumble is the greatest instrumental ever."

Bob Dylan
"He's the king. If it hadn't been for Link Wray

and RUMBLE, I'd have never picked up a guitar."

Pete Townsend
"If I could travel back in time to see one band,

it would be Link Wray and the Ray Men." Neil Young
"He's the man who invented punk rock, heavy metal and every other form of sonic nastiness that we hold dear." Danny Frost, New Musical Express
"Link Wray made the guitar the weapon of choice in rock and roll." Greg Laxton / Link Wray historian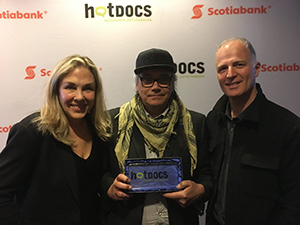 Director Catherine Bainbridge, Co-director Alfonso Maiorana and Exec Producer Ernest Webb accepted the Rogers Audience Award
May 8, 2017
"RUMBLE" WINS ROGERS AUDIENCE AWARD
FOR BEST CANADIAN DOCUMENTARY AT HOT DOCS
The audiences have spoken! Rumble: The Indians Who Rocked the World won the inaugural Rogers Audience Award for Best Canadian Documentary at Hot Docs. Rumble was announced as the winner prior to a free screening of the film at Hot Docs Ted Rogers Cinema to close the festival.
March 1, 2017
RUMBLE'S COLORADO PREMIERE WON
BIFF'S BEST MUSICAL DOCUMENTARY
Catherine Bainbridge and co-director Alfonso Maiorana lovingly and truthfully illuminate an important and fascinating musical legacy.
March 1, 2017
RUMBLE : THE INDIANS WHO ROCKED THE WORLD' DOCUMENTARY LANDS AT KINO LORBER
Kino Lorber has acquired most North American rights to Rezolution Pictures' documentary "Rumble: The Indians Who Rocked the World," and plans a summer theatrical release.
January 1, 2017
RUMBLE WINS AWARD AT SUNDANCE FILM FESTIVAL
Montreal-based filmmakers won the World Cinema Documentary Special Jury Award for Masterful Storytelling for their film exploring the often-unheralded contributions of Native Americans in shaping popular song.
RUMBLE: THE INDIANS WHO ROCKED THE WORLD
is a feature documentary about the role of Native Americans
in popular music history.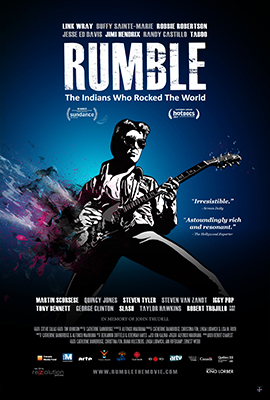 Featuring

MARTIN SCORSESE
QUINCY JONES
STEVEN TYLER
STEVEN VAN ZANDT
IGGY POP
LINK WRAY
BUFFY SAINTE-MARIE
ROBBIE ROBERTSON
JESSE ED DAVIS
JIMI HENDRIX
GEORGE CLINTON
SLASH
RANDY CASTILLO
and more...
For more information on Rumble visit:
www.rumblethemovie.com
www.rezolutionpictures.com