15 MINUTES WITH ALAN ROSEN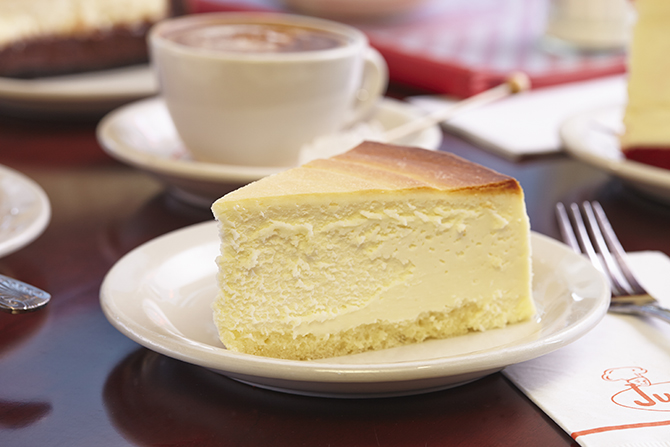 Junior's Famous No. 1 Original Cheesecake
By Baruch Shemtov
Few desserts are as quintessentially New York as a cheesecake from Junior's. The legendary Brooklyn flagship restaurant opened its doors in 1950 and has since expanded to include locations in Foxwoods, CT and Boca Raton, FL. Today, Junior's is overseen by Alan Rosen, grandson of the restaurant's founder Harry Rosen. As the company continues to ship millions of cheesecakes around the world, it's also strengthening the brand's roots in New York by recently opening a new location on 49th Street and Broadway. But even as they grow, Rosen and his team remain true to the ethos that has defined Junior's across generations.
How does Junior's do things differently?
We do things the way they've always been done. Everything is from scratch the way my grandfather and father before me; it's still the same 67 years later.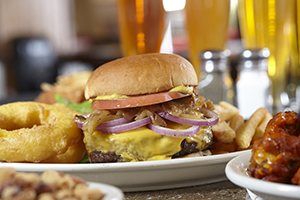 How has the company changed the culinary landscape in New York?
I don't know if we've changed it as much as we've stayed true to it. If you're going be a legendary restaurant in New York and be identified for Brooklyn comfort food (and obviously for cheesecake), you've got to stay true to what you are. And that's what we've been doing for six decades. We're not contrived. When we make a bowl of soup, it's from scratch. I don't know if there are many restaurants at our price point that do that.
Why is this new location so exciting?
We have a Junior's four blocks away on 45th between Broadway and Eighth. It is just such a perfect place. People say why would you open nearby on 49th & Broadway? Well, we're in the middle of the world with a tall sign that rotates around and around. How can you pass up Times Square? It's perfect and looks like it's always been here.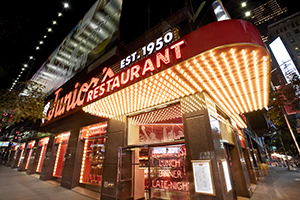 Now that Junior's is world famous, how does the brand reflect the essence of the Big Apple?
I think we reflect New York comfort food at its best. You know, the Big Apple is everyone's city. Junior's is one of the few places where anyone can go to dine regardless of where you're from or what economic status—and feel welcome!
What makes the perfect cheesecake?
Very simple. Cream cheese, fresh eggs, sugar, heavy cream, a touch of vanilla. Of great importance is how you blend the ingredients and bake it in a water bath. That's it.
How many cheesecakes do you sell a year?
About 5 million, ranging in weight from 4 ounces to 14 pounds.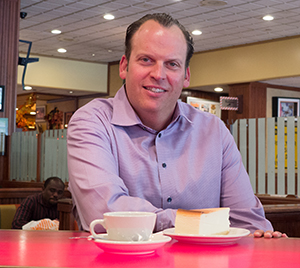 Alan Rosen ©Eric E. Anderson
What's the most exotic place you've ever shipped a cheesecake?
Years ago we received a call that someone was coming to pick up cheesecakes. Of course, they wouldn't tell us who it was. We packed up the cheesecakes with one particular request: They wanted the strawberry glaze separate from the macaroon crunch that we use to make our strawberry cheesecake. Eventually, a limousine pulled up, and the cheesecakes were delivered. Several days later, a call a from Saudi Arabia and a crown prince. He requested the recipe for the strawberry cheesecake!
ALAN'S NEW YORK FAVORITES
A Coffee?
It's a tie between Stumptown at the Ace Hotel and La Colombe on Lafayette Street. It just feels like they belong there like they've been part of New York forever.
A gift?
If I were getting someone special a gift (like my wife), I would probably have to say Tiffany. It just seems so traditional and tried and true.
Dinner?
Volare on West 4th Street. You go down six steps, and the owners Sal and Falco will make you feel like you've been coming there for 25 years as I have.
Some time alone?
Volare—except I would go at four in the afternoon and sit in the booth by myself and read a book.
A celebration?
My backyard at home with my wife and kids.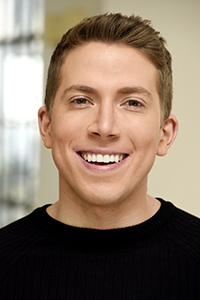 Baruch Shemtov is a New York-based television reporter. A graduate of Harvard College, Baruch has interviewed a long list of leaders and stars including Senator John McCain, Secretary of State Madeleine Albright, Prime Minister Gordon Brown, Tom Cruise, Ryan Seacrest, Yo-Yo Ma, and many more. Baruch grew up in the City and is passionate about everything the Big Apple has to offer. Visit Baruch Shemtov at baruch.tv.