CO-LIVING IN NYC

By Daniel J. Bollinger
Medici Living Group, the world's largest co-living provider with 1,200 units worldwide—including Amsterdam, Los Angeles, and Munich—has opened its first United States location, Quarters at 324 Grand Street in NYC. The concept transforms the way creatives, young entrepreneurs and digital nomads live and work. Located in the Lower East Side, the concept is simple: Quarters provides room rentals with everything included from furniture to linens to household items and TVs. All you need are your clothes and personal necessities, and you are ready to move in.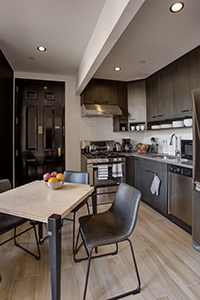 TRENDY LES
Offering 47 bedrooms for rent, Quarters is a lifestyle opportunity to network and make connections in the city. It is an easier way to "hit the ground" running in our bustling city. Most apartments feature three bedrooms; there is also a five-bedroom penthouse. The kitchens are well designed, as are the bathrooms which feature large medicine closets. The allure of this rental is not only the actual apartment but the services offered. Housecleaning for the common areas of each residence is included. No more fretting over your roommate's dirty dishes. For a fee, housekeeping will even clean your own room.
All leases are separate, so you are not responsible for other tenant's rent. There is a three-month minimum lease, and then it changes to "month to month." There are some excellent amenities as well including a rooftop deck with bar, 2nd-floor resident lounge which has an outdoor terrace, a full kitchen, and two bathrooms. Many events are held in the resident lounge so that tenants can network and get to know each other.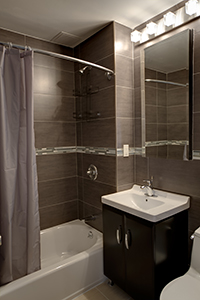 NO-HASSLE RENTING
This concept removes a lot of the hassle of renting a New York City apartment. There is no-fee to rent, the leases are open (after three months), and everything is provided for you including washer/dryers in many apartments as well as in the basement. As Gunther Schmidt, CEO and founder noted, "We're proud to start this new community in the heart of Manhattan. We are very proud to finally launch the European co-living brand Quarters here in New York. We will expand with our brand Quarters and open further buildings in Washington, D.C., Los Angeles, San Francisco, London, Paris, and Barcelona."
An easier way to live and rent not only in NYC but globally, travelers, young entrepreneurs, and digital nomads have a new ally to help match their lifestyle in Quarters.
For more information on Quarters, visit goquarters.com.